Looking for a dependable, steady company that weathers economic conditions fairly well and pays a nice dividend? Connecticut Water Service (CTWS) is one of those names you can depend on. It's not glamorous, but it will be financially sound with dependable dividends that have averaged 3.6% over the last five years.
Click to enlarge.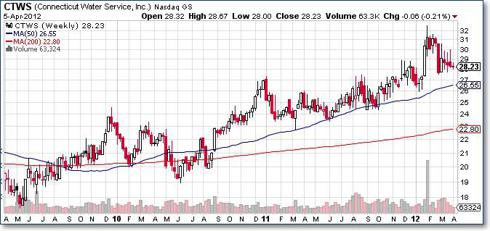 Connecticut Water Service operates as a regulated water company in Connecticut. It does this in three segments: Water Activities, Real Estate Transactions, and Services and Rentals. It is the largest publicly traded water company based in New England. It is just a solid, dependable utility company.
Management has done a good job keeping costs down and using revenue wisely. It only takes Connecticut Water $3.62 to make a dollar in sales (its price-to-sales ratio). Considering the industry average is $6.18, it does a better job making money by 41% above the industry average.

It also does a great job running itself with low debt. Not only is it stronger than the industry average for price/sales, but it also is financially strong enough to meet its interest payments far better than the other names in the industry. Connecticut Water's interest coverage ratio is 4.1 to 2.5. If interest rates increase, it will fair exceptionally better than the average company in its industry.
Expect Slow Steady Growth In The Future
The company's total revenue, net income and earnings grew in 2011 over 2010. Its revenue increased a modest 3.8%.
Connecticut Water is growing fastest in its Water Activities Segment, through which it supplies drinking water. Revenue increased by 16.1% from 2010 through 2011. This increase is not due to expansion, however, as much as it is a 13% price increase that was approved and put into effect in July 2010. At the same time, management has been working on reducing operating and maintenance expenses.
Next year the company is expected to grow about 1.4%. In the next five years, the projection for growth is 4.55% on average per year. Connecticut Water is a dependable water utility that will continue to silently grow a bit every year and faithfully provide a modest dividend.
Disclosure: I have no positions in any stocks mentioned, and no plans to initiate any positions within the next 72 hours.