In what appears to be a weekly column on Gasfrac Energy (OTC:GSFVF) and its patented waterless LPG fracturing technology, I would like to shed some light on a vital new piece of information that came public in Gasfrac's annual shareholder report on March 30th. The information in question appeared in a paragraph under the 2012 outlook section on Page 8:
As a longer term objective, we are also seeking ways that we might accelerate our pace of growth beyond 2012. The capital required to build new equipment presents a limitation to how quickly we can expand our operations. More specifically, building pumping horsepower to inject our LPG mix into the wells is costly. We are therefore investigating ways that we might be able to deploy our unique gelled LPG mix through other pumping units, such as those operated by our customers.
This paragraph might be only a few lines in length, but the implications for the company's future revenues, cash flow and profitability are immense. The annual report later refers to the partnership signed on January 16th 2012 with Green Field Energy as an example of such a model. It is worth noting that the Green Field partnership appeared at the time as an isolated event rather than a long term objective.
I was curious about this development, thus I contacted the company. Shortly after, I was called back by a very high level executive (which I prefer to keep anonymous). In my discussions with him I asked specifically about the company strategy in regards to installing Gasfrac LPG technology with third parties. In his response, he mentioned that the company "sees no reason why its LPG mix can't be pumped through other pumpers' horsepower". He indicated that Gasfrac would like to have a hand in working with interested parties in developing/designing the necessary modification to allow for their equipment to pump the Gasfrac LPG mix. He later added that the model could be a bit like "Intel" in personal computers.
Strategy Implications
Subsequently, I started to ponder the significant implications such a strategy would have on Gasfrac going forward. Based on my understanding, Gasfrac has finally decided to capitalize on its extensive LPG fracturing intellectual property by licensing and installing pieces of its technology with third parties, thus allowing those parties to service clients looking to benefit from Gasfrac LPG fracturing technology superior production results and significant environmental benefits.
While we don't have the exact details on how such partnerships would be structured yet, the profit potential for such a model is certainly vastly superior to the company building, training and deploying its own staff and capital on fracturing jobs in North America and around the world.
This model, however, is not without its challenges. Some of which are:
Can the technology be adapted to work on a variety of pumping units?
The company seems confident that the technical challenges can be overcome. The latest indications from company confirm that the Green Field Energy partnership is progressing well and that installing Gasfrac LPG units on Green Field Energy natural gas powered pumps will ultimately be achieved.
Can the company's extensive safety procedures be replicated by parties licensing the technology?
This part is the most crucial: LPG fracturing requires an enhanced level of care when applied due to the volatile and flammable nature of LPG. Gasfrac staff is thoroughly trained and the company has installed multiple layers of safety to ensure incident free application of its LPG fracturing mix.
It is worth noting that oil and gas operators are not strange to dealing with complicated safety challenges. Operating refineries or deep sea drilling by the likes of Schlumberger (SLB) often presents bigger dangers than pumping LPG onshore. Thus it is conceivable that the Gasfrac LPG fracturing process can be applied safely by other operators after proper training by Gasfrac staff.
Is there enough demand for LPG fracturing to entice third parties to licence the technology?
The demand for LPG fracturing is mainly driven by two factors:
- The technology delivers enhanced oil and gas production and increased reserves;
- The technology is waterless and environmentally friendly.
Demand driven by Superior Production
Through operating its own fleet (of soon to be 10 fracturing sets), Gasfrac has been working actively over the last 4 years to prove that the technology is vastly superior in a number of formations; such as the Cardium formation in Alberta, the Niobrara formation in Colorado, or parts of the Eagle Ford and the Permian in Texas (I have provided numerous examples of the technology's superior performance in my previous articles on the company).
(Click to enlarge)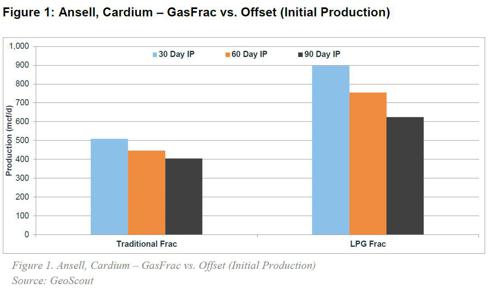 Source: Alta Corp
Demand Driven by Water Shortages & Environmental Imperatives
Certainly one of Gasfrac's strongest advantages is its waterless feature. Fracturing requires massive amounts of water, ranging from 3 million gallons to 12 million gallons per fractured well. According to the Environmental Protection Agency (EPA), current water usage by the fracturing industry equates to the water used by 40 to 80 cities with 50000 inhabitants each. This number is likely to climb sharply in the future as shale gas and shale oil is increasingly playing a key role in North America's and the world's energy supply: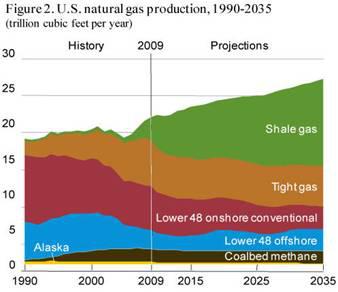 Source: EIA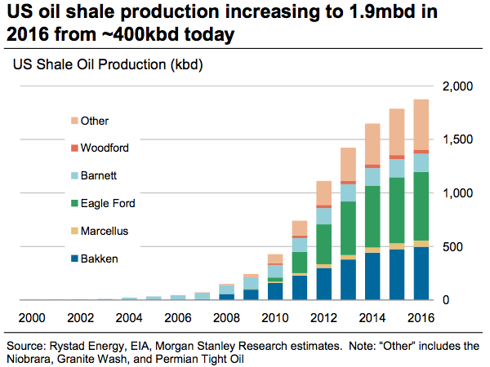 Meanwhile, 1.2 billion people around the world suffer from physical water scarcity and 500 million more are not far behind, according to the United Nations: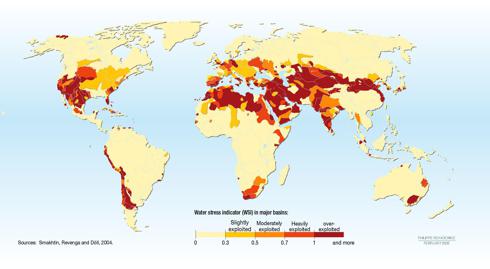 It is inconceivable that the world will accept to turn our steadily diminishing fresh water supply into fuel. Hence the need for environmentally sustainable solutions, such as LPG fracturing; a process that uses hydrocarbons to extract hydrocarbons.
Environmental regulations are steadily moving to the benefit of Gasfrac: worries about excessive water usage, high CO2 emissions caused by flaring and community disturbance due to excessive truck traffic at well sites are all problems addressed by Gasfrac LPG Fracturing.
Gasfrac Future Strategy
It appears that Gasfrac is pursuing a dual approach: on one hand the company is proving up the technology and establishing it as a viable alternative to water/oil and foam fracturing through operating its own fracturing fleet. However, once demand reaches as a certain critical mass, the company will likely advance its partnerships model: a model that requires a very low capital investment and will potentially provide a very attractive licensing revenue stream to the company.
Gasfrac does not have much to lose in pursuing such a licensing strategy. As an operator the company is steadily growing and will likely experience a surge in revenues/cash flow and earnings in the latter part of 2012 and into 2013 as the company increases the utilization of its fleet. Introducing the licensing model will further accelerate the company's growth and significantly enhance its return on investment, but a failure to succeed in advancing this model will not undermine the fact that Gasfrac will still be a profitable and growing LPG fracturing service provider.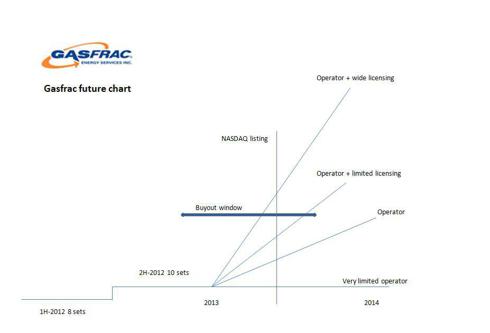 As I have highlighted in prior writings, Gasfrac Energy cannot be compared to a conventional fracturing companies such as Trican (OTCPK:TOLWF), Weatherford (WFT) or Nabors Industries (NBI) ; Gasfrac is a technology company at heart and should be valued as such in the market place.
It appears that Zeke Zeringue, the company's new CEO, is the driving force behind the push to leverage Gasfrac's intellectual property. The fact that his first public action as CEO was to sign the Green Field Energy partnership is an affirmation of his vision to making to Gasfrac Energy the "Gasfrac inside" of the fracturing industry.
Disclosure: I am long OTC:GSFVF.