The universe of cancer stocks endured several challenges during the quarter, extending its losses subsequent to the ASCO meeting in early June. The median return of the group now is -9.9% on the year thus far and the average is +4.7% (demonstrating the skew that attracts people in the first place to the sector). The AMEX Biotech Index [BTK] is up about 9% on the year. The lists below, with data from StockVal, are comprised of domestic companies primarily. The total universe has 104 names, though 12 have market caps below $50mm (and are excluded from all of the screens except the "weak" stocks. If the reader believes that there are erroneous inclusions or potential exclusions, feel free to let me know.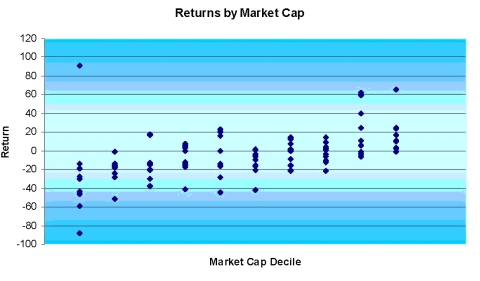 For the quarter, the list declined 6.1% (median) and 5.8% on average, both significantly below the S&P 500 price return of 1.6%. BTK increased 5.7% during the quarter. There was a significant bias in favor of larger names, as only one of the 7 names with a market capitalization in excess of $5 billion declined (Varian Medical) (NYSE:VAR). This is quite apparent in the chart above, where the companies are sorted by market cap deciles. Some of the smaller names were hit by specific issues such as bad clinical trial outcomes, but the overall group had a negative tone. While it might seem immune from the developing problems that are related to housing woes and a rapidly spreading commercial credit crunch, the group, one must remember, is predominated by companies that frequently access public equity markets (debt sometimes too) for funding. In times like these, it is worthwhile remembering that capital isn't always available. In other words, perhaps, for now, one should be focusing on companies that are profitable. For more on this subject, see the article published recently at BioHealth Investor.
Strong
click to enlarge

Intuitive Surgical (NASDAQ:ISRG) "surged" again after posting strong numbers, especially on its recurring revenues. I have mentioned this one as perhaps the very best way to invest in cancer treatment. For those of us who don't own it, we can only hope that they disappoint short-term and allow a better entry. Onyx (NASDAQ:ONXX) has been the very best stock this year by far, aided by its Nexevar, which is on the European market and received a priority review this week from the FDA. It had pulled back from a multi-year high post-ASCO (after selling stock at $28) and then blew through that level. I don't know enough about Nexevar (they are testing it for a variety of cancers beyond the approved liver treatment), but I would note that this one looks like it has a good shot at its all-time high of 60 three plus years ago (and then some). One has to wonder what Bayer would be willing to pay to control the drug. Pharmion (PHRM), whose one-drug franchise (Vidaza – 60% of sales) had been under pressure, had good news both on that drug as well as on a couple of pipeline candidates. Myriad Genetics (NASDAQ:MYGN), which I profiled earlier, advanced after a rival drug under development for Alzheimer's hit a roadblock. This company is one of the highest quality integrated diagnostic/treatment plays, with two very large shots on goal. Celgene (NASDAQ:CELG) continues to ride on the success of Revlimid. MGI Pharma (MOGN), whose Dacogen competes against Pharmion's Vidaza, has enjoyed success with that drug as well as extending the Aloxi franchise and filing an NDA for Aquavan. Biogen Idec (NASDAQ:BIIB) raised guidance early in the quarter, announced positive P2 data for a heart failure drug, received encouraging news on Tysabri and repurchased $3 billion of stock. It has recovered to it pre-Tysabri disaster peak. Idera (IDP), which partnered with Merck (NYSE:MRK) late last year to develop Toll-like Receptor antagonists, popped back up to the post-announcement peak after some profit-taking following the ASCO meeting in June. Cell Therapeutics (NASDAQ:CTIC) enjoyed what appears to be a dead-cat bounce after making a few acquisitions and pipeline advancements. Finally, Exact Sciences (NASDAQ:EXAS), the diagnostic company with a single test (colorectal cancer) distributed exclusively through LabCorp (NYSE:LH), announced an extension of their agreement for the next-generation version.
Weak
click to enlarge

The list of losers highlights the risks of biotech investing. Clearly, the pain was limited to micro-caps. Trubion (TRBN), the only stock on the list trading above $5, took out its $13 IPO price (last October) after reporting Phase 2b results on a RA drug. Note that none of these companies are expected to be profitable in the next two years.
The two screens below attempt to focus the investor on stocks that are working. The momentum list highlights stocks beating the market over the past month and quarter but eliminates those that have had extreme moves. The rebound list highlights stocks that are oversold but showing one-month relative strength without too much one-quarter relative weakness (if at all).
Showing Mo

click to enlarge

Parameters: 4-week outperformance (S&P 500) of 3% or more, 13-week outperformance of 10% or more and Price Momentum Index of <2. Source: StockVal
This list is what biotech investors live for: Look at all the 50%+ returns YTD! Reviewing only the stocks that weren't mentioned above, Seattle Genetics (NASDAQ:SGEN) has bolted to an all-time high. The company focuses on antibody-based therapies, has three drugs under development and several license agreements for its technology (with Genentech, for instance). Cytyc (CYTC) is set to close on its merger with Hologic (NASDAQ:HOLX). Imclone (IMCL) got some good news on ERBITUX in lung cancer. Finally, Genitope (GTOP), the developer of MyVax, bounced back after selling stock at 3.85 in Q2.
Potential Rebounds
click to enlarge

Parameters: 4-week outperformance of >5%, 13-week underperformance of <5% and Price Momentum Index of <0. Source: StockVal.
Adventrx (ANX) is the only company making this screen currently. This oncology pure-play has one drug (ANX-510 or CoFactor) in P3 trials (as well as other trials) and another (ANX-530 or vinorelbine emulsion) that is apparently following a generic pathway. The company takes existing compounds and reformulates them. The stock looks interesting on a break of 2.85. The balance sheet is pristine, and they appear to have sufficient cash for at least two years.
Disclosure: None