Hyundai Motor (OTC:HYMLF) has made an impressive transformation from its low-quality and affordable cars of the mid-1990s to the high-quality and affordable cars of present. This turnaround should be recognized as one of the greatest in industrial history. Last year, global sales of Hyundai cars and light trucks reached 6.53 million units, making it the fifth largest automaker. This figure is particularly impressive considering it only produced 2.02 million vehicles in 2000, ranking the automaker in ninth position (11.3% CAGR). The Japanese and American automakers are now feeling the threat of this Korean powerhouse as it shows no signs of slowing down, proving itself in the past few years to be an extremely resilient and adaptable company.
Established in 1967, Hyundai Motor does not have the long history of some of the other automakers that began at the forefront of the industrial revolution. However, the last two decades have shown Hyundai has the ability and determination to evolve into a world-class automaker. Currently, Hyundai manufactures vehicles in nine countries with 20 assembly plants interspersed between them; the world's largest automotive assembly line belongs to Hyundai and covers 82 acres of land in Ulsan. One of the key achievements of this company is its 9.21% operating margin, making Hyundai the most profitable top six automaker. This margin can be compared to Toyota (NYSE:TM), which only held a 3.08% margin last year.
Hyundai's high quality was officially recognized when the Elantra compact was named North American Car of the Year in January of this year. The days of the Excel have passed, and now this company boasts an extensive range of vehicles from the $12,545 Accent subcompact to the $59,000 Equus premium sedan.
The Equus marks a milestone for Hyundai because it is now the company's most serious contender in the luxury market. Introduced in 2011 and succeeding the Genesis, the Equus has been designed to challenge the Lexus LS and Mercedes S-Class. It is the most expensive Hyundai to date and is designed to create a shift in perception in the brand that could not have been imagined a decade ago. With a 5.0L V8 engine, the Equus is now creeping its way into the luxury market and planting the seeds for Hyundai to grow in this submarket.
The GFC was a trying time for the auto industry, and this was the period when Hyundai really proved its worth. In 2009, the auto industry was down 20% from the previous year, yet Hyundai's U.S. sales were up 8%. It even passed Ford during that period as the world's fourth largest carmaker. Also, the Japanese underestimated the post-GFC environment since they suffered heavily from a rising yen against the dollar from Lehman's collapse. Therefore, the Japanese could no longer slash prices in order to squeeze Hyundai out of the market.
One of the memorable marketing strategies during the GFC period was Hyundai's employment-based return policy. Hyundai instituted a return policy whereby new cars could be returned if the owner lost his or her job. What seemed like a large risk for the company only amounted to 350 returned cars and resulted in a tremendous amount of respect for the company.
Hyundai has always led the way in terms of market-leading guarantees. In 2010, Hyundai offered a 10-year/ 100,000 mile warranty, which dwarfed Honda (NYSE:HMC) and Toyota's five-year/60,000 mile offer. Just recently, Hyundai implemented a similar market changer by introducing a lifetime battery guarantee for the 2012 Sonata hybrid. This is a particularly significant action by the company because it is a crucial attempt to shift market perception of this new technology. The largest drawback with hybrid technology is a lack of knowledge regarding this alternative to the well-established internal combustion engine. Hyundai is actively taking steps to address this concern through this battery guarantee.
Shareholders have been nicely rewarded for risking their capital in this company. Share prices have skyrocketed since September 2008 (as can be seen below), and the company's latest income statement is a testament to this achievement.
Click to enlarge.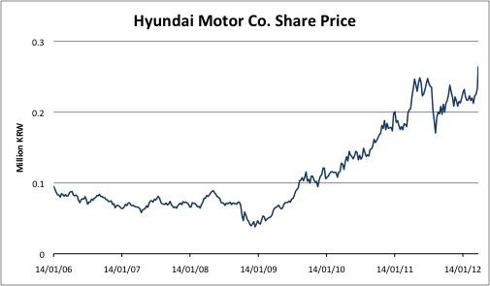 Shareholders were able to enjoy the large share price rise due to the impressive top-line and bottom-line growth of Hyundai. For calendar year 2011, revenue climbed 16% to ₩77.8 trillion and profit increased a remarkable 35% to ₩8.1 trillion.
The underlying factors that have allowed Hyundai to reach this remarkable growth are many and varied. One reason for the company's strength is its flat hierarchy that allows Chairman Chung Mong Koo and his executives to directly contact engineers as far away as Costa Mesa on a regular basis. Few, if any, of the other automakers can claim such involvement of the company's executives at an operational level.
Another advantage of Hyundai lies in its integrated industrial structure. Due to the conglomerate nature of this company, Hyundai Steel Co. provides one-third of the metal supplies. Without ownership of these furnaces, Hyundai would be faced with currency risk or pressure from Korea's largest steelmaker, Posco. Supply integration has been taken a step further with Hyundai Mobis, the world's eighth-largest automotive supplier. Components from Asia are imported and put together by Hyundai Mobis into modules, which are large "parts" of the car that account for one-quarter of the car's value. With minimal human intervention, the modules are delivered to Hyundai Motor and robots assemble them into partially built cars.
It is this cost-effective and ingenious implementation of supply integration that allows Hyundai to hold the highest operating margins. The Hyundai Motor plant in Montgomery, Ala., which has the highest productivity of any North American vehicle assembly factory, proves this out.
Hyundai also hold significant technical advantages over its peers. Unlike many other automakers, Hyundai designs its own drive systems and is therefore in full control of the origination of a vehicle. Another very important technical advantage is fuel economy. This is a particularly important vehicle feature and Hyundai is steadily making its mark in this field. For example, the Elantra is rated at a promising 40 mpg on the highway. It should be noted that the fuel efficiency is typically achieved by lowering the weight of a vehicle, which results in an increase in interior vehicle noise. In the past, this tradeoff was an important concern for Honda, which was producing very fuel efficient and light vehicles.
The remarkable growth of this company has been achieved despite some unique risks. One of these is the very complicated crossholdings of the Hyundai conglomerate that allows second-generation Chung Mong Koo to hold overwhelming control. The Hyundai conglomerate is ultimately a family company, and Chung's son, Eui Sun, will undoubtedly take over his father's position at the right time. S&P voiced concerns over Chung's crossholdings in August since he was effectively allowed to decide on directors. Also, since Hyundai is a family business, some of the decision-making will not be made in the interest of the shareholders. There have recently been concerns that some of Hyundai Motor's acquisitions have been undertaken due to family feuds. The corporate governance of this company is very unique and somewhat questionable.
It is very clear that Hyundai Motor has grown into a major automaker that is threatening some of the most established industrial companies in the world. Its future continues to look bright, especially with its aggressive development of fuel cells that will pave the way for the future of the industry. There are 250 engineers that specialize in the development of fuel cells that utilize hydrogen and oxygen to make electricity that will power cars. The global economy looks increasingly uncertain, but the incredible path that this company is following appears to be almost certainly one of success.
Disclosure: I have no positions in any stocks mentioned, and no plans to initiate any positions within the next 72 hours.