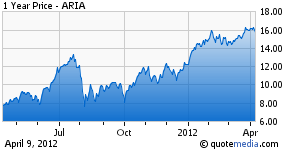 Biotech investors have to make some tough choices when it comes to oncology drug companies. On one side of the ledger are small, cheap-looking stocks that could triple if their pivotal trials beat the odds and succeed. On the other side are the companies which much more certain prospects, but considerably higher valuations. With Ariad Pharmaceuticals' (ARIA) stock already incorporating some pretty big things, investors have to ask how much more than can expect to reap from it.
Shrugging Off A Minor Setback
News from Ariad hasn't been all that positive of late. The FDA's advisory committee roundly punted the application made by Ariad's partner Merck (MRK) to market ridaforolimus for sarcoma. While modest improvements in progression-free survival had kept expectations low, bad news is still bad news. Although the loss to Ariad's implied valuation was minimal (perhaps $2 to $3 per share based on about $175 million to $200 million in potential revenue and milestones/royalties), the co-promotion angle could have been of more long-term use to Ariad.
Ponatinib Expectations Already Ratcheting Up
Right now the bulk of Ariad's value is tied up in ponatinib, a BCR-ABL inhibitor with interesting potential in leukemia. While the company is pursuing development in acute myeloid leukemia (AML), the near-term opportunity is in chronic myeloid leukemia (CML).
Ariad is initially pursuing approval for ponatinib as a treatment for refractory CML [patients who haven't responded to one or more drugs like Novartis's (NVS) Gleevec or Bristol-Myers' (BMY) Sprycel]. What should encourage Ariad shareholders, though, is that ponatinib was designed to be a pan-BCR ABL kinase inhibitor and it has shown to be broadly active against the mutations that give CML resistance to current treatments like Gleevec, Sprycel, and Tasigna.
What this all means, then, is that ponatinib could quickly take a sizable portion of the second and third-line markets. Moreover, I wouldn't rule out the possibility or potential of ponatinib eventually getting some share of the first-line market - generic Gleevec will be hard to beat, but for certain mutation types ponatinib could be a logical starting point.
Gleevec is nearly a $5 billion drug in total, and Sprycel and Tasigna (also marketed by Novartis) are both on a path towards $1 billion in sales. Assuming that ponatinib works, and we should see pivotal results at the upcoming ASCO meeting, the second/third-line applications should be worth close to $800 million. Chip in front-line usage (or additional indications) and this could well be a $1 billion-plus drug - and one where Ariad presently holds all marketing rights.
A Very Interesting Pipeline
I'm normally pretty dismissive of pre-Phase 2 drugs, as the failure rates are so high that it's imprudent to count them for much in a drug company's valuation. That said, I'm inclined to make an exception for Ariad's AP26113 ('113).
'113 is an anaplastic lymphoma kinase (ALK) inhibitor and ALK drugs are picking up a fair bit of attention. Lung cancer will likely be the first target, and while Pfizer's (PFE) Xalkori has set a high bar with strong response rates, there's definitely room for more. Further validating the ALK approach, Chugai (OTC:CHGCF), Astellas (OTCPK:ALPMF), and Novartis are all known to be pursuing this line of research as well.
If '113 can meet or beat Xalkori (and that's a huge "if" on the basis of minimal data in hand), it could be worth at least as much as ponatinib, if not more.
Will Ariad Go It Alone?
Right now, Ariad holds all of the rights to ponatinib and '113 and every indication from company management has been that they will commercialize these drugs themselves (at least in North America). It's worth wondering if that will hold true.
If the ponatinib data is strong and the initial launch goes well, I see no reason why any oncology company outside of Novartis wouldn't be interested. Likewise, if the ALK inhibitor market shapes up as expected or hoped, I could see a highly-acquisitive company like Celgene (CELG) come in with a bid.
Piecing It Together
Valuation is where my love for the Ariad story fades.
If ponatinib peaks at $750 million in revenue, I estimate the per-share value to Ariad at around $10.50. Push that up to $1 billion (say with meaningful first-line penetration) and the per-share value jumps to $14. As previously mentioned, I don't like including pre-Phase 2 drugs in valuation, but I will make an exception here. Giving '133 $1 billion in sales about ten years hence chips in another $4 per share in value, suggesting a fair value for Ariad shares around $14.50 to $18.
I have little doubt that bulls will snort in protest. They'll say that the ponatinib sales estimates are too small (some analysts have projected over $2 billion in sales), the discount rate is too high (30%), or the presumed multiples are too low (9x on a trailing basis to peak sales). Ditto for '133.
Fair enough. After all, if ponatinib somehow does achieve $2 billion in sales, it would be worth about $28.50 per share. I just don't happen to see much benefit in getting too aggressive with any biotech stock; a little conservatism has stood me in good stead in my own experience with biotech investing. That said, I do believe Ariad is better than many of the single-digit midgets in the biotech oncology space.
All in all, then, with a fair value in the $14.50 to $18 range and a current price of $15.75, Ariad is a stock that I'll continue to watch, but have no pressing need to buy today.
Disclosure: I have no positions in any stocks mentioned, and no plans to initiate any positions within the next 72 hours.