With the release of the long anticipated Diablo III set for May 15th, Activision (ATVI) is already rising in anticipation along with many gamers' levels of excitement. As a long time gamer and someone who enjoyed Diablo 1 and 2, I will certainly be a purchaser of Diablo III along with millions of other players.
This is to be a blockbuster title for Activision and should make for a blowout second quarter. Released during the slower summer months, Diablo III has little to no competition for gamers' dollars, and will likely be the title to have for the summer, or quite possibly "game of the year."
Because of this, I suggest purchasing shares of Activision sooner rather than later. While shares if Activision have remained relatively stagnant for a long time now, the stock has been in a bullish run ever since the release date of Diablo III was announced. Expect it to continue.
(Click to enlarge)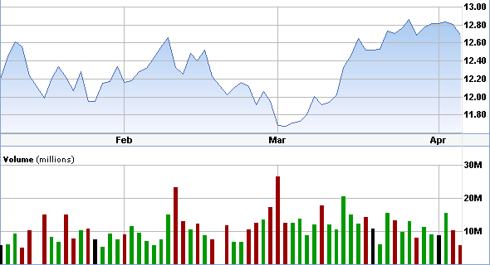 Something grabbed my interest while reading fellow author Chris Katje's article here.
"One huge thing to keep in mind with Diablo III is the Auction House. For the first time in a Blizzard game, a real life auction house will be used hosted on the battle.net website. Items from the game will be available for purchase with real money or gold earned in the game. Blizzard will be paid fees based on the sale of items. If the auction house is successful it will likely make its way into other Blizzard or Activision projects. The auction house, run by Blizzard, will hopefully cut down on illegal selling of MMORPG items. In my last article, there were many comments about China and other Asian regions are not in support of the Real Money Auction House. Players of the game will also be allowed to sell some items with set prices, similar to eBay's (EBAY) Buy it Now option on auctions. EBay could also be a winner as users can cash out from auctions with Paypal as an option."
After college while working for a local company that was bought out by Nokia (NOK), I was playing a game called Everquest which is run by Sony (SNE). Instead of following the other employees to Nokia I decided to turn my attention full time to what side income I was receiving selling swords and armor and coin from Everquest on EBay, and make it a full time gig. What was a $200 a week part time side business turned into a $2,000 per week average full time operation selling game items and coin. Some weeks showed upwards of $10,000.
Of course, I had little competition and for several years I was able to capitalize on exclusivity. But eventually profits decreased with other competitors, and dwindled to a meager wage once competition from Chinese players took over. I only wish I had pursued relationships with IGE's Alan Deboneville and Brock Pierce earlier on (beyond becoming an affiliate), and not burned my bridges with Jonathan Yantis. They saw the future with Chinese players.
I know firsthand how lucrative and massive this secondary market can be, and if done correctly by Blizzard / Activision, this could present a huge amount of income to the bottom line. Consider what it will mean if Activision is able to integrate an auction system which handles purchase, delivery to the buyer, and payment to the seller, for a set percentage fee. Allow gamers to make money if they choose and make it easy for buyers to get their hands on those items, and you have a recipe for a large amount of profit.
Gamers will argue over whether or not such services are "good for the game." But the argument should be posed here that such activity is impossible to stop. It's better that it be regulated and that the company that makes the game is allowed to profit from such activity within its game. This is safer for both buyer and seller. Embracing this shows Activision is prepared for the future. If they are able to execute it properly within Diablo III, this should present significant upside to the company going forward.
I'm long shares of Activision, at least until second quarter numbers are released. I believe Diablo III and Activision's entry into the secondary "in game item" market will be a huge boost to the bottom line, and should provide for respectable appreciation in the company's stock.