After explaining why natural gas was so cheap in my article "The Reason Why Natural Gas Is So Cheap", and then re-iterating twice in the $2.70s ("Has Natural Gas Hit Its Bottom?","Was That The Bottom For Natural Gas?") that we hadn't seen the bottom yet, we are now facing natural gas trading at just $2.10.
Given that gas in storage is at all-time highs for this point in the yearly cycle, and that many wells done in 2011 and early 2012, under a better natural gas market, will only be fracked now (fracking is usually done between April and October), it is likely that in the absence of a very hot summer, the natural gas storage will be exhausted during 2012's injection cycle. This can be a powerful ingredient towards incredibly low gas prices, especially given that many producers will have trouble either flaring or shutting down wells. The charts below, from EIA, shows how the storage situation is critical. Bear in mind that the estimates for total existing storage are not much above the top of the past injection cycles (4.3 Tcf as per EIA), so this year the likelihood of hitting that ceiling is high (chart by EIA, red "ceiling" is mine based on EIA estimate).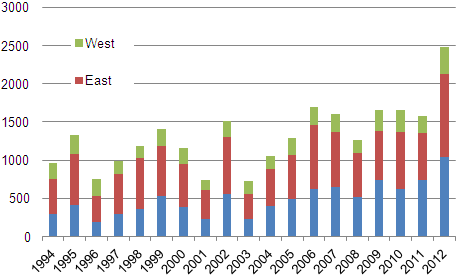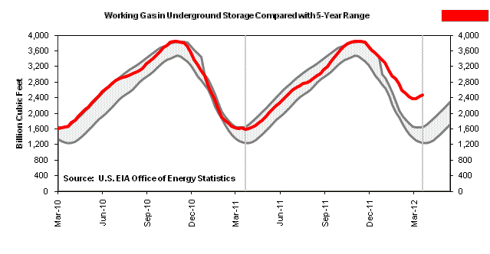 Click to enlarge
(Click to enlarge)
So, for 2012 the natural gas market is continuing to look into a possible abyss, and there's little that can be done other than avoiding speculating long in it or purer natural gas producers such as Chesapeake Energy (CHK) (90% of CHK's revenues come from natural gas, source: Fidelity Capital Markets), Devon Energy (DVN). (60% natural gas) or SandRidge Energy (SD) (54% natural gas).
However, there are 3 factors coming together that might produce a very different picture by middle 2013. These are:
Storage exhaustion. Since there's no way to keep more than 4.3 Tcf in storage, at the end of the injection cycle the inventories will be capped at that level. Any additional production that can't be sold or exported will have to be shut in;
Lower drilling rigs and hence fewer new natural gas wells being drilled. It's only natural that given the price crash a lot less rigs are being dedicated to drilling natural gas. It's also to be expected that with the prospect of nowhere to put the gas this summer, the trend towards less rigs and less wells will also become even more pronounced. The Baker Hughes Drilling Rig Count Report shown to the right, illustrates this trend;
And this brings us to the variable that might yet produce the fracking miracle during 2013. The shale well depletion rate. Put simply, the natural gas wells that are fracked on shale show a production profile with steeply decreasing production in the first few years. Indeed, the production after the first year can drop by almost 80%, so if for some reason the drilling of new wells slows down enough in one year, this can already have profound implications as early as the next year. And since there can be several winter months where fracking is not conducted, it might happen that even if production drops too much, producers cannot respond immediately - sure, they'll respond, but it will take 6 months to another year for that response to come online. The production profile for a theoretical horizontal natural gas well is shown below (source: Geology.com):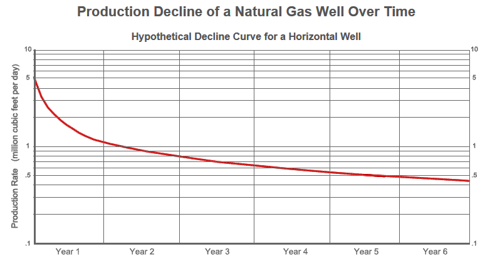 Click to enlarge
(Click to enlarge)
In short, during 2012 we'll observe the worst possible natural gas market, with natural gas hitting the limits of existing storage, prices plunging and rigs being repurposed because of the economics of drilling for more gas. However, since natural gas wells deplete quite fast, with shale gas - the biggest contributor to the present glut - decaying as much as 80% in their first year of production, one year from now there's the chance that this picture will be -- at least temporarily - reversed. This could argue for speculative long positions in gas for 2013 delivery or natural gas producers in the middle of the crisis that filling up the storage capacity might well generate in the natural gas market.
The possible downside
Although rigs doing natural gas wells are down, those drilling for crude are not. Obviously crude prices are still sky-high and it makes a lot of sense to keep exploring for it intensively. The problem here is that many crude wells will also produce some natural gas, hence this can mean that much of the expected lower production does not materialize, as these wells will keep on being drilled massively.
Conclusion
Although today's situation in natural gas is dire, and likely will produce even lower natural gas prices in the short term, it's possible that due to a combination of storage exhaustion, lower drilling and the production profile of fracked natural gas wells, the situation might turn a lot different as early as 2013. If such were to happen, it would be temporary and one year down the road we'd again have too much production, but still it is a possible outcome taking into account the present path of events.
Addendum
Generically it's wrong to try and take advantage of this situation using natural gas ETFs, because of the way they lose value over time due to the contango on the natural gas markets. It's even worse, though, to even think of buying the iPath DJ-UBS Natural Gas TR Sub-Idx ETN (GAZ). Do not buy GAZ, GAZ is trading 100% over its fair value and it makes no sense to buy it.
Disclosure: I am short GAZ.