For months, US equities indices such as the Dow, S&P 500, and the Nasdaq have been overbought. Triggered by QE3 rumors, marginal economic improvement and irrational optimism, markets have rallied with little volume and little resistance. It was going to take a significant trigger to find a breakpoint. The combination of the Fed backing off on more easing and the dismal March jobs report has finally made it time to take action and short major US indices.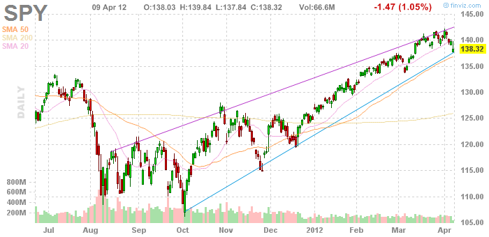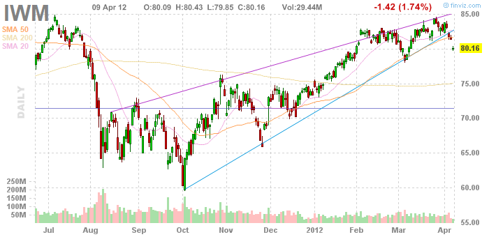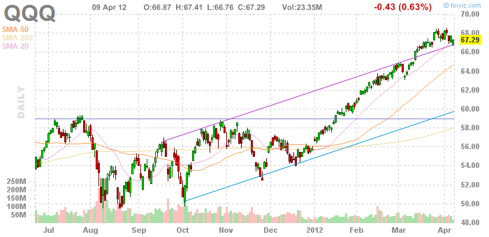 As the charts above indicate, the bad jobs number provided the selling needed to create the first set of lower lows in 2012. The S&P 500 broke resistance of 1391, the Dow is trading below its 50 day moving average, the Russell 2000 has broken through 820, and the Nasdaq is approaching support at 2700. MAC-D's have crossed negative and the full stochastic indicators have pointed bearish.
To match bearish technical momentum, economic fundamentals also point to an extended sell-off. High gas prices have largely eroded what is left of American consumers' discretionary income, tax receipts on wages are down despite job growth (good jobs are replaced with the bad), and the housing market is failing to recover. On the European front, the Spanish economy's depression is deepening, sovereign yields in Spain, Italy, and Belgium are rising, and French elections risk the stability of current fiscal agreements. Asian economies such as China and India are experiencing slowdowns without an equal slowdown in the inflation rate. The consequence of an Asian slowdown will disproportionately hurt the Australian economy (which is beginning to struggle through its own economy and upcoming housing bust) and commodity prices.
Despite the supposed economic improvements, treasuries have recovered most of their March losses and are pricing in a equity market below 1200 on the S&P based on historical correlations. Risk on currencies such as the Aussie Dollar have also been leading equity markets in their downturn
As a result of these developments of correlating assets, technicals, and an already shaky fundamental macroeconomic climate, I have reinstated my shorts on the S&P 500 (NYSEARCA:SPY), Nasdaq (NASDAQ:QQQ), and Russell 2000 (NYSEARCA:IWM) along with a few specific stocks and currencies. As with any short, put a stop based on your risk capacity, as mine are currently slightly above the previous market highs.