Canada has vast amounts of natural resources yet to be explored. The country is rich in oil and natural gas reserves, as well as precious and essential commodities. According to the country's official statistics, revenue from natural resources constitutes more than 11% of Canada's GDP. Companies in this sector generated revenue of $133 billion in 2009 alone. A significant portion of the productivity in the natural resource field is exported to the U.S. and other trading partners. In 2009, the natural resource sector contributed almost $70 billion to Canada's trade balance.
There are more than 100 Canadian natural resource stocks that trade within the U.S. markets. These stocks offer U.S. investors an opportunity to profit from Canada's vast amount of natural resources. However, some of these stocks are priced with hefty premiums, whereas others are trading at a discount. In my next few articles, I am planning to examine these stocks from a fundamental perspective, adding my O-Metrix grading system (out of 10) and FED+ Valuations where possible. This is the seventh article in this series. Here is a list of five Canadian basic material companies. Based on my analysis, I rate three of them as holds and two as buys:
| | | | | | | |
| --- | --- | --- | --- | --- | --- | --- |
| Stock Name | Yield | EPS Growth Estimate | O-Metrix Score | FED+ Valuation | YTD Return | My Take |
| Enerplus Corporation (ERF) | 10.5% | 22% | 5.8 | $17-$36 | -16.44% | Hold |
| Pengrowth Energy (PGH) | 9.32% | N/A | N/A | N/A | -11.9% | Hold |
| Pan American Silver (PAAS) | 0.74% | 3.3% | 2.7 | $32 - $48 | -6.75% | Buy |
| Novagold Resources (NG) | N/A | N/A | N/A | N/A | -19.7% | Hold |
| Silvercorp Metals (SVM) | 1.6% | 5% | 2.5 | $6-$8.5 | -1% | Buy |
The data above is from Finviz/Morningstar, and is current as of April 8. You can download the O-Metrix calculator here.
Enerplus: Hold
Since reaching its peak of $30 in early June, Enerplus keeps going down. The stock lost 16% this year alone. The annual return of -30% has significantly lagged broad market indices.
Click to enlarge all images.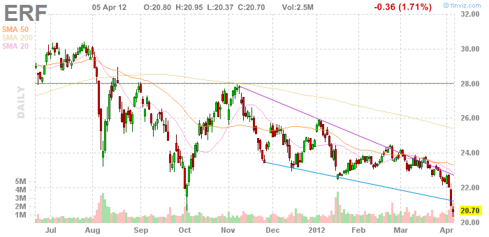 (Source: Finviz)
Enerplus is among the most respected drillers in Canada. Established in 1986, the Calgary-headquartered company is primarily engaged in the exploration and development of crude oil and natural gas reserves in North America. As of the last quarter, it had 322 million barrels of oil equivalents (MMBOE) in proved and probable reserves.
The company reported a net income of $110 million from revenue of $1.1 billion. While the forward P/E ratio of 21.56 looks like a good deal, currently the stock is above my fair value estimates. However, its double-digit yield deserves a second look. Therefore, I rate it as a hold for the moment.
Pengrowth Energy: Hold
Pengrowth Energy is another driller headquartered in Calgary, Canada. The company primarily operates as crude oil and natural gas explorer in North America. As of the last quarter, it has total proven and probable reserves of 330 million barrel of oil equivalents.
The stock follows a volatile movement pattern. As of the time of writing, it was trading somewhere at the lower end of its 52-week trading range. Even after returning 7% in the last six months, the annual return of -31% is deep in the negative territory.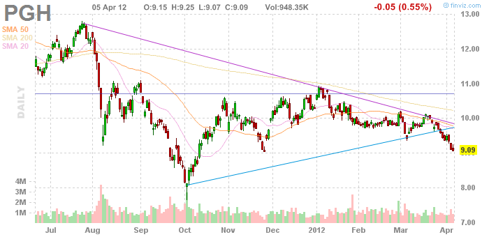 (Source: Finviz)
While Pengrowth is an expensive stock based on trailing and forward P/E ratios, it offers a nifty yield of 9.32%. The cash flow statement suggests an operating cash flow of $693 million, which is more than enough to cover the total dividend outflow of $278 million. However, the company invested almost $600 million in the last year, half of which is financed through issuance of common stock.
Pengrowth recently announced its intention to acquire the Nal Energy Corp. in a stock swap deal valued at $1.90 billion. While that is a good movement into the light oil fields across Alberta and Saskatchewan, the deal suggests that Nal Energy shareholders will own 26% of the combined company. At the time of the announcement, the deal suggested 11% premium for Nal Energy stock. The share dilution might add an additional pressure on the stock for the short term. Therefore, I rate it as a hold.
Pan American Silver: Buy
Pan American Silver is one of the most important players in the precious metals field. The company operates primarily in the silver field, but it also has interests in copper, zinc, lead, and gold mining fields. Established in 1979, the Vancouver-headquartered Pan American lost 7% in this year.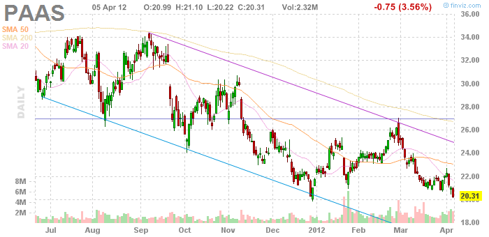 (Source: Finviz)
I think precious commodities are in a huge bubble, and most of the related stocks are significantly overpriced. However, after losing almost half of its market cap, Pan American looks like a good deal.
The stock is trading at a trailing P/E ratio of 6.14, and forward P/E ratio of 8.83. Its price-to-sales ratio of 2.55 suggests that it will take a short period of time to recover the initial investment on investor capital. Unless silver prices collapse to new lows this year, Pan American is likely to outperform the market. The company is also almost debt-free with a debt/equity ratio of 0.02. Therefore, I rate it as a buy.
NovaGold Resources: Hold
NovaGold Resources is a midtier gold miner that is primarily involved in the exploration and production of gold. The company also develops gold-related minerals such as silver, zinc, lead, and copper minerals. Established in 1987, the Vancouver-headquartered NovaGold has operations in Alaska and British Columbia. The company was able to boost its earnings by 106% in this year, but its stock lost almost 50% in the last 12 months.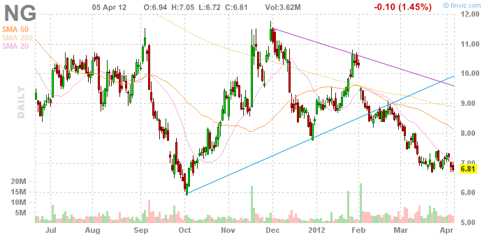 (Source: Finviz)
I am not a fan of precious metals, and NovaGold is no exception. The stock is trading at 7 times book value. It has a risky balance sheet with a relatively high debt-to-equity ratio of 0.6. I would have rated it as a sell, but the stock is trading near the dip of its 52-week range. Besides, RBC Capital has a bullish target price of $11. Therefore, I rate it as a hold.
Silvercorp Metals: Buy
Formerly known SKN Resources, the company changed its name to Silvercorp Metals in May 2005. The Vancouver-headquartered Silvercorp is primarily involved in silver development projects in Canada and China. It also explores for gold, lead, and zinc resources. The company boosted its earnings by 85% this year, but its stock lost 58% in the last 12 months.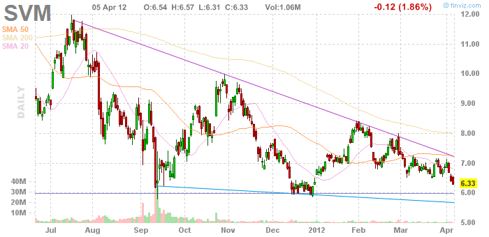 (Source: Finviz)
Looking at the stock from a purely accounting perspective, it looks like an undervalued company. The forward P/E ratio of 11.51 is lower than the broad market indices. Based on the debt/equity ratio of 0.0, it can be considered to be debt-free. My FED+ Valuation model suggests a fair value range of $6 to $8.50, and the stock is trading near the lower end of this range. After losing more than half of its market cap, the stock has double-bottomed at $6. It could be a good speculative buy.
Disclosure: I have no positions in any stocks mentioned, and no plans to initiate any positions within the next 72 hours.