SciClone Pharmaceuticals (SCLN) is a leading specialty pharmaceutical company focused on China. It has therapies for oncology, infectious diseases, and cardiovascular, urological, respiratory, and central nervous system disorders. SciClone markets nearly 20 drugs in China including their own Hepatitis drug Zadaxin (thymalfasin). The company goal is to grow sales in their marketed portfolio of drugs in China. With more than a decade experience in China, SciClone is a partner of choice for future licensing opportunities. The acquisition of NovaMed in April 2011 significantly increased the revenue of SciClone. The company has completed its third year of profitability in 2011 and has demonstrated the ability to consistently grow revenues.
SciClone Pharmaceuticals has been focused on China since 1996 when Zadaxin was launched in that country. The company continues to build up in China by in-licensing or acquiring marketing rights to synergistic, commercially attractive products. In April 2011, SciClone acquired NovaMed to broaden their existence in China beyond the drug Zadaxin. This immediately gave them licensing partners with major pharmaceutical companies such as Sanofi, Pfizer and Baxter. The acquisition also allowed SciClone to dramatically expand their presence in China in five important areas: pharmaceutical products, targeted therapeutic indications, management depth, sales force size and revenue. After the takeover SciClone's sales force rose to 680 employees spread throughout the rapidly growing market of China.
Income Statement -- all in thousands of dollars income statement
Q1 2011- revenues 21,662; cost of rev. 3,103; research 3,109; selling and admin. 11,186; operating income +4,264
Q2 2011- revenues 33,108; cost of rev. 5,174; research 3,091; selling and admin. 21,928; operating income +2,201
Q3 2011 revenues 37,425; cost of rev. 5,024; research 3,035; selling and admin. 18,193; operating income +10,315
Q4 2011 revenues 41,446; cost of rev. 6,712; research 3,111; selling and admin 18,085; operating income +12,645
In the first quarter, you see the company before they acquired NovaMed- revenues were only 21,662, selling and admin. was only 11,186, and profits were decent at +4,264. During the second quarter the takeover of NovaMed occurred- revenues were 33,108, selling and admin. doubled to 21,928, and operating income was only +2,201. By the third quarter the takeover costs were under control- revenues were 37,425, selling and admin. costs were reduced to 18,193, and operating income was huge +10,315. The fourth quarter was pretty much the same as the third quarter except operating income improved to +12,645. The acquisition of NovaMed was a stellar success and profits dramatically improved by the end of 2011.
Information from the Annual Report Annual Report
Zadaxin revenues increased 23% to $104.8 million in 2011 as compared to $85.1 million in 2010. SciClone's net income for the fourth quarter of 2011 was $12.4 million, compared to $3.8 million for the fourth quarter of 2010. Net revenues attributed to NovaMed were $28.8 million from the date of acquisition. The important accomplishment was the transition from a typical biotech to a China-focused specialty company. NovaMed added 450 sales and marketing employees in April 2011- the Company now has a combined sales organization comprised of approximately 850 sales professionals in China.
Cash and Investments
At December 31, 2011 cash and investments totaled $67.0 million compared to $56.5 million at the end of 2010. The increase in cash balance was primarily due to the cash generated by the company's commercial operations, partially offset by the $24.6 million paid in the second quarter as part of the acquisition of NovaMed and $3.5 million used in the fourth quarter for the repurchase of SciClone's stock.
Financial Outlook for 2012
SciClone anticipates 2012 revenues between $165 and $170 million. The Company expects non-GAAP earnings per share for the full year 2012 to be between $0.72 and 0.78. SciClone's cash and investments at December 31, 2012 are projected to be greater then $85 million, excluding the cash impact of any future repurchases of common stock from our remaining $16.5 million share repurchase plan.
Chart of SciClone Pharmaceuticals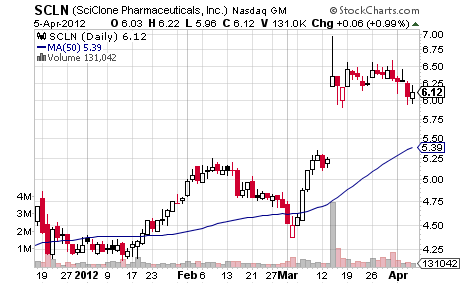 The chart of SCLN traded up to $5.25 a share in early February. Then it sold off to $4.50 in the beginning of March. In early March it began to trend upward then fourth quarter's earning were released and the stock rocketed up to almost $7.00 a share. Since then it has traded between $6.00 and $6.50 a share.
Disclosure: I have no positions in any stocks mentioned, but may initiate a long position in SCLN over the next 72 hours.