Small companies often have no analysts following them. This means choosing the right microcap (market cap < $300 million) can be very profitable. For example, the Russell 2000 index outperforms the S&P 500 significantly over the past ten years: Russell 2000 index returns 66% vs. S&P 500 25%.
(click to enlarge)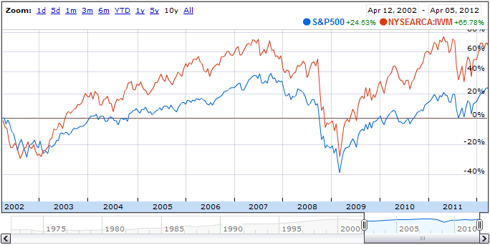 Choosing the right small companies to invest can be daunting: where should you start? Insiders, especially executives of small companies tend to know the company very well. Tracking their stock purchase activities is a very good point to start for lucrative returns. In this series, I'm going to report microcap company insider buys on a weekly basis (market cap in $million).
Following Seeking Alpha's microcap policy, all the stocks in the table are greater than $1 per share or $100 million market cap.
| | | | | | | | | | |
| --- | --- | --- | --- | --- | --- | --- | --- | --- | --- |
| Ticker | Company | Sector | Industry | Market Cap | Insider | Position | Shares | Price | Date |
| ADK | Adcare Health Systems Inc | Healthcare | Long-Term Care Facilities | $43.44 | Brogdon Christopher F | Chief Acquisition Officer | 10,000 | $3.57 | 4/3/2012 |
| ADK | Adcare Health Systems Inc | Healthcare | Long-Term Care Facilities | $43.44 | Brogdon Connie B | 10% Owner | 10,000 | $3.57 | 4/3/2012 |
| AEHR | Aehr Test Systems | Technology | Semiconductor Equipment & Materials | $11.23 | Anderson Robert R | Director | 8,250 | $1.10 | 4/3/2012 |
| AEY | Addvantage Technologies Group Inc | Services | Electronics Wholesale | $24.29 | Francis Scott A | VP and CFO | 50,000 | $2.45 | 4/2/2012 |
| AIRT | Air T Inc | Services | Air Delivery & Freight Services | $23.36 | Swenson Nicholas John | NA | 3,168 | $9.51 | 4/2/2012 |
| AIRT | Air T Inc | Services | Air Delivery & Freight Services | $23.36 | Swenson Nicholas John | NA | 4,895 | $9.59 | 4/3/2012 |
| BKJ | Bancorp Of New Jersey Inc. | Financial | Savings & Loans | $49.20 | Mauro Josephine | Director | 660 | $9.48 | 4/2/2012 |
| BMTI | Biomimetic Therapeutics Inc. | Healthcare | Medical Instruments & Supplies | $75.95 | Friedlaender Gary E | Director | 10,000 | $2.79 | 4/2/2012 |
| CHUX | O Charleys Inc | Services | Restaurants | $216.84 | Fred Merger Sub Inc. | NA | 83,894 | $9.85 | 4/4/2012 |
| CHUX | O Charleys Inc | Services | Restaurants | $216.84 | Fred Merger Sub Inc. | NA | 345,508 | $9.85 | 4/5/2012 |
| CHUX | O Charleys Inc | Services | Restaurants | $216.84 | Fred Merger Sub Inc. | NA | 17,638,179 | $9.85 | 4/3/2012 |
| CITZ | Cfs Bancorp Inc | Financial | Regional - Midwest Banks | $63.10 | Simon Joyce M | Director | 658 | $5.93 | 4/2/2012 |
| CLRO | Clearone Communications Inc | Technology | Communication Equipment | $37.46 | Bagley Edward D | 10% Owner | 30,000 | $4.06 | 4/3/2012 |
| CNBC | Center Bancorp Inc | Financial | Regional - Northeast Banks | $164.30 | Kent Howard | NA | 268 | $10.05 | 4/2/2012 |
| CNBC | Center Bancorp Inc | Financial | Regional - Northeast Banks | $164.30 | Seidman Lawrence B | NA | 5,828 | $10.04 | 4/2/2012 |
| CNBC | Center Bancorp Inc | Financial | Regional - Northeast Banks | $164.30 | Vanaria Raymond | NA | 600 | $10.17 | 4/2/2012 |
| COMV | Comverge Inc. | Technology | Scientific & Technical Instruments | $45.68 | Raging Capital Fund | qp Lp | 23,000 | $1.76 | 4/5/2012 |
| COMV | Comverge Inc. | Technology | Scientific & Technical Instruments | $45.68 | Raging Capital Fund | qp Lp | 201,705 | $1.76 | 4/4/2012 |
| CRTX | Critical Therapeutics Inc | Healthcare | Biotechnology | $154.30 | Chiesi Farmaceutici Spa | 10% Owner | 1,443,913 | $6.25 | 4/3/2012 |
| DCO | Ducommun Inc /de/ | Industrial Goods | Aerospace/Defense Products & Services | $129.12 | Reardon Anthony J | President and CEO | 2,000 | $12.20 | 4/2/2012 |
| FUNC | First United Corp/md/ | Financial | Regional - Mid-Atlantic Banks | $38.02 | Burkey M Kathryn | Director | 106 | $6.46 | 4/2/2012 |
| ICH | Investors Capital Holdings Ltd | Financial | Diversified Investments | $26.62 | Crosson James D. | NA | 1,000 | $4.00 | 4/2/2012 |
| KERX | Keryx Biopharmaceuticals Inc | Healthcare | Drug Manufacturers - Major | $108.66 | Bentsur Ron | Chief Executive Officer | 71,400 | $1.38 | 4/4/2012 |
| LGL | Lynch Corp | Technology | Scientific & Technical Instruments | $18.98 | Gabelli Mario J | 10% Owner | 1,800 | $7.42 | 4/4/2012 |
| LGL | Lynch Corp | Technology | Scientific & Technical Instruments | $18.98 | Gabelli Mario J | 10% Owner | 1,900 | $7.25 | 4/3/2012 |
| LGL | Lynch Corp | Technology | Scientific & Technical Instruments | $18.98 | Gabelli Mario J | 10% Owner | 2,200 | $7.25 | 4/2/2012 |
| LNBB | Lnb Bancorp Inc | Financial | Regional - Midwest Banks | $54.40 | Campana Robert M | Director | 585 | $6.90 | 4/4/2012 |
| LNBB | Lnb Bancorp Inc | Financial | Regional - Midwest Banks | $54.40 | Howley Lee C Jr | Director | 585 | $6.90 | 4/4/2012 |
| LNBB | Lnb Bancorp Inc | Financial | Regional - Midwest Banks | $54.40 | Merkel Daniel G | Director | 110 | $6.90 | 4/4/2012 |
| LNBB | Lnb Bancorp Inc | Financial | Regional - Midwest Banks | $54.40 | Schaeffer John W | Director | 195 | $6.90 | 4/4/2012 |
| RICK | Ricks Cabaret International Inc | Services | Restaurants | $92.52 | Marshall Phillip Kent | CFO | 1,000 | $9.55 | 4/4/2012 |
| SGA | Saga Communications Inc | Services | Broadcasting - Radio | $150.20 | Tisch Daniel R | 10% Owner | 130 | $35.10 | 4/4/2012 |
| WOLF | Great Wolf Resorts Inc. | Services | Resorts & Casinos | $180.52 | Vora Parag | NA | 125,000 | $5.64 | 4/4/2012 |
| ZZ | Sealy Corp | Consumer Goods | Home Furnishings & Fixtures | $204.97 | Roedel Richard | Director | 24,000 | $2.01 | 4/2/2012 |