In an outrageous development to the shareholders saga at the Calgary-based energy producer Equal Energy (EQU), the information circular (pdf) for the year 2011 that was released on April 4, 2012, showed a 424% increase (yes this is not a typo) in total compensation for the company's CEO Mr. Don Klapko. In addition to a substantial pay increase ranging from 45% to 84% for all the top executives of the company.
Those substantial pay increases took place in a year when the company's stock price lost close to 30% of its value and natural gas prices (presenting 50% of the company production) went into a free fall. Meanwhile no meaningful improvement on a per share basis on any metric has been achieved:
| | |
| --- | --- |
| 2010 Proven reserves per share | 0.94 barrel |
| 2011 Proven reserves per share | 1.0 barrel |
| Net change per share | + 6% |
| | |
| --- | --- |
| 2010 P+P reserves per share | 1.15 barrel |
| 2011 P+P reserves per share | 1.10 barrel |
| Net change per share | - 4.5% |
| | |
| --- | --- |
| 2010 Production per share | 0.0033 barrels per day |
| 2011 Production per share | 0.0029 barrel per day |
| Net change per share | - 12.2% |
| | |
| --- | --- |
| 2010 debt per share | $5.22 |
| 2011 debt per share | $5.19 |
| Net change per share | - 0.5% |
| | |
| --- | --- |
| 2010 Shareholder equity per share | $6.2 |
| 2011 Shareholder equity per share | $6.34 |
| Net change per share | +1.9% |
As can be seen from the above, there has been no tangible improvement in any of the key per share metrics. On the contrary: on some measures such as production and proven plus probable reserves, shareholders experienced a decrease in metrics. Hence, it is astonishing that the company CEO should receive a 424% pay increase for such a mediocre performance.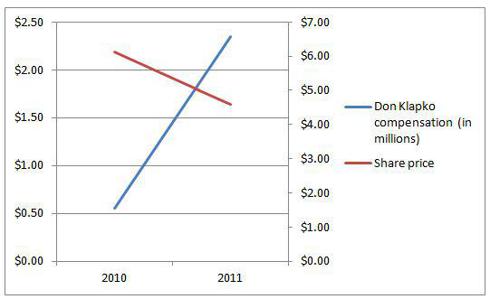 Click to enlarge
As a matter of fact, since Mr. Klapko assumed his CEO position on June 30, 2008, Equal Energy shares have declined by over 74% as of the Thursday (April 5) close. Meanwhile, cumulatively, the CEO of Equal Energy received a total of $10.37 million in compensation during the same period.
2008: $6.6m (excluding the $840k received as a consultant in the prior months)
2009: $854K
2010: $554K
2011: $2.36m
Total: $10.37m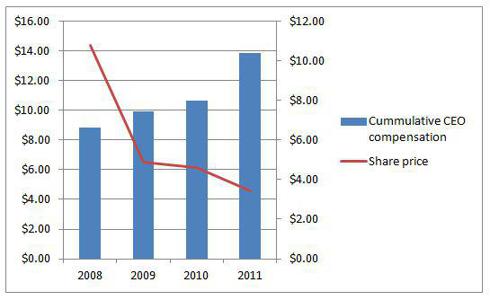 Click to enlarge
It is imperative for boardrooms in Canada to take into consideration shareholder returns when awarding the company executives such generous compensation packages. The board members of Equal Energy have the fiduciary responsibility to protect and enhance shareholder value. This responsibility is ever more pressing when such disproportional compensation is awarded during a period of economic uncertainty and collapsing natural gas prices.
As highlighted in my previous article published on April 2nd, Equal Energy has significantly underperformed its peers: the company trades at under 40% of its Net Asset Value compared with peers who trade at 71% of their of net asset value.
The management of this company has failed to articulate a credible and comprehensive business strategy going forward. Equal Energy exists in "no man's land" where the company is neither a growth oil and gas company, nor an income vehicle providing steady dividends or distributions to its shareholders. It is urgent for the company to adapt the shareholders mutual fund trust initiative discussed in the above mentioned article and explained through (these slides).
On a related matter, it is encouraging that Equal energy finally signed the promised Mississippian Lime joint venture with a credible partner; Atlas Resources Partners (ARP). This transaction has unlocked $36m in shareholder value or about $1.05 per share. The tepid market reaction to this development however, further underpins the need for the company to proceed with a complete restructuring along the lines proposed by the dissident shareholders or through an alternative plan offering real prospects for growth.
Mr. Klapko started his comments in regards to the Atlas Resources joint venture with the following line:
I am pleased to have been able to reach this agreement with Atlas. This joint venture fulfills our promise to find a way to accelerate development of our Mississippian play.
It is telling that Mr.Klapko is taking full credit for the signature of this joint venture, yet refuses to take credit for the substantial decline in shareholder value over the last 3 years of his tenure - despite the generous compensation he received during his leadership.
Apparently the word "Equal" in Equal Energy does not equate with equal returns for all parties involved.
Disclosure: I am long EQU.