There used to be a certain prestige in owning Sony (SNE) products - once upon a time. In the '80s and '90s Sony was associated with high quality, technological superiority and innovation. Today it is thought of as a bungling giant, encumbered by its bureaucracy in an ever changing world.
This is not the same youthful, agile company that bounced back from being taken by surprise in the MP3 market by innovating and launching the short lived, but highly popular, MD players.
It is certainly not the same company that stormed the gaming market by dethroning Nintendo and Sega in the late '90s. Lately, it has not even been able to capitalize on its strengths let alone foray into new market space. Look at the dismal market performance of the stock over the past 5 years:
(Click to enlarge.)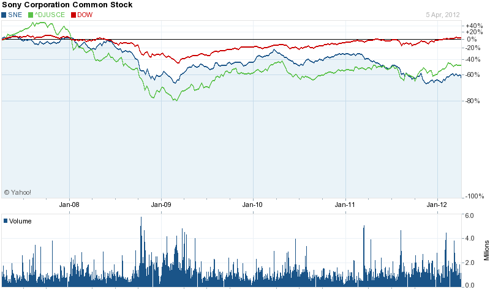 Click to enlarge
Admittedly, the consumer electronics space has been hard hit by the economic downturn. However, Sony has not been able to leverage its conglomerate diversification model and the other business segments have not been able to offset the weakness in the consumer electronics space.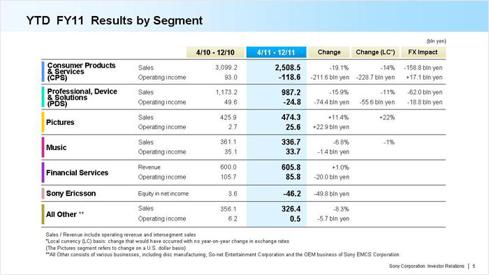 Click to enlarge
Instead of consolidating and focusing on its core strengths, Sony has over stretched itself and has become a jack of all trades as opposed to being a clear market leader in a particular segment.
Samsung (OTC:SSNLF), Sony's supplier-turned-partner-turned-major competitor has returned close to 140% over a 5 year period, operating in the same difficult environment. It exudes the resilience that Sony once used to possess and has successfully made inroads into Apple's (NASDAQ:AAPL) dominance in the tablet market and smart phone industry.
Can Sony keep up?
I'm afraid not, as it seems like Sony is fighting a losing battle in every segment. The collapse of Kodak highlights the intensity of the competition in cameras. In gaming, Microsoft's (NASDAQ:MSFT) Xbox and Nintendo's (NTDOY.OK) Wii have eroded much of the PlayStation's market share. On the television front, Sony wisely made a tactical retreat from its LCD joint venture with Samsung, which was bleeding red over the past 7 years.
In the world of phones, Sony decided to consolidate its position by buying out partner Ericsson, which will prove to be another costly blunder. In the smartphone space, which is where most of its phones are positioned, Sony has to compete with the likes of Apple and Samsung in Tier 1 and a host of others like RIM (RIMM), LG (OTC:LGCIF), and HTC (OTC:HTCXF) in Tier 2.
Nokia also seems to be determined to hold on to as much market share for as long as possible, especially in the low-cost arena. None of Sony's phones are game-changers - or exceptional in any manner - except for the Xperia Play, which is basically a PSP (PlayStation Portable) that happens to make calls and appeals to hardcore gamers only. In fact, the Xperia Play may also cannibalize existing PSP sales, making thing worse for the company.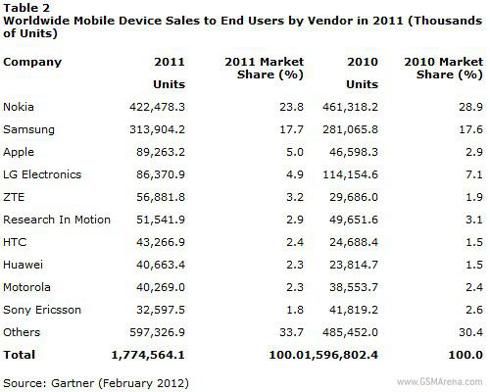 Click to enlarge
What's the latest nail in the coffin?
Sony just doesn't seem to get that in order to break into a crowded market space, you need to come up with either a revolutionary product or, in its absence, invest an arm or leg into differentiating yourself from the competition.
Its latest tablet venture offers consumers nothing new except for the fact that one of them is a two screen version which is more conducive to playing games and is "PlayStation certified." Once again, it seems that they seem to be drawing on the gamer demographic, which is a small segment of the overall market, so it is doubtful they will make any worthwhile inroads into this arena.
They also need to give up their obsession with 3D as they continue to invest heavily in this segment. This is the age of austerity. How many people do you know who own a 3D TV? Granted it's an interesting concept, but when many people haven't made the switch to LCDs outside of major urban centers, what makes Sony think that 3D is going to pick up any time soon?
With the new CEO Kazuo Hirai at the helm, there is a sliver of hope, but it is highly unlikely he will be able to make the kind of drastic shake ups necessary to take it back to its heyday in the near future.
Sony is definitely a short play and doesn't seem to offer any long term value as an investor. It is definitely too big and poised to fail.
Disclosure: I have no positions in any stocks mentioned, and no plans to initiate any positions within the next 72 hours.