Market Recap: The market got its non-farm payrolls reaction on Monday after the NFP report came in lower than expected. The Labor Dept. released that 120K jobs were created in March. That number came in well under expectations of 200K. The market did not get a chance to react on Friday as it was Good Friday, and the market was closed. So, we opened up lower at the open but moved higher throughout the day as the dollar weakened and buyers entered the market on dips.
The move lower to start the week was expected, and we are definitely in a market situation where things are getting sticky. European fears are rising, data has been mixed, and the market is looking for reasons to sell-off. Right now, we believe upside is limited without significantly bullish headlines.

Two Trades
Two things we like right now for bearish positions are Johnson Controls (JCI) and Big Lots (BIG), which we added to our mix today to continue to get our portfolio more neutral from net long. The reason we like both of these stocks for downside comes from technical breakdowns. Both stocks dropped out of key support levels today, and they are looking to continue bearish trends. Both stocks are looking at potential mini-death crosses as the 20-day MA crosses below the 50-day MA. Moving into earnings, JCI is expecting a drop in EPS YoY, which is definitely not a positive. Further, the company does a lot of business in Europe, which continues to look weak. BIG retook a downward trend today as CCI dropped back below -100. The company has not looked good since Deutsche Bank commented that sales were dropping for the company and were not going to meet estimates.
Trade #1: JCI, Apr20, 33/34 Bear Call Spread
Trade #2: BIG, Short
(Click to enlarge)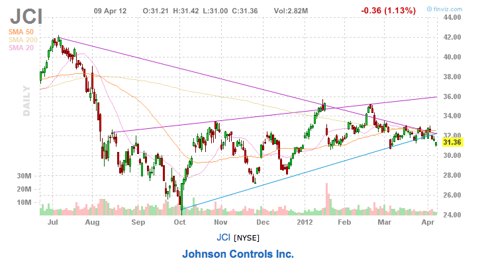 Tomorrow's Outlook
We have a few things that can make an impact on where we go tomorrow. First, Ben Bernanke has a speech tonight that will be parsed for any hints of any QE talk in either direction. He is speaking at an Atlanta Fed conference this evening. Additionally, we have the beginning of earnings season tomorrow with Alcoa (AA). Data is limited to Wholesale Inventories for us here at home, which will be minimal on market impact. Overseas, we have the Bank of Japan (BOJ) rate decision, which will be important to Asian markets that have been struggling as of late. We get the China Trade Balance tomorrow as well. There are some French and German indicators that will move Europe as well as the Sentix Investor Confidence Index. Three Fed presidents speak tomorrow as well during the day. It's actually a fairly busy day, so we will see how the market reacts. The move off the bottom was good to see, and we may see limited downside without a catalyst down.
Analyst Moves
The interesting moves we saw for analysts was an upgrade from The Benchmark Company on True Religion (TRLG) with a $32 price target. We upgraded TRLG over the weekend from Sell to Hold as the company has come back to fair valuations and looks decent at these levels now. We do not see them as a Buy yet, but we would be inclined to buy them if they can show they have margins under control. Apple (AAPL) got downgraded by BTIG. The company says that the face of the phone is changing and AAPL cannot sustain growth with the iPhone. We are not sure where BTIG is getting its information, but every Apple product released in the past two years has been a mega-hit. The company is showing no signs of slowing. We have it buy rated with $750 PT.
Commodity Talk
Crude is starting to really weaken, but it did hold the $100 level. We are guessing that things will hold up into the inventories report on Wednesday. Another fairly weak report on supplies, though, will probably be able to push oil back below $100. Oil below $100 is just what Bernanke needs to have another QE mentioning ... so watch for that. We would guess oil's upside is limited for now and would look for bear call spreads in United States Oil (USO) to be winning positions. Gold regained its doomsday appeal at the $1,600 level, which we have been talking about as a key level. We believe gold is appealing at this level.
Our Moves
We closed our bear call spread on iShares Russell (IWM) at the 87/88 level for a 10% gain. We are waiting on a lot of other positions to close out as options expiration nears. We added the short in BIG listed above as well as a bear call spread in JCI to our Short-Term Equity and Options Portfolio, respectively. We added a 600/615 bull call spread in AAPL to our $50K Apple Portfolio today as well.
We have the following positions. In our Short-Term Equity Portfolio we are long VF Corp. (VFC) and Monster Beverage (MNST). We are short BIG. In our Options Portfolio, we are long AAPL, Visa (V), PetSmart (PETM), Starbucks (SBUX), Ralph Lauren (RL), Google (GOOG), and IBM (IBM). We are short Apollo Group (APOL) and JCI. We have a reverse iron condor in Direxion Financial 3x (FAS). In our Earnings Portfolio, we are long Ace Limited (ACE), Ulta (ULTA), Canadian Pacific (CP), Ashland (ASH), Coinstar (CSTR) and Goldman Sachs (GS). We are short Amazon.com (AMZN).
Chart courtesy of finviz.com.
Disclosure: I am long AAPL.