Spring has finally arrived (although it is not much different from winter here in the Northeastern U.S.) and it is time to go shopping for this year's spring/summer clothes (those with teenage children get to experience this wonder more than once). Naturally, our sights turn to shopping and finding decent value.
It is also a good time to go shopping for value in the REIT sector. I recently wrote an article that proposed swapping out of malls into shopping centers to take advantage of the lower valuations and higher growth prospects. One such shopping center REIT that should be considered is Urstadt Biddle Properties (UBA).
In case you are not familiar with this REIT, Urstadt Biddle's general business plan is to own open air shopping centers and retail properties in the New York Metro area with a focus on communities within commuting distance to New York City. The company strives to self manage and lease all their properties while having a conservative amount of debt and a relatively straightforward model of investing in fee positions (owning the land and buildings) and avoiding, if possible, complicated joint venture or leasehold investments. Importantly, Urstadt has chosen to avoid developing vacant land into shopping centers and by focusing on buying existing shopping centers and improving them.
The focus on purchasing existing properties rather than developing properties is what helps this retail REIT achieve steady growth and pay increasing dividends.
Some statistics on Urstadt Biddle are as follows:
| | |
| --- | --- |
| Market Capitalization | $566,000,000 |
| Dividend Yield | 5.16% |
| Average Volume | 55,541 shares |
| Dividend to Consensus 2012 AFFO | 90.8% |
| Year-to-date Total Return | 8.9% |
| 2011 Total Return | -1.9% |
| Debt/EBITDA | 3.2x |
| 2011 P/FFO | 14.5x |
As the above table shows, the company has a conservative amount of debt (debt/EBITDA of 3.2x is significantly below the shopping center average of 6.6x) and its price/FFO multiple of 14.5x is below the sector average of 16.1x. This conservative approach has translated into steady dividend growth:
(Click to enlarge)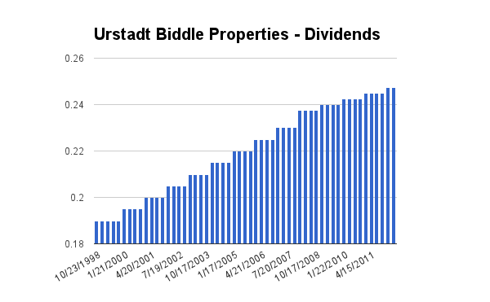 Dividends have consistently increased over the last 10 years - even during the depths of the financial crisis, a testament to the steady growth of this shopping center REIT. Its current dividend yield of 5.16% is one of the highest in the sector, where the average dividend yield is 3.70%.
Conservative balance sheet, consistent growth and one of the highest yields in the sector, this REIT's equity should be in your investment shopping basket.
Keep in mind that the company also has preferred stock available to investors. The preferred stocks are:
| | | |
| --- | --- | --- |
| | UBP - 8.50% Series C | UBP - 7.50% Series D |
| Par | $100.00 | $25.00 |
| Price | $104.50 | $26.20 |
| Call Date | 5/29/2013 | 4/12/2010 |
| Yield | 8.13% | 7.20% |
| YTC | 5.61% | -3.20% |
The series D have approximately $0.39 of accrued built in to them right now, so adjusting the price to remove accrued, we get a price of $25.81 - still a premium and currently callable. Due to the premium, the yield to a call in three months (assumed earliest call - although highly unlikely) is -3.20%. The Series C have approximately $1.80 in accrued built in to them, adjusting too remove the accrued we get a clean price of $102.79 - a premium and callable in approximately one year. Given the premium, the yield-to-call is approximately 5.61%.
Obviously, of the two, I would prefer the 8.50% Series C as they have a positive yield-to-call and a higher current yield.
Bottom line - when shopping for consistent growth and good value among shopping center REITs, Urstadt Biddle's equity or Series C preferred stock should be in your investment cart as it compares very favorably to the larger players such as Kimco Realty (KIM), Regency Centers (REG) and Tanger Factory Outlets (SKT).
Disclosure: I have no positions in any stocks mentioned, and no plans to initiate any positions within the next 72 hours.