Wasn't it just a week ago when the 10-year treasury yield pushed 2.3%? Wasn't it just a few days back when bond vigilantes piled into ETFs like ProShares UltraShort 20+ Year Treasury (NYSEARCA:TBT)?
Apparently, fearful investors needed little more than a single unimpressive jobs report to justify returning to a favorite safe haven. In fact, iShares Barclays 20+ Year Treasury (NYSEARCA:TLT) recovered a key short-term (50) trendline; TLT also bounced off its long-term, 200-day moving average.
Click to enlarge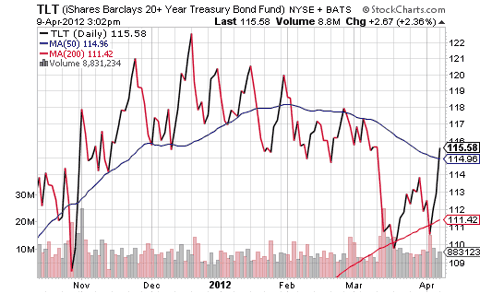 Over the prior six months, Treasury Bond ETFs across the spectrum were down anywhere from 0% to -4%. When compared to a 20% gain for the S&P 500 SPDR Trust (NYSEARCA:SPY), low-yielding treasuries may have seemed highly undesirable.
Keep in mind, however, that bond mutual funds attracted a staggering $62 billion in 2012 already. Stock mutual funds? They actually experienced a slight outflow of $1.6 billion.
It follows that the Doubting Thomases do not see a recovery quite the way that the Jim Cramers, Bob Dolls and Warren Buffetts of the world do. And while the doubters may have been wrong by a few percentage points during the risk-on rally off of the October lows, they were surprisingly successful for 2011 as a whole.
The question now is how will the Fed interpret the state of employment in the U.S.? If the Bernanke Federal Reserve believes unemployment is in danger of creeping higher, it may aim to aid employment via additional quantitative easing measures. That would keep treasury bonds stable, if not on a course for additional appreciation. Or if there's a flare-up of the European debt crisis, we'd also see a flight to perceived quality a la treasury bonds.
When will U.S. Treasuries lose? When the economy picks up significant steam or inflation gets out of control. One or both might result in rising rates where the Fed would be forced to change course. Until then, however, the Doubting Thomases might not have reason to worry about nesting in the comfy confines of double-A U.S. government debt.
Here are the performance percentages for popular Treasury Bond ETFs over five days and six months:
Should You Be Listening To The Doubting Thomases?
Approx 5-Day %
Approx 6-Month%
PIMCO 25+ Year Zero Coupon (NYSEARCA:ZROZ)
5.2%
-4.3%
Vanguard Extended Duration Teasury (NYSEARCA:EDV)
4.6%
-4.1%
iShares Barclays 20 Year Treasury (TLT)
3.2%
-4.1%
iShares Barclays 10-20 Year Treasury (NYSEARCA:TLH)
2.0%
-1.0%
iShares Barclays 7-10 Year Treasury (NYSEARCA:IEF)
1.5%
1.6%
PIMCO 7-15 Year Treasury (NYSEARCA:TENZ)
0.9%
0.8%
iShares Barclays 3-7 Year Treasury (NYSEARCA:IEI)
0.7%
0.2%
iShares Barclays 1-3 Year (NYSEARCA:SHY)
0.1%
0.0%
S&P 500 SPDR Trust (SPY)
-1.8%
19.9%
Disclosure: Gary Gordon, MS, CFP is the president of Pacific Park Financial, Inc., a Registered Investment Adviser with the SEC. Gary Gordon, Pacific Park Financial, Inc, and/or its clients may hold positions in the ETFs, mutual funds, and/or any investment asset mentioned above. The commentary does not constitute individualized investment advice. The opinions offered herein are not personalized recommendations to buy, sell or hold securities. At times, issuers of exchange-traded products compensate Pacific Park Financial, Inc. or its subsidiaries for advertising at the ETF Expert web site. ETF Expert content is created independently of any advertising relationships.