We recently visited NovaGold Resources Inc.'s (AMEX: NG) properties in Nome, Alaska, including the Rock Creek project nearing production (Figure 1 and 2). While modest relative to the Company's world class Galore Creek and Donlin Creek projects, operations in Nome have provided consistent cash flow to NovaGold since their acquisition in 1999. Through the sales of non-core land, sand and gravel, along with lease payments and royalties from local gold placers, NovaGold covered its overhead during the bear-market days of 1999 to 2001 and leveraged into the Donlin Creek property.
We see that with production from Rock Creek, NovaGold's Nome operation will begin providing significant cash flow – making the company operationally cash flow positive in 2008. The Nome area is a remarkable gold district which has not been fully explored. Since discovery of gold on the beaches of Nome in 1900, about 5 million ounces of gold have been produced from the Nome area, and an additional 5 million ounces of gold have been found elsewhere in the Seward Peninsula (Figure 5).
Figure 1 – Rock Creek Project

NovaGold initiated construction at Rock Creek on August 22, 2006. The project has stretched approximately 3 months beyond the original schedule due to delays on some of the permits and contractor issues. Construction of the project is approximately 75% complete. On-site management anticipates initiating testing and commissioning by the end of September and achieving production by year-end and full commercial production in the first quarter of 2008. Annual capital costs should be manageable, as the infrastructure is more than adequate and workers will be hired locally, eliminating the need for building a camp.
Figure 2 – Aerial View of Rock Creek Project

Operation of the mine will require about 135 employees (70 mine, 46 mill, and 19 administrative) and will operate year-round. The population of Nome is roughly 3,500, and about two thirds of the economy is government related. The mine should increase the tax base and provide additional employment options. Based on our conversations with townspeople, it would appear that the opening of a mine should be well received by local citizens as well as Native American organizations. This accepting attitude is probably due to Nome's mining roots, current small scale commercial placer mining, as well as an attraction for tourists to pan gold on the town's beaches (Figure 8).
Figure 3 – Ball Mill at Rock Creek Mill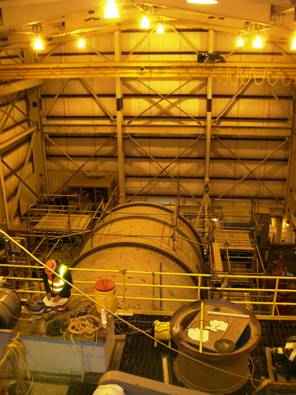 The Rock Creek project is located about seven miles north of Nome. The project is accessed by a new road, the first one completed under the State of Alaska's Road to Resources program. The mill will operate year-round with the capacity to process 7,000 tonnes per day from open pits at Rock Creek and Big Hurrah. Approximately 85% of the gold is expected to be recovered by simple crushing (Figure 3) and gravity separation – with the remainder of the recovered gold from a conventional vat based carbon-in-leach process (Figure 4).
Figure 4 – Mine General Manager Warren Woods and Carbon-in-Leach Tanks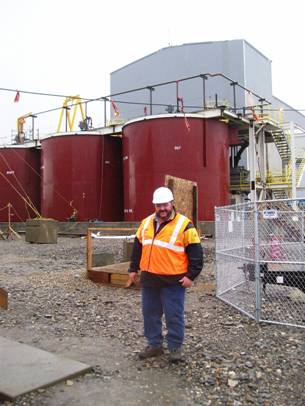 The gold resource of the Rock Creek and Big Hurrah deposits currently total 670,000 ounces of gold. Both deposits are open to further expansion, and numerous satellite targets nearby could provide additional future production. The mine is expected to produce 100,000 ounces of gold for five years, but we anticipate the mine life has exceptionally good potential for expansion with additional exploration.
Figure 5 – Map of Seward Peninsula Indicating Historic Placer Gold Mining Activity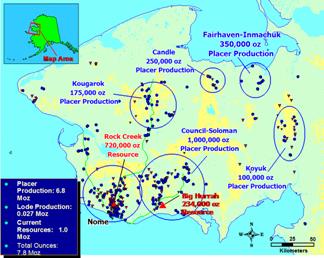 NovaGold is studying the potential for restarting alluvial gold production at its Nome Gold property, which covers much of the historic placers surrounding the city of Nome, and contains a 1.6 million ounce gold resource. Resuming production from these gravels by dredge or open pit has the potential to increase production by another 25% or more for the combined Nome operations. There is an abundance of readily visible historic justification for actively pursuing this opportunity upon commencing production at Rock Creek. There have been hundreds of dredges working the streams of the Seward Peninsula since 1900, 70 in the Nome area alone (Figure 5), two of which are still operable (Figure 6).
Figure 6 – Dredge #5 Located North of Nome City Limits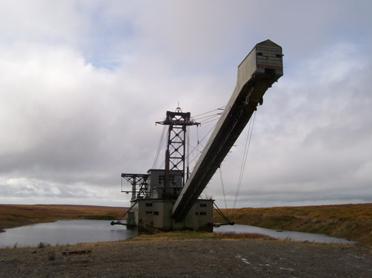 We see significant opportunity to increase production and/or extend mine life with additional exploration and development. We sense the historic production from a multitude of placers raises the question of locating the source of the gold recovered in the placers. This may lead to discovery of a much larger hard rock opportunity currently obscured by overburden.
The Alaska Gold Company
NovaGold Nome assets were acquired with the purchase of the Alaska Gold Company in 1999. The Alaska Gold Company, founded in 1912, at acquisition controlled approximately 17,000 acres of fee simple and leased land surrounding Nome. In addition to royalties from local placer miners, the company generated significant cash flow from the sale of sand and aggregate and land permitting expansion of the city of Nome. These operations at Nome have consistently generated about $1 to $3 million annually. With the start of commercial operations at Rock Creek the Company estimates cash flow to increase to $25 to $30 million annually.
The Alaska Gold Company has completed significant reclamation since being acquired by NovaGold. In addition, they have completed numerous wetland enhancement projects and improved creek beds and created fish ponds. Many of the actions have taken place voluntarily by the Company. We see higher metal prices making possible a renaissance in unappreciated environmental initiatives by socially responsible mining companies like NovaGold.
Figure 7 – Timothy Towarak, President and CEO of the Bering Straits Native Corporation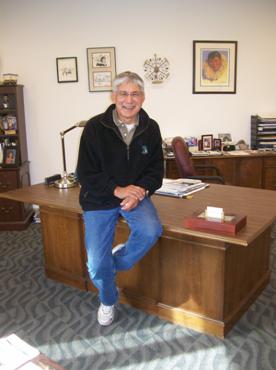 We also met with Timothy Towarak (Figure 7), President and CEO of the Bering Straits Native Corporation (BSNC), and Co-chair of the Alaskan Federation of Natives, the regional corporation organized under the Alaska Native Claims Settlement Act of 1971. BSNC represents and provides support to 17 distinct village corporations in western Alaska, including the Sitnasuak Native Corporation and the Solomon Native Corporation, impacting the Rock Creek and Big Hurrah deposits, respectively. The Alaska Gold Company leases 20,000 acres from the BSNC and Sitnasuak Native Corporation. BSNC has 6,300 shareholders and possesses over 2 million acres of subsurface rights. Mr. Towarak was very complimentary of NovaGold's management and offered praise for in-person outreach to its disparate villages for direct solicitation for employment at Rock Creek. The BSNC will significantly benefit from royalties from Rock Creek and possibly ink a trucking contract. The BSNC has proven to be a valued supporter of the Rock Creek project. The relationship appears to provide additional upside for NovaGold, local Native American corporations, as well as other local citizens.
Figure 8 – Panning for Gold on Nome Beaches with John Odden, Chief Geologist, Alaska Gold Company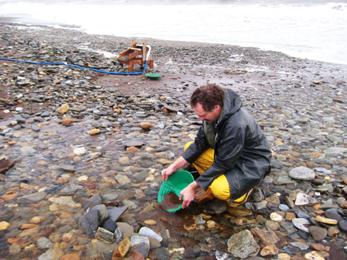 It would appear that with the initiation of production at Rock Creek, expansion of hard rock deposits or restarting production from alluvial deposits, and district-wide exploration, investors are provided with significant upside. By initiating production at Rock Creek, NovaGold may begin to receive a producing company valuation multiple for its resources. Many development stage companies see a substantial increase in share value as they move through the construction process and achieve production. This combined with the continued work at NovaGold's Galore Creek project with Teck Cominico (NYSE: TCK), and potential for near-term resolution of ownership at Donlin Creek may provide upside the next 6 to 12 months and good reason for our selecting NovaGold as one of our "Top Picks" for 2007 and reiterating our Buy rating.