Selling into strength has always been a wise investment strategy. Regulation and other political concerns continue to place the spotlight on the healthcare sector. But that does not necessarily mean it has adversely impacted any of the firms. As discussed in part1 and part2, although the market as a whole has provided some significant gains, the time for caution has now approached as the seasonal slowing period of May is fast approaching. But that is not to say that every stock within the sector is worth selling. The fact of the matter is, the sector has always been safe and will continue to be.
(Click to enlarge)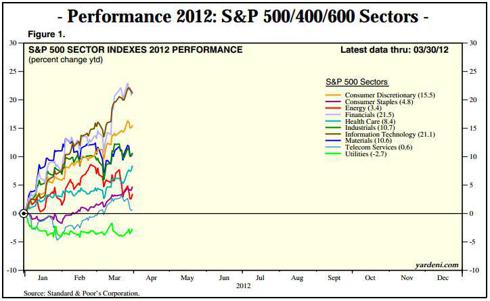 Click to enlarge
Eventually, regulation will be finalized and the companies will go back to the business of getting people well and getting investors rich. With that, a lot continues to be made in this political climate about the Obama-care legislation and its potential effect on the sector as a whole. But astute investors looking for "healthy returns" are already aware that there are very few sectors as safe as healthcare - particularly in volatile markets where safety becomes a priority. As much as it seems the bulls are in control of the indices these days, more evidence continues to support the idea that the market has long been in overbought territory and is due for a reversal, if not a slight pause. Here are some stocks worth consideration.
Abbott Labs (ABT) started the year at $55 and now rests comfortably at $61.30, just shy of its 52-week high. The company remains one of those names that have always interest me from the standpoint of its excellent fundamentals. Abbott recently announced plans to split into two separate public companies, with one focused on pharmaceuticals and the other on medical products while planning a tax-free distribution of shares of the pharmaceutical company to existing shareholders by the end of 2012. The businesses that are staying with Abbott are projected to have approximately $22 billion in revenue in 2011. These include medical devices, nutritionals for both children and adults, diagnostic products and generic pharmaceuticals sold outside the United States. The company is targeting double-digit annual earnings growth once the separation is complete. For long term investors this is a great play. That said, I continue to think that the stock is a tad overpriced at current levels.
Abbott's performance compares favorably to one of the best turnaround stories in the healthcare sector in Boston Scientific (BSX), one of the leading producers of medical devices that are used in a range of interventional medical specialties. Its main challenge centers on trying to secure better and decent footing in the drug-coated stent market vacated by Johnson & Johnson (JNJ). Many analysts became optimistic about the company when Johnson & Johnson conceded the market, but Boston Scientific has been unable to prove that it can win in the market. The company needs to show that it can execute and reduce some expenses. Although it is not a recommended sell at current levels, its P/E of 21 suggest that it is more expensive than healthcare giants in Merck (MRK) and Pfizer (PFE) - both of whom are now trading near their respective 52 week highs.
For Merck and Pfizer, while the fact that they are near their highs may be an incentive to stay away, both firms pay very respectable dividends. Having said that, it remains hard to assess where either company is and where either might be going. Despite the positives in the stock, there are some concerns of both companies that are legitimate - some of which have had to do with limited R&D pipelines. But despite all of that, I continue to believe that over the long term there will be some value in both stocks. But in the near term, it may be time to sell and wait for a lower entry.
If one is not too excited about some of the equities mentioned there are some cheaper names available such as Covidien (COV) as well as Medtronic (MDT). In particular, Medtronic has a mix of businesses that have less exposure to Medicare cuts than rivals such as the aforementioned Boston Scientific and is less expensive by virtue of its P/E ratio of 12 compare to 21 of Boston Scientific.
Disclosure: I have no positions in any stocks mentioned, and no plans to initiate any positions within the next 72 hours.