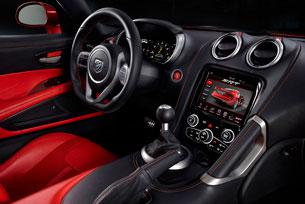 Sirius XM Radio (SIRI) and Chrysler are making history by announcing that the very first cars to have the new 2.0 factory installed satellite radios will be Chryslers. Investors have known this day was coming, but no one knew which autos would be the first to get these new devices. The 2013 Ram 1500 and the 2013 SRT Viper will be introduced with the new satellite radios at the 2012 New York International Auto Show:
The new expanded Sirius XM channel lineup is part of Sirius XM 2.0, a major upgrade and evolution of Sirius XM's satellite delivered service that will ultimately span hardware, software, audio and data services.

"With the expanded channel lineup from Sirius XM, Chrysler Group customers get coast-to-coast access to our new programming featuring commercial-free music, more comedy channels, more live sports talk content, as well as Sirius XM Latino which delivers the most comprehensive Latin programming on broadcast radio today," said Jim Meyer, President, Operations and Sales, Sirius XM.

For the first time, new Ram 1500 and Viper customers also will receive a 12-month SiriusXM Premier satellite radio subscription, with every available premium channel, including Howard Stern, every NFL game, Oprah Radio, every MLB® and NHL® game, every NASCAR® race, Martha Stewart and more, when purchasing new Model Year 2013 vehicles.
That's right, customers who purchase these vehicles will get a free twelve month subscription to Sirius XM Premier. This surpasses the current three month regular subscription (that does not offer premium and 2.0 channels) that most auto makers offer to new car customers right now. This is wonderful news for Sirius shareholders. Even though there are only two Chrysler models involved in this roll-out, it will set the bar a little higher for other companies who are in competition for new car customers. Companies like Ford and General Motors will be pressured to add the new 2.0 radios to their vehicles now. And this may cause other auto companies to pay for the one year premium subscription which will add dollars to the Sirius XM bottom line. Last but not least, if this perk helps to sell Rams and Vipers, then 2014 should bring new Chrysler models equipped with 2.0 satellite radios.
SIRI vs. S&P 500
New car sales continue to be the bread and butter for Sirius XM. These sales are directly responsible for the steady rise in share price over the last three years. And as almost everyone predicted, auto sales for March are up substantially from last year. But don't expect these numbers to send the stock soaring, because analysts have anticipated this for several weeks and I think the price is already baked in at $2.35 to $2.40:
The consulting firm LMC Automotive has predicted U.S. sales of new cars and trucks reached 1.37 million last month, up 6 percent from March of 2011 and the highest number since May of 2008. Industry analysts say sales could run at an annual rate of 14.1 million to 14.5 million vehicles, continuing the strong performance in January and February.
Many investors are expecting an announcement of Q1 subs like the one Mel made right after Q4 ended. And they are hoping that the sub numbers are so good from the Spring auto sales that Sirius will change guidance upward for 2012. Any type of news like that will send the stock upward. This makes it very attractive right now as a takeover candidate.
Liberty Media (LMCA) seems determined to take de facto control of the company to get control of the $1.2 to $1.5 billion in cash (by year end), and the $8+ Billion in NOLS. It would be a very lucrative play on John Malone's (Liberty CEO) part to use the Sirius cash to buyback shares and eventually take the company private. We know due to tax laws Liberty will have to own at least 80% of Sirius to take advantage of the NOLS. Considering they already own 40% this is not impossible, but could be quite costly for Liberty if the stock continues upward.
The company right now is solid. The forward P/E is 21.36, and I expect that to go down with better than expected earnings this year. It will also go down farther with a share buyback. I have been reading posts all over the internet, Twitter, and Facebook telling people not to sell their Sirius stock. I would never tell you that, because anything can happen. But I think it is an interesting idea. It is like waiting to sell a car that you KNOW for sure your neighbor wants. He is doing everything he can to try to devalue it and bring the price down. But you know he wants it. We know John Malone wants Sirius XM. And I think he will pay a premium to get it.
Disclosure: I am long SIRI.