Sogou, the internet search unit of Sohu (SOHU), is often overlooked by investors as one of leading search engines in China due to the prominence of rival Baidu (BIDU). As I stated in my earlier thesis on Sohu, Sogou Search is likely to become a major player in China's internet search market and will be a critical component of Sohu's brand invention. For an overview of my thesis, please see my August 11, 2011 note titled "Sohu: Underappreciated Company In the Midst of a Brand Invention."
Recent evidence suggests that Sogou is gaining momentum in China's search market due to its:
Focus on improving search qualities that are comparable to that of Baidu
Developing network externalities to attract users
Search Quality On Par With Baidu
While Baidu's development of Box Computing that is based on semantic search is truly impressive, Sogou wasted no time on creating its own semantic search engine that delivers comparable search results to that of Baidu.
A search engine that runs on semantic search generates more relevant search results by understanding the contextual meaning of the words and the searchers' intent, thereby creating superior user experience. Currently, semantic search is widely used by iPhone's voice-activated personal assistant, Siri, which attempts to understand the speaker's verbal command and answers with information gathered from Google (NASDAQ:GOOG) and Wolfram Alpha, a search engine that uses semantic search.
Baidu's Box Computing, which was developed in 2009, is based on semantic search of Chinese characters, and as a result contributed to its market share gain over Google in China. However, it took Sogou less than a year to create its own semantic search methodologies to deliver comparable, if not better, search results to that of Baidu. For example, a search of "Beijing-Shanghai" in both search engines returns train schedule, air ticketing service, airfare rate trend and websites. The train and air schedules are considered most relevant to the Chinese users because the context behind "Beijing Shanghai" usually refers to travel routes. Users can see noticeable similarities between the two search results, indicating that Sogou's search technology is comparable to that of Baidu.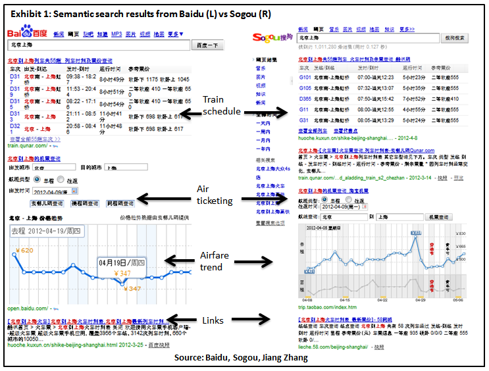 Click to enlarge
Sogou is gaining traction among users. According to CNZZ, Sogou Search has 11% market share in terms of search engine usage in China, more than doubled from that a year ago.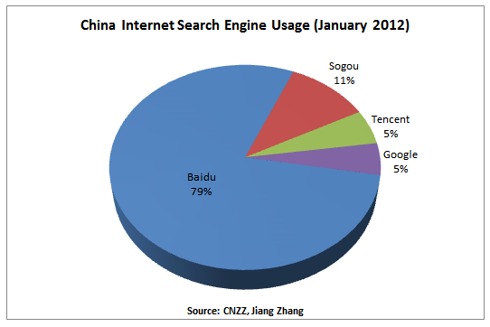 Click to enlarge
Sogou also has the second highest 46% penetration rate among search engines in China, trailing Baidu's 98% but outpacing Google's 43%, indicating significantly more upside ahead.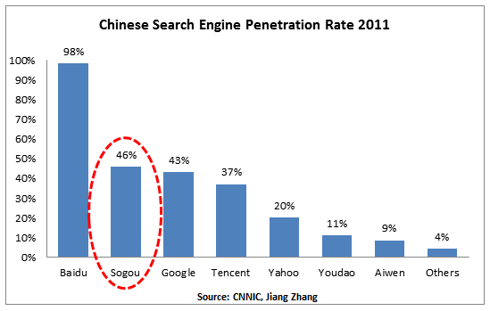 Click to enlarge
Over the past two years, total user base has been trending up nicely, partially due to Sogou's establishment of network externalities, such as the Sogou Browser and Sogou Chinese Character Input software, that attracted many new users.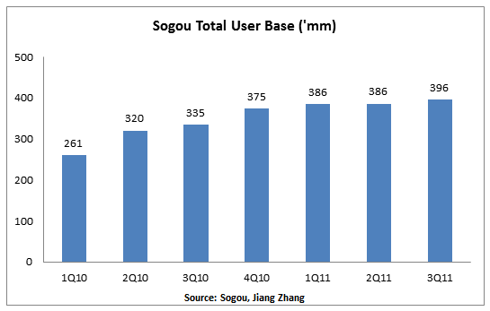 Click to enlarge
Network Externalities Continues To Attract Users
Sogou Pinyin Input, a software that allows users to type Chinese characters on QWERTY keyboard, is the most widely used software in China with over 84% penetration rate.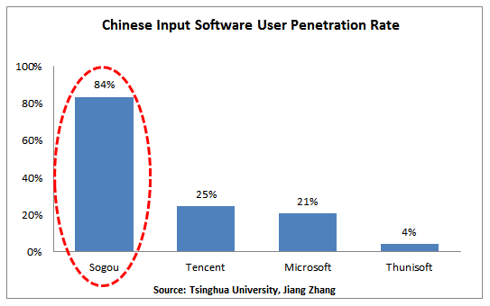 Click to enlarge
This software generates no revenue and is often discounted by investors as insignificant to Sohu's future growth. However, this software and Sogou Browser, which is also a free product, are able to attract users due to their functionalities and security features.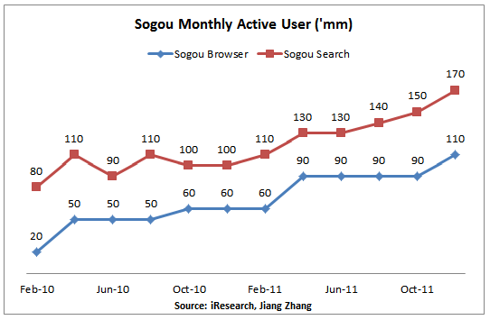 Click to enlarge
Quality Search Results + Network Externalities = Robust Topline Growth
Over the past 18 month, Sogou has exhibited higher topline growth than rival Baidu.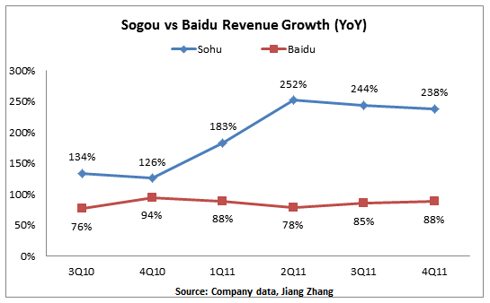 Click to enlarge
As a validation of Sogou's strategy of combining search with browser and character input software, Baidu subsequently introduced its own browser and character input software in Japan in hopes of gaining traction in the market since its entrance in 2007.
While Baidu is likely to continue to be the dominant search engine in China in the near-term, Sogou is gaining momentum and should not be overlooked as an insignificant competitor to Baidu.
Disclosure: I have no positions in any stocks mentioned, and no plans to initiate any positions within the next 72 hours.