The9 (NCTY) showcased its highly anticipated game, Firefall, this past weekend at PAX East 2012. While the official attendance for this year is not yet in, last year's convention drew nearly 70,000 gamers. Firefall was a hot attraction at this year's event, drawing long lines to try Firefall's live beta. Some gamers waited up to 2 hours to get a chance to play Firefall.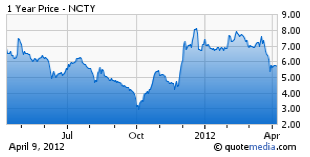 All the attendees who waited in line to play Firefall live at PAX East were given a beta key to join the ongoing closed beta. Other notable MMO and FPS exhibitors included BioWare and Electronic Arts (EA) with their upcoming Star Wars: The Old Republic update, Perfect World (PWRD) with RaiderZ and Neverwinter, and Gearbox Software with its preview of Borderlands 2, which will be available on Microsoft's (MSFT) Xbox 360 and Sony's (SNE) PlayStation 3.
PAX East was a clear success for Red5 Studios, owned by The9, as registered users at Firefall's online community increased from around 325,000 users just a week ago to over 375,000 users. Pageviews of www.firefallthegame.com have also increased 70% in the last week according to Alexa.com.
We believe that the success of Firefall at PAX East is important validation of the high-expectations for Firefall. Red5's CEO, Mark Kern, was a lead designer on Activision Blizzard's (ATVI) World of Warcraft, and he left Blizzard to make an even greater impact on the gaming world.
We expect Firefall's success at PAX East to be another driver for new licensing deals for Firefall. It is worth noting that The9 signed its $23MM deal with Garena for licensing rights in Southeast Asia two weeks after the G-Star gaming convention in Korea. Given the potential for upcoming deals, we believe NCTY offers good near-term upside as we expect The9 to continue signing new Firefall licensing deals. When The9 announced its deal with Garena on November 28th, the stock rose over 60% in five trading days.
Long-term, we believe NCTY offers substantial upside as Firefall appears it could begin generating revenue this quarter, even while in beta, and the stock trades for less than its cash value. The9 maintains a healthy cash hoard of $170MM. According to the Dec. 2011 balance sheet, cash per share is $6.96. On April 6th, the stock closed at $5.80.
Disclosure: I am long NCTY.