At times the stock market sets up certain price patterns that exist for a while and then disappear. At times the repetition is uncanny. We think last year's stock market set the basic pattern for the next few years. Based on that we expect the S&P 500 to peak around 1480 and do it sometime in June. We further expect that to be followed by another sudden and deep sell off, also like last year.
If we are right the next few years will present a very difficult environment for investors; a stock market which advances for eight to ten months followed by a decline that gives it back in three weeks. We think a solution will be to either follow the old adage of "go away in May" or adopt an investment time horizon targeted to avoid corrections lasting three to five weeks.
(click to enlarge)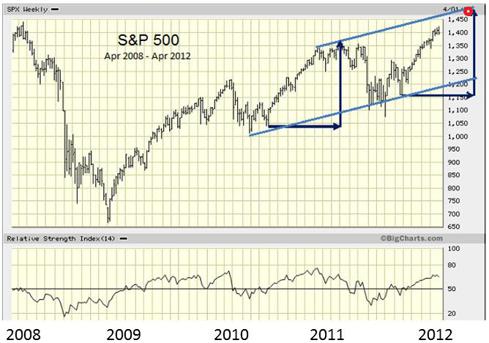 In our opinion a pattern like this simply reflects the unprecedented tug of war going on in the major economies right now. Huge fiscal and monetary stimulation is being applied by governments just to keep their economies functioning at low normal. But this stimulation is fighting a world banking and currency system that was not designed to deal with the stresses of our growing and uncontrolled global economy.
With unemployment high and extreme stimulation needed now just to keep things normal - its probably here to stay and that's bullish for stocks, at least for awhile. But it also brings America, Europe and the world ever closer to the inevitable consequences of it all; a crisis of the world economic and currency system. This is ultimately bearish.
These problems are deep, entrenched and not going away. The tug of war between them should be violent and vicious for some time.
Disclosure: I have no positions in any stocks mentioned, and no plans to initiate any positions within the next 72 hours.