The rail stocks have been hit hard by a significant slowdown in coal traffic. However, they have fallen too far given recent news and I believe they will rebound in the near future. One of my favorite stocks in the sector is CSX Corporation (CSX). It has significantly underperformed the S&P over the three months, but should outperform the market in the medium term in my opinion. It could make an ideal pick up on any upcoming market selloff.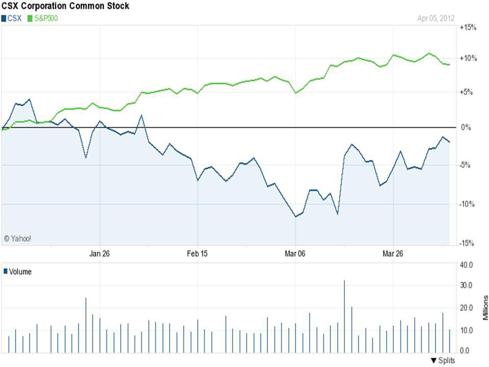 Click to enlarge
Positive recent news on the railroad sector:
1. Outside of coal, railroad traffic has impressively increased recently.
2. The domestic auto industry is showing increasing momentum with some analysts calling for 14mm new vehicles in 2012, significantly above recent years. Consumer auto lending also shows consistent strength.
3. CSX is adding personal in key service areas, making significant new investments to increase intermodal traffic and should benefit greatly by larger ships coming through the Panama Canal into South Florida ports.
CSX Corporation - "CSX Corporation, together with its subsidiaries, provides rail-based transportation services. It offers traditional rail service and the transport of intermodal containers and trailers. The company transports crushed stone, sand and gravel, metal, phosphate, fertilizer, food, consumer, agricultural, automotive, paper, and chemical products; and utility, industrial, and export coal to electricity-generating power plants, steel manufacturers, industrial plants, and deep-water port facilities. (Business description from Yahoo Finance)
4 other reasons CSX is a solid long term buy at $22 a share:
It is selling at less than 11 forward earnings even though it has grown earnings at a 15% clip on average over the past years.
Credit Suisse has an "outperform" rating and a $29 price target on CSX. S&P has a "Buy" rating and a $27 price target on the stock.
The stock sells at around 7 times operating cash flow (which grew 70% from FY2009 to FY2011), pays a dividend of 2.2% and has a five year projected PEG of under 1 (.83).
The stock looks like it has bottomed recently, is showing increasing technical support and just crossed over its 200 day moving average (See Chart).
(Click to enlarge)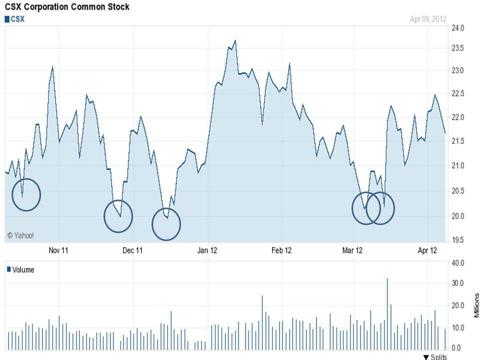 Disclosure: I have no positions in any stocks mentioned, but may initiate a long position in CSX over the next 72 hours.