As of this morning around market open, as I disclosed intention within my article released over the weekend, I am now short Pandora (P) through a long position in April and May $10 put options and June $9 put options.
Since becoming an author at Seeking Alpha I have made my position on Pandora clear. After huge regrets in not following my own advice to short the stock or purchase puts before the last earnings call, I decided to follow my conviction as the stock flirted with the $10 support level, and take the plunge once I felt the stock was about to turn south yet again. Over the weekend while looking at the charts and reassessing my position on the company, as well as considering the macro situation, I felt it was time to enter my short position.
It is not that I particularly dislike the service. To be fair I have used Pandora in the past, and I know of many people who have tried and some who do use Pandora. As a free application that people can use to play personalized music stations at home or on the go through their smart phone, it works. But does it work as a business? In my opinion, no, not yet. Sirius XM (SIRI) which IS a viable business, is by far my preference in the vehicle where I do well over 90% of my music listening. Pandora doesn't even come close in content or ease of use within the car. My preference at home is actually Spotify or simply listening to my own collection. I want on demand, not "give me a playlist I may or may not like" when I am in a position to provide my own input. My girlfriend is in a similar position, preferring Apple's (AAPL) iPod at the gym rather than running Pandora on her Samsung Galaxy.
$10 has presented a critical support level for the stock on so many occasions. Yes it has dropped below this and played around a bit in the $9 range, but such activity has usually been short lived. Since the lackluster earnings call and disappointing numbers contained within of :
Quarter EPS of : -$0.03, a miss of -$0.01
Revenue of : $81.4M, a miss of -$1.8M
Guidance for moving forward was lower than expected
the share price has deteriorated in straightforward fashion, with down day after down day, and very minor rebounds followed by lower lows. The activity has screamed "short me" for a considerable amount of time as illustrated in the first chart below. Had you shorted this stock at any time since the IPO, today you would be in the green. Almost 100% of long holders in the stock are currently in the red.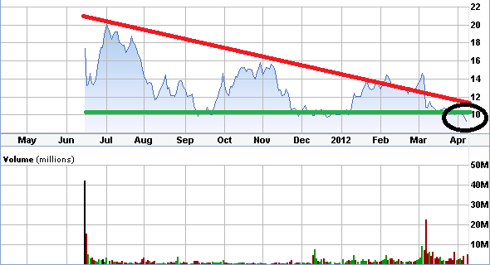 Looking at recent activity, my decision to purchase puts and go short was confirmed by the recent dip and close below $10 on Friday at $9.92 on significant volume.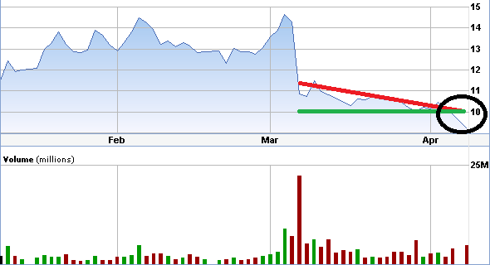 Could Pandora rebound? Yes, of course. Anything is possible. But I really don't see any reason for the share price to increase beyond very long term speculation, and I don't believe there will be enough of that to bolster the share price in the short term. I think we'll see a fall to $5 this year, and because of that I expect to make considerable profit on my puts in their respective time frames. If the share price continues its descent, I'll open further positions as time progresses.
Disclosure: I am long SIRI April, May and June $2 calls. I am long AAPL June $580 and $620 calls. I am long April and May $10 P puts and June $9 P puts.