By Giorgio Ferrero
Daily Data: Chinese Stocks
Chinese stocks have been popular for quite some time. Investors have been attracted to the country's +8% GDP growth rate. The growth is so staggering that you can view videos on youtube.com of construction companies building 15-story hotels in just days!
Today, I looked up every Chinese company on finviz.com and screened all the tickers through the following criteria:
Chinese Stock
Minimum 5 years data
Currently trading over $10
The total number of tickers I found was 24 out of an original list of 210. The companies investigated are Aluminum Corp. of China (ACH), AsiaInfo-Linkage (ASIA), Baidu (BIDU), China Eastern Airlines (CEA), China Telecom (CHA), Ctrip.com (CTRP), New Oriental Education (EDU), Guangshen Railway (GSH), Home Inns (HMIN), Huaneng Power (HNP), Zhongpin (HOGS), 51job (JOBS), China Life Insurance (LFC), eLong (LONG), Mindray (MR), Netease (NTES), PetroChina (PTR), Sinopec (SHI), Sina (SINA), China Petroleum and Chemical (SNP), Sohu (SOHU), 3SBio (SSRX), Yanzhou Coal (YZC), China Southern Airlines (ZNH). Next, I ran the performance of these 24 stocks from April 1st to May option expiration for the past 10 years.
The results are shown below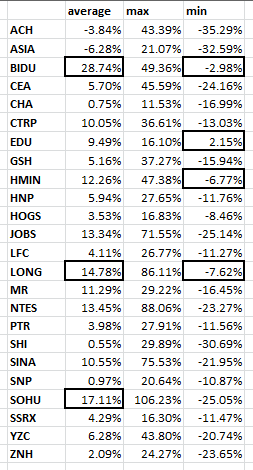 Here you see all 24 tickers that I analyzed. The average shows the average return for the past 5-10 years depending on the stock. The max/min shows the best/worst return these stocks have shown for the past 5-10 years in the Apr'1st-May option expiration time frame.
I have box outlined what I find useful/interesting. New Oriental Education & Technology Group has never shown a negative return in its five years of existence. Another interesting stock is Baidu, which has shown a great average return during this time period along with minimal draw downs.
Below you can see a graphical representation of all the stocks listed above.
(click to enlarge)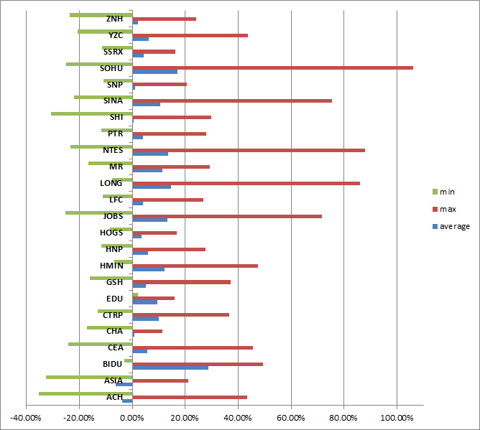 Based on the data above I recommend the following trades:
(click to enlarge)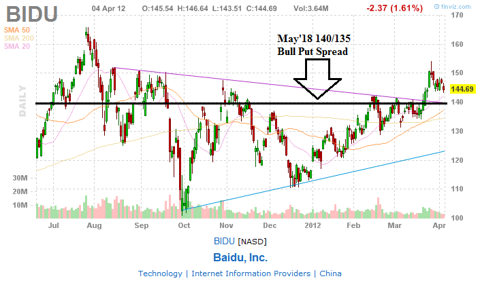 Suggested Trade: BIDU - Sell May'18 140/135 put spread (Bull Put Spread)
(Sell 140 Put/Buy 135 Put)
Size - 5% of Giorgio's Corner Portfolio Size = (1 spread)
Entry: Sell Limit: 1.75
Stop Loss: 2.80
Exit Price: 0.00
Max Return: 53.84%
(Note: Return calculation does not include commission; Max Return is calculated as Return at Risk not Return on Margin)
(click to enlarge)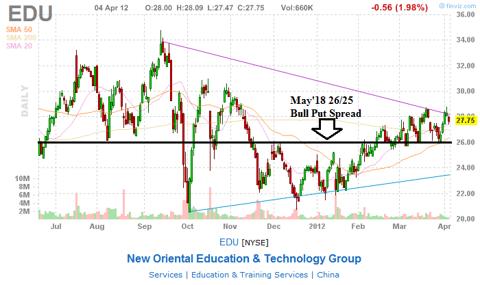 Suggested Trade: EDU - Sell May'18 26/25 put spread (Bull Put Spread)
(Sell 26 Put/Buy 25 Put)
Size - 5% of Giorgio's Corner Portfolio Size = (5 spreads)
Entry: Sell Limit: 0.30
Stop Loss: 0.60
Exit Price: 0.00
Max Return: 42.85%
(Note: Return calculation does not include commission; Max Return is calculated as Return at Risk not Return on Margin)
Charts are from Finviz.com