Take a look around you, look nothing's what it seems,

We're living in a broken home of hopes and dreams,

Let me be the first to shake a helping hand.

Everybody, pray enough to take a stand,

I knocked on every door, on every dead end street,

Looking for forgiveness,

What's left to believe?

Oh, if there's one thing I hang on to,

It gets me through the night.

I ain't gonna do what I don't want to,

I'm going to live my life.

Shining like a diamond, rolling with the dice,

Standing on the ledge, show the wind how to fly.

When the world gets in my face,

I say, have a nice day.

-- Bon Jovi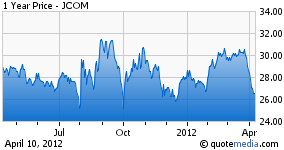 A quick glance at the stock chart for J2 Communications, Inc. (JCOM) shines a light on what "standing on the ledge" must feel like or at least felt like at the end of March.
Timing is everything in the stock market, and the recommendation to enter a short position on March 19, 2012 at $30.10 allows us to see the same chart as "shining like a diamond." The 11.43% profit in less than a month gives me enough conviction to tell this position to "have a nice day" and buy to close. As we continue to "take a look around" and realize "nothing's what it seems," I have a feeling we will revisit this position again in the future.
Speaking of "living in a home of broken hopes and dreams," the jobs report on Good Friday was less than inspiring. This market continues to provide constant reminders as to why remaining hedged and utilizing options to earn income while staying exposed to valuation stocks is a good idea.
Ben Bernanke's speech tonight is likely more important than the start of earnings season to the short-term mood of the market. There will be plenty of talk about "buying on the dip," and I suspect an accommodating monetary policy in an election year. My strategy remains the same as "I ain't gonna do what I don't want to," and I believe we should continue our strategy of hedging by "knocking on every door, on every dead end street" to find bargains to buy, shorting when we believe the company is on the ledge, using options to lower our entry cost, and in the end, telling the market to "have a nice day."
Recommendation:
Buy to Close, JCOM, at the market
Disclosure: I have no positions in any stocks mentioned, and no plans to initiate any positions within the next 72 hours.