UnitedHealth and Cigna, best value among large health insurers - Buy on Pullbacks of 5%
Strategy: Health insurers pay medical and administrative costs for customers in return for monthly premiums. We believe large insurers whose revenue and operating earnings growth is high and valuation reasonable represent the most attractive opportunities in this sector.
Industry: According to the UnitedHealth Group 10K, health care represents approximately 18% of the US economy, as measured by percentage of GDP. Over last couple of weeks, the Supreme Court has heard arguments regarding whether the health reform legislation introduced in 2010 by the Obama administration is constitutional. This legislation introduces a number of key reforms applying to health insurers including:
Mandatory coverage for all Americans
Removal of the ability to exclude individuals from insurance coverage for pre-existing conditions, impose lifetime maximum limits on insurance coverage, and rescind insurance coverage
An annual $8 billion assessment on the industry
Maximum profitability thresholds

Medical costs must be greater than a certain percentage of premium revenues

Increased scrutiny of annual premium rate increases
There are multiple drivers of profitability for health insurers. One is the number of individuals insured through their plans. On this front, the industry appears to benefit from the new regulation. The Congressional Budget Office estimates 34 million additional individuals would gain insurance coverage if the Supreme Court does not impose changes on the existing legislation. On the other hand, the maximum profitability thresholds, additional assessment, limits on insurer's ability to select participants, and increased scrutiny of premium rate increases may negatively affect certain business units.
The Chaikin Power Gauge (see my rating methodology) suggests all of the companies in this industry are attractive. Based on the above considerations, we believe large insurers whose revenues and earnings are increasing steadily represent the best risk-adjusted purchases in this segment: UnitedHealth and Cigna. These companies tend to obtain revenues from multiple sources and have a wide geographical footprint that should help mitigate risks associated with both impending federal and state health care legislation.
To view a Power Gauge Rating enter a symbol:
UnitedHealth Group (UNH)
The largest division of UnitedHealth Group, UnitedHealthcare, provides health insurance and accounted for 90% and 85% of 2011 revenue and operating profit. Premium revenues and operating earnings grew 8% year-over-year in both 2010 and 2011. Current market capitalization is $61.72 billion, 2011 net earnings were $5.14 billion, and a PE is 12.5.
UNH ranks well on Business Value, Return on Equity, Earnings Surprise, Earnings Consistency, Chaikin Money Flow, Short Interest, Insider Activity, and Analyst Opinion in the Chaikin Power Gauge Rating.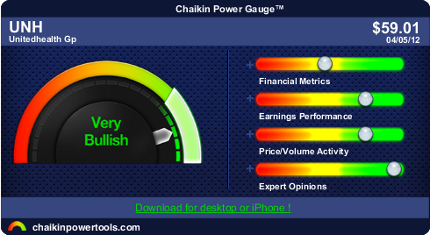 Cigna (CI)
Health Care accounted for 74.6% of shareholders income from continuing operations in 2011. Income before taxes for the Health Care division grew 18.3% and 15.7% year-over-year in 2010 and 2011, respectively. Current market capitalization is $13.94 billion, 2011 earnings were $1.3 billion resulting in a Price-to-earnings ratio of 10.5.
Cigna ranks well on the Return on Equity, Business Value, Projected P/E ratio, Chaikin Price Trend Rate of Change, Analyst Opinion, and Insider Activity descriptors of the Chaikin Power Gauge. It is also one of the most highly ranked stocks for Earnings Consistency.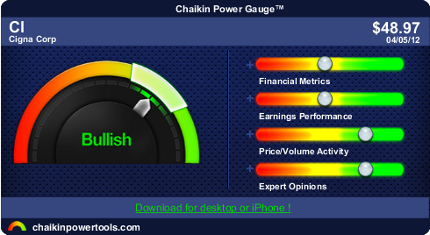 Aetna (AET)
Health Care accounted for 92.5% and 98.5% of 2011 revenues and operating earnings. Although revenues in this segment declined 1.5% and 1.1% in 2010 and 2011, operating earnings grew 16.8% and 18.5% over the same respective periods. Management attributes the higher operating margins to higher underwriting margins, which reflects the ability of the company to raise insurance premiums at a higher rate than medical cost inflation. It remains to be seen whether this pricing trend is sustainable. Market capitalization is $17.39 billion, 2011 net income is $1.99 billion, and PE is 8.76.
Aetna ranks well on all four Power Gauge groups. The best ranking factors include: Business Value and Return on Equity (Financial Metrics); Earnings Growth (Earnings Performance); Chaikin Money Flow, Chaikin Price Trend (Price Strength); Earnings Estimate Revision, Short Interest, Price Strength vs. Industry, Insider activity, Analyst Opinion (Expert Opinions).
WellPoint (WLP)
WellPoint only provides health insurance. Since there are several one-time items in its accounting, particularly in 2009, we estimated Earnings before interest and taxes (EBIT) as follows: Revenue minus benefit expense and selling general and administrative expense. On this basis, EBIT declined 11.3% and 7.2% year-over-year in 2010 and 2011. Current market capitalization is $24.19 billion, 2011 earnings were $2.646.7, resulting in a historical PE ratio of 9.14.
WLP ranks highly on the Chaikin Power Gauge Financial Metrics, particularly Price to Book and Business Value. It also has high Chaikin Price Trend Rate of Change, Insider Activity, and Analyst Opinion ranks.
Coventry (CVH)
Health care services accounted for 83% of Coventry's gross profit during 2011. When we adjusted 2009 results for a discontinued Medicare business, gross profit for health care services increased 19.7% and decreased 7.9% year-over-year in 2010 and 2011, respectively. Current market capitalization is $4.88 billion, 2011 net income minus an adjustment for the "provider class action" one time gain is $383 million, resulting in a historical PE of 12.74.
Coventry ranks well on the Financial Metrics part of the Chaikin Power Gauge, specifically Price-to-Book and Business Value. It also has high Volume Trend, Analyst Opinion, Insider Activity ranks.
Humana (HUM)
Humana only provides health insurance and related services. Income from operations increased 8.5% and 26.4% in 2010 and 2011; although, 11% of the 2011 gain resulted from an accounting adjustment. Current market capitalization is $14.9 billion; 2011 net income was $1.4 billion, and the PE ratio is 10.8.
Humana ranks very highly on the Chaikin Power Gauge. In particular, its Financial Metrics are particularly strong as evidence by a low debt to equity ratio, high return on equity, low price to sales and a very high business value. Its Earnings Growth and Surprise ranks are high within Earnings Performance. Chaikin Price trend rate of change is high in price-volume activity. Lastly, analysts have a high opinion of it, there is low short interest, and it has a high rank for earnings estimate revisions.
Disclosure: I have no positions in any stocks mentioned, and no plans to initiate any positions within the next 72 hours.