Natural gas prices have been in free fall for the past six months due to a combination of a supply glut and an unseasonably warm winter in the United States, while oil prices have risen dramatically on the perception of an improving economy and geopolitical tensions in the Middle East. Over the long run, it seems likely that natural gas prices will converge with oil prices as consumers and companies switch to the cheaper and more environmentally friendly source of energy. Investors who see a bargain in natural gas may be tempted to look at the United States Natural Gas ETF (UNG) to get some exposure to beaten down natural gas prices. The ETF trades near its five-year lows, and is down 39% year to date. But while UNG might look like a good opportunity to buy a beaten down asset, there are several reasons that the knife will continue to fall in the near term, and several better alternatives to trying to catch it.
The first reason to avoid UNG is that, in the near term, supply and demand in the natural gas market point to lower prices. The supply glut that has contributed to the fall in prices over the last few years continues unabated. The shale gas industry in the United States expanded rapidly over the last decade on expectations of an increase in demand that has failed to fully materialize. The natural gas powered automobile is still a long way off, power plants have not been as quick to convert to natural gas as expected, and intercontinental natural gas trade has not developed on a large enough scale to produce a meaningful increase in demand. As a result, supply has outstripped relatively weak demand and led to lower prices. This year's unseasonably warm winter has also had an adverse effect on natural gas prices. Consider the graph below from last week's U.S. Energy Information Administration's Weekly Natural Gas Storage Report. In normal years, natural gas stores build over the summer and are depleted for heat in the winter. This year, stores were not depleted to the same extent due to the warmer weather, meaning that there will be less demand this summer to refill storage containers for next winter.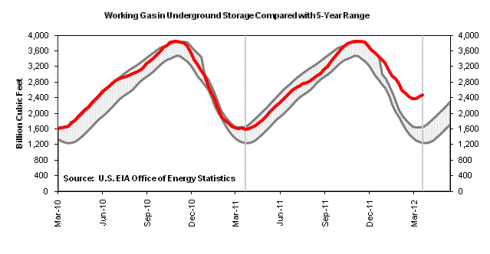 Click to enlarge
Another reason to avoid UNG is a fundamental flaw in its design that adversely affects the investor's returns. UNG invests in futures contracts for the next month, which give it the right to purchase a quantity of natural gas at a given price. But since UNG does not have the capacity to actually take delivery on any natural gas, it is forced to sell these contracts before they expire and buy the next month's contracts. The value of futures contracts often decays as the contract comes closer to expiry and the fund loses money on the rollover to the next month. Over time, the losses from contract rollovers cause the ETF to lag natural gas' performance, and they have contributed to a 96% loss for UNG over the last 5 years, compared with a 76% decline in the Henry Hub spot price of natural gas over the same period.
There are several better alternatives for getting exposure to natural gas than UNG. Pipeline Master Limited Partnerships, such as Energy Transfer Partners (ETP), Enterprise Product Partners (EPD), and Kinder Morgan Energy (KMP) operate natural gas pipelines in North America. These firms profit from moving natural gas from one point to another, regardless of its price, and are thus less affected by the price of natural gas. These stocks generate nice yields for the buy and hold investor, but don't expect too much in the way of capital appreciation when natural gas prices go up. For now, these companies probably offer the safest exposure to the natural gas market.
There are significant opportunities for arbitrage in global natural gas markets, if only one could efficiently transport the gas from North America to markets in Europe in Asia. Transporting natural gas is an extensive process, the gas must be chilled to -260ᵒ Fahrenheit, liquefied, then transported through pipelines or specialized ships. The infrastructure to facilitate large-scale exports overseas currently does not exist, but there are several companies looking to develop the capacity. I would recommend SA Contributor Bruce Vanderveen's article for further reading on the Liquid Natural Gas market. These companies are generally more of a speculative investment, and may entail significant near-term risk.
Finally there are the companies that produce natural gas. Many of these stocks are hurting right now because of depressed prices and excessive debt incurred to ramp up production. There is a wide field of companies currently engaged in natural gas exploration and production; Cabot Oil & Gas (COG), Ultra Petroleum (UPL), Chesapeake Energy (CHK), and others are viable candidates to do well if prices recover in the future. With market conditions putting enormous stress on the industry, it is likely that the field of companies that survive to see better times will be narrower, so be sure to do your due diligence before investing in individual companies in this market. For a safer approach than betting on individual firms, one could consider the SPDR S&P Oil & Gas Exploration & Production ETF (XOP) as a way to get exposure to the broader industry. Like the LNG companies, there is probably more downside left in these companies, but there is definitely some value to be found if the natural gas market recovers.
The natural gas industry will likely continue its decline in the near term, but long term trends point to higher natural gas prices in the future. There are multiple ways to invest in an eventual improvement in the natural gas market, but the United States Natural Gas ETF is not the best route to take. Consider alternative investments in pipeline MLPs, LNG companies, or natural gas producers to get exposure to the upside of the natural gas market. As always, do your due diligence before investing.
Disclosure: I am long EPD.
Disclaimer: This article is solely for the purpose of discussion. The author does not claim any financial expertise and any recommendations made or implied in this article should not be taken without further research or consulting your financial professional.