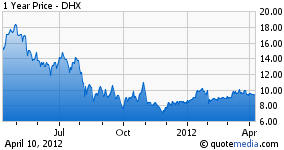 Recently, I discussed the company Dice Holdings, Inc (DHX) with Clay Mahaffey, Chief Analyst of the National Eagles and Angels Association on the "Stock Watch" segment of my nationally syndicated radio program "The George Jarkesy Show". Dice Holdings, which is a career and recruiting company has significant upside potential and we discussed it in detail on the show. Below is the full transcript of our discussion regarding Dice Holdings, its prospects and also the stock buy-back upon which the company has embarked.
George Jarkesy: So tell us about the stock you have picked out today for our listeners.
Interviewee: Okay, George. This company is called Dice Holdings, Inc. It trades on the New York Stock Exchange, symbol DHX. They have a military connection, George. It's basically a career and recruiting Website Company. They have built niche segments for targeted markets. Their primary niche is high tech and government clearance jobs, the second is finance, and the third is energy.
They're very focused in their approach to employers and candidates. They've been in business 21 years. They get about four million unique visitors per month. About half of them go to the tech site called Dice.com. They have a lot of career information. They get a lot of traffic to provide useful content for job seekers. Their revenue model is that they sell the rights to the database and advertise to employers.
Oh, and, George, guess which company is spending $300 million in Austin, Texas, and will double their employment in the next couple of years?
George Jarkesy: I don't know. Which one's that?
Interviewee: Apple (NASDAQ:AAPL) Computer.
George Jarkesy: Unbelievable.
Interviewee: They're hiring people in Texas and Silicon Valley. It's one of the segments that they're very active in - high tech. But, George, this is a quintessential Micro-Dynamic Portfolio company (a portfolio generated by National Eagles and Angels monthly newsletter). The various reasons it's suffered some wild price swings. First of all, it fell down to $2.00 in the recession in '08 from about $5.00. After that, it ran all the way up to $18.00 within three years, which is great.
But they hit a problem. They had a secondary offering. There was stock dilution. The expectations from the analysts and brokerage community got way ahead of themselves. They didn't meet the next quarter earnings. Everybody downgraded the stock. It went all the way from $18.00 to $8.00. It's come back to $10.00. I think it's an excellent stock at this price because of the growth prospects.
George, in the fourth quarter last year, their revenue grew 25 percent and the net income grew 82 percent. One of the things that I like about this stock is that it is a web business. It's very scalable. There are no capital expenditures to think of. Consequently, they have announced very significant stock buy-backs. They announced one last year for $35 million, and last week they announced another buy-back of $65 million.
You have to look at that in proportion to how big the company is. This is almost 100 percent of their operating cash flow that they generated last year. They're going to throw back into buying back their own stock. So I think this a floor. This is setting a floor at $10.00. It was $18.00 six or seven months ago. I think there's a really nice upside in this company.
I think with the economy that is generally recovering, they're not for every job that's out there, but it's (they are) very focused jobs in high tech, government security clearances, finance, and energy.
George Jarkesy: I actually think on Dice Holdings, based on this new stock buy-back that they've authorized to retire over 10 percent of the stock out there, they're gonna put up to as much as $65 million, which is substantial to the $600 million market cap. So buying back 10 percent of the company is a commitment.
Now, I'm expecting to see insider buying here because with the growth that you're talking about, with the stock off of more than half of its highs, I think this is a great pick. It's funny because I've been watching this in a separate portfolio as we've been talking here - or not as we've been talking, but we've been watching it for a while, actually.
Interviewee: And, George, it is a small company. They only have 200 million in revenue. But if you compare it to Monster.com, who's got a billion dollars in revenue, Monster is not likely to sustain 50, to 60, to 70 percent revenue growth on the top line.
George Jarkesy: It's a great pick. It's Dice Holdings. DHX is the symbol.
Disclosure - Dice Holdings is a constituent of the National Eagles and Angels Micro Dynamic Portfolio and I do not own any shares of it in my portfolio. Mr. Mahaffey is the manager of the model portfolio. Mr. Mahaffey does not have any investment in Dice Holdings. I have no positions in any stocks mentioned, and no plans to initiate any positions within the next 72 hours.
Disclaimer: The George Jarkesy Show or the National Eagles and Angels Association are not investment advisors. Any content published by The George Jarkesy Show or the National Eagles and Angels Association does not constitute individual investment advice. The opinions offered herein are not personalized recommendations to buy, sell or hold securities. All content on The George Jarkesy Show Website and The National Eagles and Angels Association is produced independently of any advertising relationships.