Following a similar move made in July 2011 and related to its CBOE Stock Exchange [CBSX] operations, the Chicago Board Options Exchange (CBOE) will now move its primary options trading platform from Chicago to the Equinix's (EQIX) New York metro NY4 data center.
This additional move is related to competitive reasons and member demand, as explained in an article published by Traders Magazine.com:
Behind the move, which only impacts electronic trading on the exchange and not the open outcry operation, is a need to reduce latency for its members, according to a CBOE spokesperson. But aside from the geographic benefit, the move will also allow for "some enhanced technology offerings," according to CBOE.

By reducing its members' latency, or the time it takes to trade or quote or receive market data, the move is expected to reduce trading costs for market makers and other high-end trading houses. That includes those firms who maintain a server at the CBOE and those mainly New York-based firms that lease high-speed lines between New York and Chicago.

"This makes trading cheaper for everybody," said Brian Donnelly, a managing member of New York-based options market maker Volant Trading. "It doesn't matter where they're based."

All of the major firms, whether they are headquartered in New York or Chicago maintain execution engines in the New York metropolitan area. That's because all of the major stock and options exchanges, except for CBOE, site their matching engines in the New York area. The trading houses co-locate the execution engines with the exchanges' matching engines in order to cut down on latency.
The move is another major win for Equinix, which has a presence in all major 16 financial markets worldwide, and sees most of the world's financial exchanges (8 out of 11) connected to at least one of its facilities worldwide.
It is also an indirect confirmation that, when it comes to data centers and the financial vertical, it is mostly about Location, Network Availability and Proximity (to exchanges and trading partners).
CBOE expects to begin trading in the new facility in late Q4 2012 - however, as explained in this milestone information circular sent to its customers, connectivity and testing will soon start in the Secaucus facility (i.e. Equinix will grow revenue before the final date for the live production cutover):
(click charts to enlarge)

The CBOE's decision to move closer to other exchanges like the NYSE and Nasdaq gives us the opportunity for a further review of the importance of the financial vertical for Equinix.
Here is a quick look at Equinix's customers, divided by vertical industries per location (charts by Nortia Research based on company's data available at this link):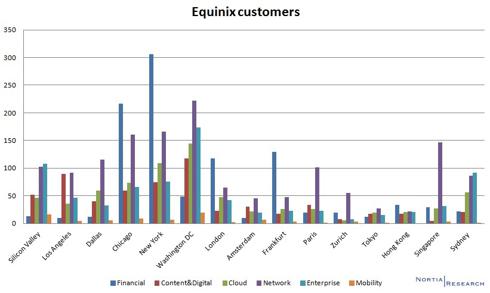 The financial vertical, as expected, is extremely important in markets like New York metro and Chicago, in the U.S, but also in Frankfurt, and London, in Europe, and, to a lesser degree, in Asia, as shown by a look of the same data by vertical: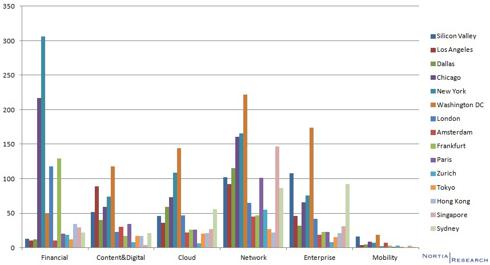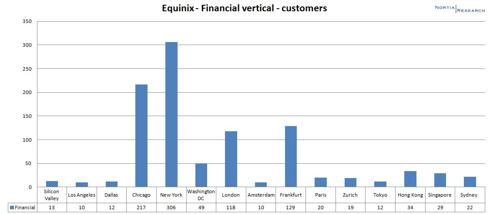 The financial vertical represented about 22% of Equinix's revenue in 2010, with a healthy profile in terms of monthly recurring revenues [MRR], compared with he other verticals (data from the company's 2010 analyst meeting).
Over a longer time horizon, the company expects financial services to become the largest contributor, in terms of number of customers, to its client base: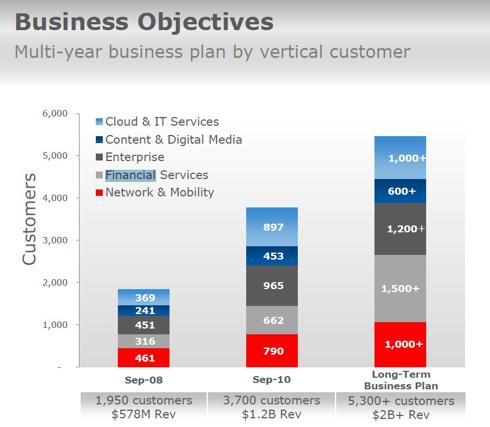 Getting back to the NY4 facility, Equinix opened the first phase of the Secaucus data center back in Q4 2007, with 1,700 sellable cabinet equivalents, for an initial investment of about $ 95 million. Phase II, adding roughly 1,100 cabinets, opened in Q2 2009, with phase III following just one year later, in Q2 2010, and adding about 1,250 cabinets.
In total, the company invested about $280 million in this facility, in four different phases. The NY4 data center represents the largest single data center operated by Equinix globally, and may be used to show the kind of healthy returns the company can achieve with a successful project. The facility reached cash-flow break-even within three quarters of its first opening, and at ~15% utilization only. By Q3 2010, three years after the phase I opening, it was already running at 53% capacity (calculated on the full data center potential), and delivering annualized revenue of about $74 million, with Q3 2010 annualized Cash Gross Profit of $55 million, or 74% of revenue.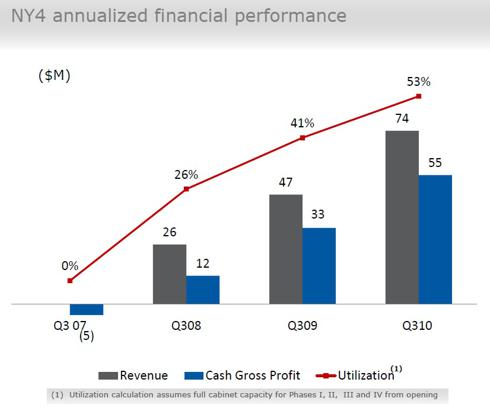 (chart from Equinix's analysts meeting, 2010)
Equinix is now in the process of opening the first phase of the new NY5 facility, that will have room for about 2,200 cabinets, with additional capacity for 4,800 cabinet equivalents in future phases. CapEx invested will be about $140 million for the initial phase of the data center.
The former Switch and Data's 163,500-square-foot North Bergen, NJ, facility completes Equinix's offering for financial companies in the New York metro area, with an accent on disaster recovery, through its Business Continuity Trading Room [BCTR] services.
Disclosure: I am long EQIX.