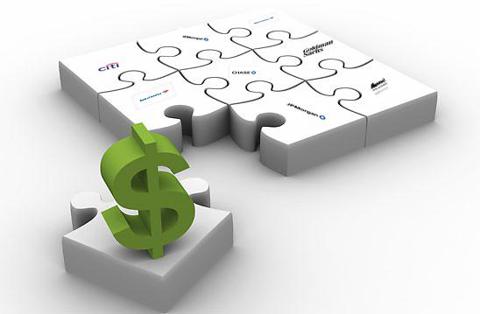 There's never been a bull market in history without the financial sector playing a role. After a middling performance over the last year, the financial sector has posted impressive year-to-date gains, which has coincided with a bullish market over the past few months. While the S&P 500 is up a little over 10% since the beginning of 2012, the Financial Select Sector SPDR ETF (XLF) is up nearly 20%.
Click to enlarge

Compare XLF's performance (in blue) with the broader SPY S&P 500 ETF (in red).
This impressive year-to-date gain probably has something to do with banks cleaning up their balance sheets (or at least attempting to do so) and paying back their TARP loans to the government. It's debatable whether the balance sheets are really all that "clean", though, as the Fed has allowed many financial institutions to mark underwater holdings to a model rather than their true market value.
AIG made headlines recently as it made some progress in paying back the government. It now owes taxpayers a "mere" $45 billion instead of the massive $182 billion bail-out it received in 2008. Although AIG is not one of XLF's holdings, its dealings undoubtedly have a large effect in the financial realm.
XLF tracks the Financial Select Index, which is composed of a "wide array of diversified financial service firms" in anything from "investment management to commercial and investment banking." Of its top ten holdings, five of them are banks: Wells Fargo (9.51% allocation), JPMorgan Chase (8.26%), Citigroup (5.03%), Bank of America (3.69%), and U.S. Bancorp (3.38%). The fund's greatest industry concentration however is in Insurance, with a 25.88% allocation, followed by Commercial Banks (20.61%) and Diversified Financial Services (20.28%).
It's worth comparing XLF's performance against ETFs that track more specific components of the Financial Sector. All of whom have not actually performed quite as strong year-to-date as the sector-wide ETF. There are three we'll have a quick look at here for comparative purposes: The SPDR S&P Bank ETF (KBE), the SPDR S&P Regional Banking ETF (KRE), and the SPDR S&P Insurance ETF (KIE).

XLF (in blue) is up 15% so far since the beginning of 2012, while the SPDR subsectors are also up, but slightly less so. KBE (red), KRE (yellow), and KIE (green) are highly correlated with XLF, but have trailed a bit on the upside.
XLF's recent superior performance probably has something to do with the rally that Bank of America (BAC) and JPMorgan Chase (JPM) have experienced as of late. Together, they account for nearly 12% of XLF's assets.
Disclosure: I have no positions in any stocks mentioned, and no plans to initiate any positions within the next 72 hours.