There are 24 currency ETFs and ETNs available in the U.S. marketplace. In 2012, the performance leader in these products has been WisdomTree (WETF). WisdomTree partnered with Dreyfus beginning in 2008 to create what has become perhaps the most relevant suite of currency ETFs listed in the United States. WisdomTree's build out of currency offerings primarily focused on emerging markets has been a brilliant move. This year, five of the top ten performing currency ETFs are WisdomTree funds. This is especially an amazing feat as WisdomTree only has seven currency ETFs. Their top performing currency ETFs, and each fund's rank in the top ten, are as follows:
In contrast CurrencyShares, the leader in AUM and number of currency ETFs at eight, has just two ETFs in the top ten. These ETFs are the CurrencyShares Swedish Krona Trust (FXS) and the CurrencyShares Swiss Franc Trust (FXF). CurrencyShares' approach has been to focus on developed nations, although they recently launched a Chinese Renminbi ETF (FXCH).
Both product lines lack the title of the best performing currency product this year however. That belongs to a boutique player in the currency space, MarketVectors. With just two currency ETNs, MarketVectors has a unique product set. Targeting India and China in separate products, their ETNs pit each country's currency versus the U.S. Dollar. The Market Vectors Indian Rupee/USD ETN (INR) is the best performing currency ETP to begin 2012, gaining 7.8% year to date as the rupee bounced back against the U.S. Dollar. In contrast the MarketVectors Chinese Renminbi/USD ETN (CNY) sits at number 20 in performance in 2012.
Here's a list of the top ten performing currency products in 2012 using the Index Universe Data Tool.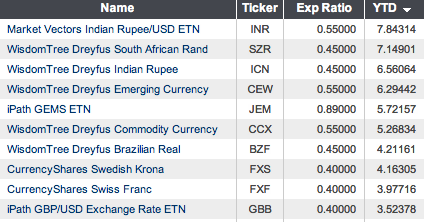 Growth Of Currency Investments
Adding a sleeve of currency exposure to a portfolio has been a growing trend over the last few years. This has primarily happened for three reasons.
First the low correlation that currency has demonstrated versus traditional asset classes like bonds and equities has been attractive to investors seeking further portfolio diversification. In the chart below from CurrencyShares, the correlation of the U.S. Dollar to the S&P 500 and the Barclays U.S. Aggregate Bond Index is illustrated. Note the negative correlations shown.
Secondly, using a currency allocation to hedge against portfolio exposure to a particular country or region has also been attractive. This has especially been true given the movement in currencies like the Euro and U.S. Dollar. This volatility has also led to tactical allocations in search of alpha via currency ETPs.
Finally a key driver of the growth in currency investing has been the variety of products launched by ETP Sponsors. These products have made access to this unique asset class more convenient. For example, allocating to the Chinese Renminbi is now as easy as purchasing General Electric stock. In addition, the launch of this product set has been coupled with an increased level of education and promotion of currency as an asset class.
Longer Term Leaders
Over the last 3 years, three currency products have set themselves apart from the pack by generating the only double digit returns in the category. The top performing currency ETF is the CurrencyShares Australian Dollar Trust (FXA) with an 18% gain. Trailing FXA are two WisdomTree offerings, the Brazilian Real and the South African Rand which have produced gains of 16% and 14% respectively. Here's the performance ranking from Index Universe.
Currency ETFs and ETNs are a growing product set as investors seek lower correlated asset classes, employ hedging strategies and make tactical allocations in search of alpha. For those unique reasons, investing in currency appears to have an interesting future, especially with the backdrop of loose monetary policy around the globe.
Disclosure: I have no positions in any stocks mentioned, and no plans to initiate any positions within the next 72 hours.