Investing in biotechs is not for the faint of heart. Early investors face the risk of disappointing clinical results, regulatory complications, insurance reimbursement approval delays multiplied by the multitude of international jurisdictions that must be navigated in order to bring a novel therapy to the global market. Throw in a short selling hedge fund or two, that benefits by knocking down the share price with just a few ominous words emphasizing the reality of the risks, and a very bumpy ride turns into a roller coaster voyage, even if the ultimate outcome becomes a blockbuster success.
The Cytori Roller Coaster
Shareholders of Cytori Therapeutics have certainly experienced this roller coaster ride over the last few years and are seemingly sitting at the latest trough of the ride as evidenced by this 5 year chart:
Click to enlarge.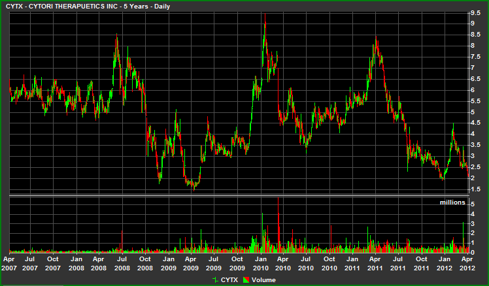 Click to enlarge
The bone rattling volatility is a symptom of the continual waxing and waning of market perception between the exuberance of the unlimited possibilities of the science behind Cytori's platform and the subsequent and inevitable failure of the company to properly manage shareholder expectations and execute its business plan in a timely manner.
A Little Background
For those who are unfamiliar with Cytori's technology, its foundation is based upon its Celution® technology and its ability extract a mixture of regenerative cells from a patient's own fat. The use of proprietary reagents, then allows Cytori formulate the optimal mixture of healing autologous cells based upon affliction being treated.
Here's an excerpt from an earlier SA article I wrote on the topic:
It wasn't that long ago that the availability of an abundant supply of regenerative stem cells from adipose went unknown. Up until this relatively recent discovery, bone marrow was viewed as the best source of regenerative stem cells. Dr. Marc Hedrick, one of the early researchers in this field, played an instrumental role in the discovery of adipose derived regenerative cells (ADRCs) in work that began more than a decade ago. Dr. Hedrick, a plastic surgeon by training and former Associate Professor of Surgery and Pediatrics at the University of California, Los Angeles (UCLA) directed the Laboratory of Regenerative Bioengineering and Repair for the Department of Surgery at UCLA from 1998 to 2005. Hedrick now serves as President of Cytori Therapeutics (CYTX), a company leading the field of ADRC's.

Based on Hedrick's research, Cytori Therapeutics has invested over $200,0000,000 to develop and its Celution® technology platform, a technology that quickly and efficiently extracts rich concentrations of ADRCs from small portions of fat, and to develop supporting disposable instruments that are used to treat various human maladies. This is the big bet that has yet to pay off for shareholders, but the ground work is certainly being laid. Adipose has a distinct advantage as a source of regenerative cells in that it contains 300-500 times more stem cells than bone marrow, is easier on the patient to extract and does not come with the moral baggage associated with embryonic stem cells.
Cytori has had very positive outcomes in clinical trials in breast reconstruction and heart disease. Readers can learn more about them here. There have also been many investigators throughout the globe conducting studies on other ailments independently of Cytori.
However, as one of many long time shareholders who have ridden the Cytori roller coaster ride of promising highs followed by unfulfilled promise (i.e., the three unmet Cytori promises made for 2011) and nauseating downdrafts, validation of the Cytori's technology by an independent third party, with cold hard cash, is a valuable indication that the value of its regenerative platform will eventually lead the roller coaster to a thrilling meteoric updraft.
The Okyanos Heart Institute's Big Bet on Cytori
The cold, hard cash validation I am referring to comes from an investment made by a group of investors lead by Matthew Feshbach in, soon to be operational, Bahama based, Okyanos Heart Institute. Ironically, Mr. Feshbach and his two brothers initially gained Wall Street noteriety by running a successful hedge fund that primarily focused on short selling stocks. Now, as CEO and founder of Okyanos, his rational for opening up this advanced cell therapy center to treat patients with coronary artery disease is detailed in his biography on the Okyanos website.
An outside investment in a cardiac cell therapy center (likely in excess of $5,000,000), based solely on Cytori clinical trials, for a technology that has yet to receive regulatory approval from either the European Union or the FDA is pretty remarkable and unusual in my estimation. It certainly speaks to the potential value locked up in the very strong clinical results of the PRECISE trial, sponsored by Cytori.
Think about the ramifications of the Okyanos investment. There is never a guarantee of EU or FDA approval, yet Mr. Feshbach looked at the data, studied the technology and went "all in." The significantly positive PRECISE trial results behind Mr. Feshbach's decision, are thoroughly explained on the Okyanos website and also by the words of Dr. Emerson Perin (MD, PHD, Director Stem Cell Center, Texas Heart Institute) in this American Heart Association video as "significant and sustained over a long period of time with a mean follow-up of 28 months."
In a few of months, Okyanos will be in a position to offer no option cardiac patients the opportunity to obtain the cutting edge of cell heart therapy well before it becomes available in the United States, yet just a hundred miles of the east coast.
The Enormous Opportunity
According to the CDC, cardiovascular disease (which includes both heart disease and stroke) is the number one killer in the U.S.:
Death rates alone cannot describe the burden of heart disease and stroke. In 2010, the total costs of cardiovascular diseases in the United States were estimated to be $444 billion. Treatment of these diseases accounts for about $1 of every $6 spent on health care in this country. As the U.S. population ages, the economic impact of cardiovascular diseases on our nation's health care system will become even greater.
Although not disclosed publicly in exact numbers, a Celution sale to a customer brings in an estimated $100,000 - $120,000. However, the real revenue gravy train comes from the annuity that each machine represents to Cytori if, and when, its cell based therapies become widely adopted. For example, Cytori should earn about $8,000 - $12,000 for each heart procedure as it sells the specialized consumables, including reagents, used in every procedure. The company has made cardio therapies and breast reconstruction its top priorities. However, as its technology of adipose derived regenerative cells represents a platform, there are many other afflictions being independently studied. Among them are:
Cytori still has a way to go before the vision can become a reality, and it needs to raise capital at some point this year to fund its operations. However, current profitability is usually not the most important factor that determines the valuation of a biotech. It is the realization by investors of the potential market share that a new medical technology can capture and, in Cytori's case, the potential future growth prospects of a groundbreaking platform that can be applied to many of the diseases that burden the human existence.
2012 Potential Catalysts
Cytori has stated in its most recent shareholder letter that it expects 2012 to be the year when it becomes the first to achieve the milestone of expanding its European CE Mark to include no-option chronic myocardial ischemia using a stem cell based therapy. Additionally, the company took its first steps in the U.S. to initiate a feasibility trial in the U.S. for chronic myocardial ischemia.
In what may have been a record, the approval to initiate the trial was achieved in only 30 days after submission to the FDA. The company has also stated its goal of entering into a major partnership this year. Cytori has been talking about a major partnership for years but this may finally be the year that it closes the deal.
Flashback to Another Roller Coaster Ride
History can be useful to investors to understand how the gyrations of the stock market can mask the level of progress being made in creating value of new cutting edge medical technology. The chart below helps illustrate the point: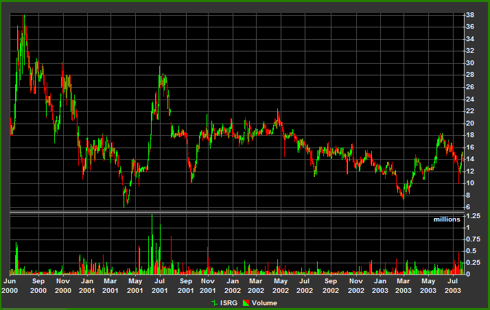 Click to enlarge
In 2000 the medical technology company represented by this chart obtained FDA approval for its technology that performed general laparoscopic procedures for use in multiple surgical specialties, principally urology, gynecology, prostatectomy, cardiothoracic, and general surgery. The company employed a razor/razor blade model similar to Cytori's. Yet shareholders road the roller coaster up and down from a high of $38 to a low of $6, and this was after its first FDA approval was granted.
Those who rode out the volatility were well rewarded as, 9 years later, the shares now sit at a price north of $500. The company is Intuitive Surgical (ISRG), and it wouldn't be a bad candidate as the deep pocked partner that can help Cytori reach its own inflection point. There are sure to be several large companies looking at Cytori's technology.
Disclosure: I am long CYTX.
Additional disclosure: These are the personal views of Wall Street Titan and should not be relied upon for your investment decisions. All readers should follow the links and always do their own due diligence.