Most people are familiar with the theory of peak oil. The theory states that at some point in time, we will have reached maximum extraction output of this limited resource, which will not be sufficient to keep up with population growth and increasing demand. This should support setting oil prices (OIL) at higher levels. Whether we are at "peak oil" at this moment or not, most individuals realize the need for alternative energy sources going forward.
Since 1965, oil consumption has grown at a 3.03% compounded annual growth rate (OTCPK:CAGR), or from 30.783 million barrels a day in 1965 to 87.382 million barrels in 2010.
Since 1965, oil production has grown at a 2.75% CAGR, or from 31.806 million barrels a day in 1965 to 82.095 million barrels in 2010.
*BP oil statistics were used.
Since the year 2000, annual oil production has increased at a 0.92% CAGR, while consumption clipped along at a 1.32% CAGR. The consumption to production trend is slightly accelerating. While I am not using these numbers to call for doom and gloom or World War III, they do suggest that oil may continue to rise in price while other viable energy sources are increasingly used.
Solar energy becomes ever more affordable compared to oil over time due to the increase in oil costs and cost-saving advancements in solar technology. The use of silver in solar cells should help industrial demand over the next few years. About two-thirds of a troy ounce of silver are used in a typical thick film solar panel.
Silver Demand
Over a billion ounces of silver were made available from mines, government sales, scrap, and producer hedging. Total silver demand in photovoltaic applications is anticipated to exceed 100 million ounces by 2015. While the growth rate appears to be slowing, from 50% to 20%, we also need to consider total consumption as opposed to an unrealistically high compound annual growth rate.
Granted, there is more silver in thick film solar cells than in thin. Thick film is still more efficient, however, and dominates the market with an estimated 80% to 90% market share. Both types of solar panels use silver outside the cells for reflectivity. Investors need to be aware that as the industry advances, researchers will continue to look for solutions to lower production costs. While a demand for clean and alternative energy may support silver prices, that in turn will create a push for cheaper - and potentially silver-less - alternatives.
The Price of Silver
To be clear, this article is talking about how an increase solar demand will help stabilize silver prices. That is not to say silver prices won't drift lower - in fact, some feel silver will come under moderate pressure, as China has enough silver in warehouses for their industrial use over the next 15 months. This, coupled with a potential decline in investment interest, could see prices come down lower yet. While I do see a downside to silver over the short-term, I also feel that the practical use of this metal will keep prices from going into freefall.
Where might silver prices go and what investments could prove prudent?
On the monthly chart (SLV), you can still make a case for silver being in a long-term uptrend. Should prices fall past $29 anytime soon, it will become increasingly difficult for chartists to see the uptrend. Be aware that this silver ETF is not a perfect mirror of silver prices.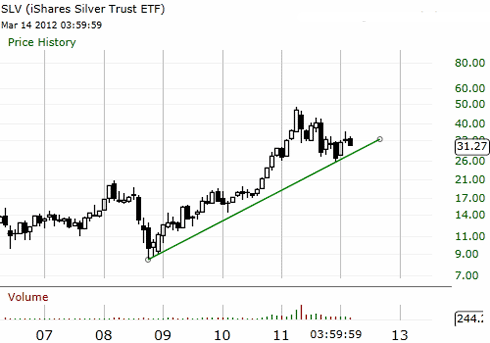 On a weekly chart, we can see the medium-term trend is downward and seems ready for another leg down. As a trader, this is not a great technical setup. If we fail to get a bounce up on our long-term trend, which is around $29, and the $26 support fails, I'd bias my view towards further downside action resulting from negative price momentum.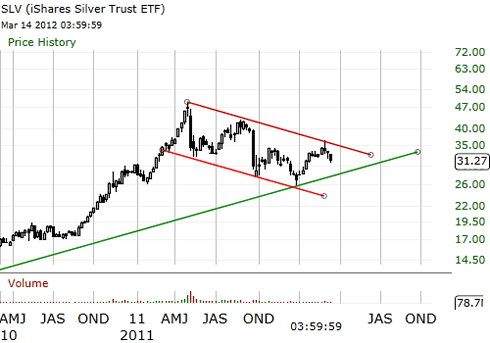 Due to the volatile price of silver and downward pressure, I recommend investing in stocks that currently are trading on some strength.
First Majestic Silver Corp (AG) is down 30% from its 52 week high. The 2012 guidance on silver production ranges from 8.8 to 9.3 million vs. 7.22 million in 2011 and strong earnings growth was reported last year (167%). Cash cost per ounce is up to $8.24, but this still provides a decent margin for profit at current silver prices. Share prices of AG have come down hard since the end of February - which broke the uptrend. While I like AG, I'd be a cautious buyer right now and wait to see if a future entry closer to $15 materializes.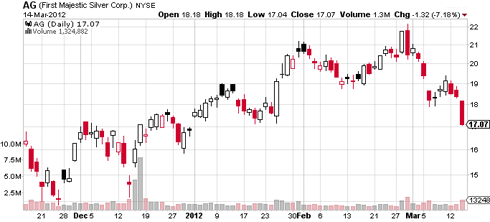 There is some decent technical strength in Silver Wheaton (SLW) with stronger support at the $29 level. I'd wait for a better entry than today's price, but if prices dipped to the $30 to $31 range over the following weeks to months, I'd consider a position.

Final Thoughts
As the investment luster of silver wanes, I expect an increase in industrial use to pick up much of the slack. Higher oil prices should drive the solar market, which will help eat up some of the silver surplus and provide support for silver prices. While I see a little more downside still to come, there are some solid silver companies with good profit margins to consider buying over the next three to six months.
Disclosure: I have no positions in any stocks mentioned, and no plans to initiate any positions within the next 72 hours.