"The smarter the journalists are, the better off society is. For to a degree, people read the press to inform themselves-and the better the teacher, the better the student body."
- Warren Buffett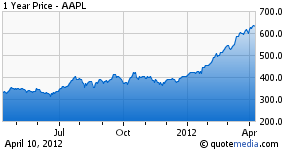 Common sense has always forced me toward to old adage "if something appears too good to be true, than it probably is." When one couples this idea with the logic that suggests "nothing lasts forever" you arrive at the perfect recipe for a bearish argument. For that, I think it is hard to argue as there have been plenty of examples in the stock market where names such as Research In Motion (RIMM) and AOL (AOL) by their current irrelevance have become prime examples of just how true this thinking is. But then there is a company such as Apple (AAPL) that does all of the impossible and reminds investors that not only should we believe in magic, but in doing so we should also ask the question, what is forever (really)? But not everyone is drinking the proverbial "Kool-Aid."
Thanks but no thanks ...

In what I can only describe as a bold and stunning move, an analyst on Monday tried to make sense of what has not made sense in quite a long time. The world's largest company received its first downgrade in nearly six months on doubts that wireless carriers such as Verizon (VZ) and AT&T (T) will be able to offer the generous iPhone subsidies that they have. The thinking is that this will hurt sales and more importantly hut Apple's profit margins. BTIG's Walter Piecyk, a veteran technology analyst, in a note to clients Monday said the following:
"We expect post-paid wireless operators to remain firm in their plan to stunt the pace of phone upgrades in 2012 and we expect to see some initial evidence of their success in the current quarter. This will increase the need for Apple to grow its business in the pre-paid dominated emerging market space, in which handset subsidies are a rarity and the $600 ASP (average selling price) of the iPhone represents a big chunk of a household's monthly income."
To some extent I agree with Piecyk. I never envisioned a scenario where these subsidies would last forever. As great as the iPhone has been for these carriers, they have a responsibility to look out for themselves and can't be in business for the sole benefit of Apple. And by in large this is how it has appeared. Although AT&T, Apple's largest customer, has (on the surface) done exceptionally well in selling iPhones, it has not exactly translated to huge profits - at least not to the extent of how its partnership has benefited Apple. There is no doubt that both AT&T and Verizon were content to provide customers with some of the most generous subsidies at the onset of their agreement. But what both firms have now come to realize is that their expectations from the standpoint of ROI has not been met. And so they are saying thanks, but no thanks.
Carrier revolt
Apple's shares have surged this year by 55% - it is even more glaring to appreciate that its stock price has almost doubled over the past year alone. AT&T sees this and then realizes that by contrast during that span its stock has been (for the most part) flat. But the question that I grapple with is, does AT&T's disappointment, or for that matter, that of any other carrier present enough justification to suspect that Apple would not be able to meet its targets? Piecyk seems to think that it does and notes that AT&T, Verizon, Sprint (S) as well as Telefonica will be among the carriers to employ what I have called the iPhone upgrade carrot to their customers subsidized at cheaper prices.
From that standpoint, Piecyk suggest that as Apple could see declining sales to the extent that it might miss its Q3 revenue target by $1 billion. Although I disagree, I must admit that I was quite impressed with Piecyk's call - even though it is one that has almost never worked out for analysts trying to make a name for themselves. As noted, Apple's stock is up almost 60% since it received its last downgrade in October of last year. By the early success of its new iPad as well as the fact that the company has recently received two separate price targets of $1,000, it seems that this will be yet another bearish argument that will be proven wrong.
Summary
Piecyk also suggested that investors should take a "breather" during the expected strength of this quarter and the rapid rise in Apple's stock - lending support that "nothing lasts forever." I get that, but Apple continues to log financial results that just makes one appear foolish to doubt that "forever" is as close as the next quarter. It also makes me wonder that of the 50 separate analysts that cover Apple, what exactly are 45 with buy ratings are unable to see that Piecyk sees.
Disclosure: I am long AAPL.