Carlos Slim Helu, born January 28, 1940, is a Mexican business magnate and is officially the richest person in the world for the third year in a row. This immigrant son of Lebanese descent is the chairman and CEO of telecommunications companies Telmex and America Movil (AMX) and has extensive holdings in other Mexican companies through Grupo Carso SAB (OTCPK:GPOVY) as well as business interests elsewhere in the world.
America Movil, Latin America's largest mobile-phone carrier, accounts for approximately 70% of Carlos Slim's total wealth. His combined corporate holdings, including Grupo Carso SAB and various other holdings, are estimated to hover around the $70 billion mark at present.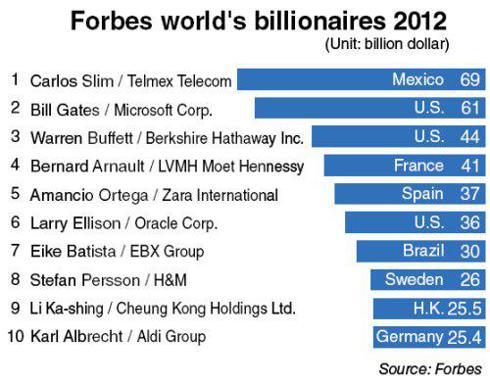 In February 2010, America Movil acquired Carso Telecom, a 1996 spin-off of Grupo Carso, and Telmex International in order to better compete against the growing presence of Spain's Telefonica (TEF). Movil was once the mobile arm of Telmex, but since its spin-off in 2001 America Movil was able to grow bigger than its former parent company.
America Movil is now a Fortune 500 company and finished 2011 with 300 million accesses, of which 242 mil­lion were wireless subscribers, 7.4% more than a year before, and 58 million Revenue Generating Unit's [RGU], that increased 12.3% over the period. The company's HQ is located in Mexico City, and its Mexican subsidiary Telcel is the largest mobile operator in Mexico with a market share in excess of 70%. Movil, symbol AMOV on Nasdaq and AMX on NYSE, has a P/E of 10.5, a P/B of 3.3, a P/S of 1.7, and a current dividend yield of 1.1%.
America Movil operates in 18 countries in the Americas; the US, Mexico, Jamaica, the Dominican Republic, El Salvador, Panama, Guatemala, Honduras, Nicaragua, Peru, Argentina, Uruguay, Chile, Paraguay, Puerto Rico, Comcel Colombia in Colombia, and Porta in Ecuador. In Brazil it operates the trademark Claro. Many will have become more familiar with Movil's subsidiaries Telmex and Claro during the last 18 months through Slim's sponsorship of Sergio Perez and the Sauber Formula One Team.
AT&T (T), the largest US telecommunications group by revenues, recently signed a memorandum of understanding with Movil to enable both companies to deliver IP-based services to multinational customers operating in Latin America and elsewhere. Rather important for companies like AT&T, with approximately 75% of US GBP growth coming from countries other than the US. For AT&T it will mean it can deepen its reach in Latin America using America Movil's network, while Movil will benefit from using AT&T's global infrastructure to provide services to customers outside the Americas.
Telefonica and America Movil now virtually dominate Latin America, and other major carriers like AT&T and Vodafone (VOD) have failed miserably to get any significant foothold in the region. AT&T actually sold its remaining 8.5% stake in Telmex to America Movil during the acquisition process by America Movil of the remaining 40% of Telmex it didn't yet own prior to 2010.
Vodafone, the world's largest mobile telecommunications company measured by revenues, has been also looking to enter Latin America, and specifically the Brazilian market, since 2007, when then-CEO Sarin discussed possible alliances with Portugal Telecom. Vodafone actively pursued the possibility of buying a stake in Brazilian TIM Participaçoes aka TIM Brasil (TSU), and held talks with Telecom Italia, which controls Tim Brasil. The probability of success however was always limited as Telefonica is also a shareholder in Telecom Italia, and TIM Brasil was considered a key asset for the Spanish group. Its stance towards TSU hasn't changed, despite the fact that Telefonica's acquired the remaining stake in Vivo, Brazil's largest wireless company, from Portugal Telecom (PT) in 2010.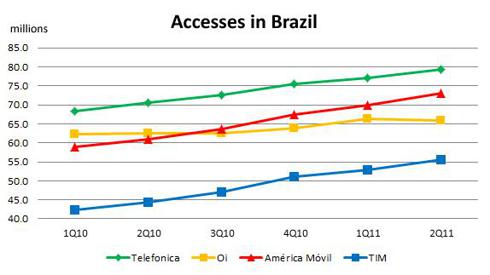 For the moment it seems AT&T and Vodafone will have to leave Latin America for another day, but Vodafone can keep itself busy expanding its other emerging market subsidiaries, like Vodacom on the African continent and Vodafone India, formerly Vodafone Essar, over in the Asia-Pacific region.
When taking a closer look at his some of Carlos Slim's other holdings, namely Grupo Carso SAB, one is quick to realize that the business interests of the world's richest man go far beyond just telecommunications. Grupo Carso is a conglomerate that holds a solid competitive position in the commercial, industrial and infrastructure industries throughout Mexico and Latin America.
Approximately 50% of Grupo Carso's revenue stream comes from the commercial and consumer side of the business, called Grupo Sanborns. Grupo Sanborns operates some of the best known and successful retail formats in the region, primarily targeted at the middle, upper-middle and high segments of the market. The retail activities range from department stores, restaurants, boutiques and shops, to music and electronic stores.
30% of Group revenue comes from industrial and manufacturing products and services, ranging from telecommunications, construction,and electrical power to industries like automotive and mining. This part of the Group's activities is called Grupo Condumex. Carso Infraestructura y Construcción is the construction firm within Grupo Carso and is responsible for the remaining 20% of annual group revenue. This part of the group focuses its activities on oil and chemical industry services, installation, infrastructure, civil construction and housing development.
On December 31, 2010, Grupo Carso spun-off its mining and real estate businesses to create two new public companies, namely Minera Frisco SAB (OTCPK:MSNFY) and Inmuebles Carso SAB (OTC:IBYNF). The spin-off was executed to better reflect the value of the real estate and mining assets within the group.
Grupo Carso is not only looking towards developing its vast quantity of current businesses, but also focusing on new growth areas to invest in. In 2011 the group took an ownership stake in Tabasco Oil, a company targeting exploration and commercialization of hydrocarbons in Colombia. This opened up a new area of industry activities, which the group had been looking to enter for quite some time.
Due to ever stronger operating results, the group has been able to grow revenue significantly during the last few years. The group finished 2010 with 64.2 billion Mexican pesos in revenue, compared to 56.7 billion MXN for FY 2009. 1 US dollar is approximately 13.5 Mexican pesos, so 1 Peso comes to $0.074. The group recently reported its consolidated earnings results for the third quarter and nine months ended September 30, 2011. For the quarter, the company reported net sales of MXN 17.93 billion compared to MXN 15.81 billion a year ago. Income from operations was MXN 1.68 billion compared to MXN 1.92 billion a year ago. Net consolidated income was MXN 495.6 million compared to MXN 2.32 billion a year ago.
For the nine months period, the company reported net sales of MXN 52.4 billion compared to MXN 44.6 billion a year ago, a 17% year-on-year increase. Income from operations was MXN 5.49 billion compared to MXN 4.72 billion a year ago, a 16% year-on-year increase. Net consolidated income was MXN 3.67 billion compared to MXN 5.83 billion a year ago, a 38% year-on-year decline. Grupo Carso SAB, traded OTC with symbol GPOVY.PK in the US, has a P/E of 17.9, a P/B of 2.1, a P/S of 1.24, and a current dividend yield of 1.1%, similar to America Movil. The key statistics on Grupo Carso you may find on some popular US financial websites, if any, are often inaccurate or outdated.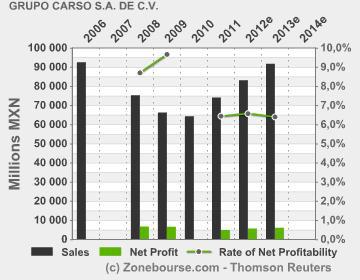 The Group tends to experience fluctuations in operating profit depending on conclusion of earlier projects and the fact that many projects contracted in 2010 and 2011 are in the startup phase, without income but with the associated capital expenditures related to the startup of new operations.
Although Carlos Slim continues to be active in business, his own efforts are increasingly focusing on areas like education, health and employment, not only in Mexico, but throughout Latin America. The comparisons with Warren Buffett are again rather striking. This work is done through several foundations he chairs and through his companies in the infrastructure arena. His three sons, Carlos, Marco Antonio and Patrick Slim have now taken over the reins of their father's businesses.
Finally, in order to provide an accurate and comprehensive picture of Carlos Slim Helu, it's important to look beyond just the raw numbers reflected in company fillings of his various firms. It's equally important, if not more, to understand his motivation, why and how he has become so extremely successful, and why this will continue to be the case. Mr Slim has been helpful enough as to formulate 10 business principles, which have been communicated to his relatives, colleagues, employees and workforce:
Create an organizational structure with simple, minimal hierarchies; provide personal development and in-house training for executives; maintain flexibility and a rapid decision-making capability; leverage the advantages of a small company and use these to grow and excel.
Maintaining austerity in good times strengthens, profits and accelerates the development of the company, and averts the bitterly drastic adjustments in times of crisis.
Stay focused on modernization, growth, training, quality, simplification and the continuous improvement of production processes. Increase productivity and competitiveness, reduce costs and expenses by using global benchmarks.
Companies should never be limited by the size of the owner or manager. Do not be a big fish in a small pond. Minimize investment in non-productive assets.
There is no challenge that we cannot overcome by working together with clear objectives and knowing the tools we have at our disposal.
Money that leaves the company evaporates; this is why we reinvest profits.
Corporate creativity is not only applicable to business, but also to solving many of society's problems. This is what we do through the Group's Foundations.
Firm and patient optimism always yields its rewards.
All times are good time for those who know how to work and have the tools to do so.
Our premise is and has always been that we leave with nothing; that we can only do things while we are alive and that businessmen are creators of the wealth they temporarily manage.
With good perspective of history we can have better understanding of the past and present, and thus a clear vision of the future. After all, one shouldn't seek exposure or applause for the things one does, but simply to do them well for one's own sense of accomplishment. Perhaps we are all able to learn, apply, and profit from Carlos Slim's guidance. Not only in business or investing, but also in life!