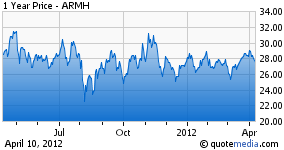 I am always attracted to companies which turn a significant amount of revenue into bottom line - or close to bottom line - cash. If a company then has a unique and attractive business model, you have the factors for a winning stock investment. ARM Holdings (ARMH) meets these criteria. The major problem with ARM Holdings is not with the company's prospects, but with the stock valuation. ARM Holdings is a U.K. based company with shares trading as American Depository Receipts - ADRs - in the U.S.
ARM Holdings is often lumped together with computer chip processor manufacturers such Intel (INTC) and Advanced Micro Devices (AMD). However, ARM Holdings does not manufacture any chips. The company accomplishes the research and design work for new semi-conductor products and then sells licenses to other companies to manufacture the products. ARM Holdings also receives royalties on every chip and processor produced and sold under a license. The result is an ongoing and growing revenue stream as the company sells more licenses - 121 sold in 2011 - for more advanced semiconductor products.
The ARM Holdings cash flow system looks something like this - using 2011 results as an example. Of the $785 million of revenue produced for the year, $286 million was from the sales of licenses, $406 million was royalties received and the remaining $94 million was from development systems and services. Switching to British pounds, - the income statement is in pounds - research and development for the year equaled £165 million, which is pretty close to the £180 million of licensing revenue. The ongoing royalty stream - £250 million in 2011 - covers sales, marketing and general expenses with plenty left over for profits. Profits before tax in 2011 were £157 million or 20 percent of total revenue.
ARM Holdings strives to develop enough new products and sell enough licenses each year to cover research and development costs and the royalties become a growing cash revenue stream. Products continue to be produced under old licenses and royalty rates are higher on new, more advanced products. Since ARM Holdings sells licenses to a large number of manufacturers and ARM products go into a wider range of electronic, computer and consumer products, the company should experience years of steady and reliable revenue growth.
The problem with ARM Holdings is the share price. The shares traded under $10 from the 2001 market crash until near early in 2010. With a share price of $8.50 at the end of 2009, the stock was trading at less than 8 times 2009 revenue. At $28 per share, ARM Holdings is currently trading at 16 times 2011 revenue. The share value has tripled over the last two-and-a-half years with the sales growth in smartphones and tablet computers - primarily powered by ARM processors. The stock market became excited about ARM Holdings as a way to participate in the growth of mobile computing. It is interesting to note that the big jump in share value occurred in 2010 and the share value was basically flat in 2011 even as revenue and profits grew by 24 and 33 percent, respectively.
The ARM Holdings ADR shares currently trade at 43 times the mean earnings estimate as published on ADR.com. Revenue and earnings are expected to grow at rates in the low teens for the year, resulting in a big disparity between the earnings multiple and the growth rates. When viewing the three-year stock chart of ARM Holdings, the share price looks like the top of a mesa for the last year-and-a-half. The price will fall off the table in 2012, dropping to below $20 for the ADRs. Based on long-term potential, ARM Holdings would be an attractive buy somewhere below $15. Currently this is a dangerous stock for investors and an attractive opportunity for short sellers.
Disclosure: I have no positions in any stocks mentioned, and no plans to initiate any positions within the next 72 hours.