The citizens of the United States of America have grown, not only in population growth over the last 30 years, but also in average size. According to various studies, there are about 72 million obese adults in the Unites States - and this number continues to grow. This is due to a number of factors including a more sedentary lifestyle, decreased standard of living due to lack of employment and access to quality healthcare, and increasingly poor diet.
And since this epidemic has become so popular in the media, few can ignore the evidence provided when it comes to the correlation between diet and exercise and weight loss. But for many people, there's simply no time to prepare healthy meals and exercise every day. With work, raising a family, maintaining a home and all the other daily tasks people have to do each day, it is getting harder and harder to eat properly and exercise.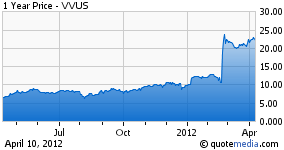 And even though most medical and health professionals agree exercise and diet, along with maintaining a low stress lifestyle help minimize obesity, many people still turn to medications (prescription and over-the-counter) to help lose and maintain a healthy weight. The latest round of FDA reviews includes a new anti-obesity drug called Qnexa, manufactured by VIVUS (VVUS). The drug was rejected by the FDA in 2010 due to health concerns. Now, almost two years later, the drug is back and may fare better with the FDA than before. Armed with more data concerning potential risk factors, the company seems more confident the drug will meet approval this time around.
An FDA review board plans to evaluate the safety and effectiveness of Qnexa on April 17th. An FDA advisory committee voted in favor of allowing Qnexa into the marketplace in February with a vote of 20-2. This means the chances for FDA approval look pretty good for this drug. If approved, Qnexa will be the first anti-obesity drug approved in the past ten years (Xenical, manufactured by Roche, was one of the last prescription anti-obesity drugs approved by the FDA - it was first approved in 1999).
Like many other drugs up for approval these days, Qnexa does pose some potentially serious cardiovascular disease (CV) risks to users. Even though other risks including cancer are of concern, it's the very high risk of CV disease that have prevented other medications such as Bydureon, manufactured by Amylin Pharmaceuticals (AMLN), used to treat diabetes, from gaining approval until an extensive CV study was conducted. The drug has since been approved.
It is very likely Vivus will have to perform its own CV study to determine the level of risk before final approval. Even competitors like Arena Pharmaceuticals (ARNA), which is due to release its own anti-obesity drug, Lorquess (lorcaserin), has had to deal with increased scrutiny about the high risks of CV disease.
Contrave, an anti-obesity drug developed by Orexigen Therapeutics (OREX), recently completed a study concerning the risks of cardiovascular disease to achieve approval from the FDA. The company secured a Special Protocol Assessment ((NYSE:SPA)) with the FDA to help with Phase III clinical trials. The drug will receive a review by mid-year.
It is slightly ironic that anti-obesity drugs, used to help patients lose weight to avoid serious and fatal diseases like cardiovascular disease, could end up causing the disease anyway. This is one of the reasons why extensive studies must be conducted to provide data and to warn people that anti-obesity drugs may not be the best option, especially those predisposed to cardiovascular disease or those who already show early warning signs.
From an investment perspective, anti-obesity drugs may become the next big money-maker in the stock market simply because the need is so great. But before investing large amounts of money in companies manufacturing these drugs, it's important to make sure FDA approval is granted and that these drugs have been sufficiently tested so patients fully understand the risks. There's nothing more deadly to a stock's value than a high number of fatalities or injuries resulting from unsafe drug treatments and medications.
Luckily, for investors, more and more companies will start manufacturing anti-obesity drugs - the demand is just too great to ignore. Even though past drugs such as Fen-phen, Alli and Xenical all failed due to health risks and bad publicity, these new drugs may survive thanks to additional studies, advanced technology and by a demanding public searching for safe, effective weight loss drugs.
Whether investors choose to hedge their bets now or later, there will be plenty of money to be made. This is not a fad as the obesity epidemic continues to grow. And unlike other drugs manufactured to help people stop smoking or stop the effects of aging, those who are obese will definitely feel the effects of carrying around all that extra weight - which should compel them to do something about it.
But should an investor not want to invest in anti-obesity medication, there are other products in the weight loss market including food, diet and exercise products and equipment, gyms, computer software and businesses that want to help people lose weight. Not everyone will jump on the medication bandwagon when losing weight. Some people will try other methods at first.
Investing in the anti-obesity market overall allows investors to spread their money around. Instead of only investing in medications like Qnexa or Lorquess, investors should think 'outside the box' and choose varying methods of weight loss to invest in as there will always be companies developing products for needy niches like those desperate to lose weight. Since obesity is a dangerous medical issue, people will spend money on goods and services aimed at saving their lives. As an investor, you really can't expect anymore security than that when it comes to investing money.
Disclosure: I have no positions in any stocks mentioned, and no plans to initiate any positions within the next 72 hours.