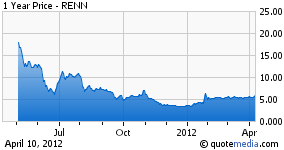 After writing my controversial call on Dangdang (DANG), readers have asked me for my opinion on Renren (RENN), probably hoping for a similar headline. I must admit I haven't followed RENN since the IPO hype, so I had to re-familiarize myself.
I had to shake my head when I first began my diligence on this stock, 392 million shares outstanding. What were they thinking trying to go this big? In a way they deserve to have a sub $6 dollar stock for being so greedy on the IPO. Granted the IPO was not 392 million shares it was only 61 million for a paltry $854 million equity raise. Compare this to Baidu (NASDAQ:BIDU) which raised $122 million, and Sina (NASDAQ:SINA) which raised $68 million, in their prospective IPOs. I go to my Bloomberg terminal to gather news on RENN and I have to weed thru all the share filings of institutions filing to sell their shares. Institutions filing to sell shares are never a good thing when you are analyzing a stock.
RENN is called the Facebook of China. Naturally with Facebook about to go public with its $100 billion valuation, investors want to speculate Renren with its $2 billion market cap deserves a similar fate. Looking at the financials, Renren's 2011 revenues grew 54.1% year over year to 118 million, and they did have positive net income in 2011 of 41.3 million compared to a net loss of 64.2 million in 2010. Peeling back the onion, the way I see it, Renren makes money three ways: ad revenue, gaming revenue and through its new Nuomi business which is similar to Groupon. The company's advertising revenue grew 86% year over year, and the gaming and Nuomi business grew 31% year over year. Total active users of Renren increased to 147 million at the end of 2011 compared to 110 million at the end of 2010. This calculates to a 33% increase in active users.
Joseph Chen, CEO of Renren, told CNBC more than 200 million (that is not a misprint) smart phones are expected to be sold in China this year, and the company plans to invest heavily in the mobile space. Over 60% of Renren mobile users now access their accounts through smart phones. The evolution of the smart phone in China is what is really going to propel Renren's growth. There are more than 200 million active users that access Facebook through a smart phone. People that use Facebook on their mobile devices are twice as active on Facebook then non-mobile users. You get bored, you carry your smart phone around with you at all times, and you check your Facebook page. I expect the same trend to happen in China as its population migrates to the smart phone and Renren will be the direct beneficiary.
The Nuomi business had net revenue of $6.5 million in 2011, however similar to other group buy companies, the Nuomi business is not profitable and seems to be losing money at an increasing speed. Even though Mr. Chen stated in the company's quarterly conference call that Nuomi has been one of the most cost-efficient players in the past 18 months, Nuomi's losses for 2011 were a shocking $24 million. (I would hate to see the losses for the non-cost-efficient players.) Expenses for the Nuomi unit increased due to further investment in technology and in order to expand to other cities. I would like to see margins improve in the Nuomi business, or cut bait and sell it, instead of having it continue to deteriorate RENN's financials.
The other negatives with RENN are the fact that China is a communist country. Sometimes we take the Internet freedoms we have in America for granted. Chinese government authorities can monitor comments made on the Internet and prosecute. Recently China launched its toughest censorship push since the rise of social media in the country and they barred users from posting comments on certain social media sites (not RENN). The government monitoring could discourage Renren users from posting updates, or worse, a government shutdown of the site over a period of time would reduce ad revenue.
At a price of $5.75 RENN shares are down 59% from their IPO price of $14. With a cash position at year-end of $1.2 billion and 392 million shares outstanding, RENN has $3.05 per share in cash. This tells me investors are valuing the company itself not including cash at a little over $1 billion.
So let me get this straight, the largest social network company in the world - Facebook - looks like it will be valued at $100 billion. Yet, Renren the largest social network company in China, the largest country in the world, trades at 1/100th of that not including its cash position? Based on those metrics alone, Renren should be trading at a higher premium from here. Add to that the growth both Renren is experiencing and the mobile internet growth China is experiencing, it is my opinion that Renren should at least be a double from here, trading north of $10 per share.
My disclaimer is to keep in mind Renren is a Chinese ADR, and some Chinese ADRs have had a history of trouble. All of my numbers are in USD.
Disclosure: I have no positions in any stocks mentioned, and no plans to initiate any positions within the next 72 hours.