Nokia's (NOK) new flashy Windows based flagship smart phone, Lumia 900, has finally arrived. Nokia officially started selling the phone on Easter Sunday, a strange choice to release a major product on a major religious holiday. But on second thought, it is perhaps more of a symbolic day for Nokia's own "born again".
Source: Amazon.com, Screenshot taken at 2:00PM EDT, 4/9/2012
On Monday, Lumia 900's real first day of sales, it has topped Amazon's (AMZN) cell phone bestseller list, twice for two of its color options.
Lumia 900 is priced at an extremely attractive $49.99 at Amazon when signing up a new two-year contract with AT&T (T). Its major competitors such as Motorola's Razor Maxx are either priced at a much higher level ($199.99, same as iPhone 4S), or forced to lower the price to the same level (for example, Samsung Galaxy S II is now also $49.99).
As of this writing, Lumia 900 has received 29 reviews, with 28 of them five-star and 1 four-star. This is far better than any other smartphone available at Amazon.
Is Lumia 900 going to become the iPhone killer? I don't think so. Over the years we have seen too many "iPhone killers" coming and going, and the only one stays in the market flourishing, is still iPhone. But killing iPhone isn't exactly the goal of Lumia 900.
Over the past five years, Nokia's stock has been hit hard, losing almost 80% of its value. This punishment is well deserved for a company that has been shockingly late to catching up the trend in consumer electronics market. But it is finally catching up.
(click to enlarge)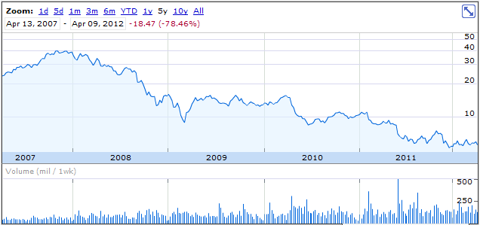 As the first major product born from Microsoft (MSFT) and Nokia's marriage, the first day shows some very promising results. We'll continue to observe how long Lumia 900 can stay on top of the bestseller list. If this lasts much longer, Lumia 900 will be confirmed a true winner.
If Windows as a mobile OS picks up, its potential is enormous. It currently occupies less than 4% of the market share, desperately lagging the combined 80% market share of Apple's (AAPL) iOS and Google's (GOOG) Android. Even the dying Symbian has slightly over 1% of the market share. If it takes out only RIM's market share -- I believe it soon will -- Windows phone sales will easily triple. With better hardware, it may even erode into iOS and Android's market in the near future.
In that case, Nokia is going to be a definitive buy as the only exclusive Windows based smart phone manufacturer.