With the overall odds in the house's favor for the various casino games, investors would be wise to look at Las Vegas Sands (LVS) as a long-term investment. The stock has broken out of its range-bound trading which was a repetitive pattern during 2011. Fundamentally, the company is doing well and looks to continue to do so into the future with revenue from gaming, food, hotels, entertainment, retail malls, and conventions.
The stock of Las Vegas Sands has whipped around in the last decade from under $50 ten years ago, then rising to over $100 in 2007, before falling down to the low single digits in 2009. The stock has since recovered to around $60. Despite that run-up, the stock is still fairly valued with a forward PE ratio of 19.55, a PEG of 0.82, and a price to book ratio of 5.48.
(Click to enlarge)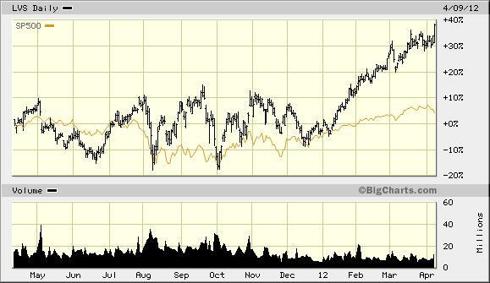 Click to enlarge
LVS has high profitability, with a profit margin of 16.58% and an operating margin of 25.5%. It has a healthy operating cash flow of $2.66 billion and free cash flow of $499.2 million.
The balance sheet looks solid as it has 2.16 times more current assets than current liabilities. It has $3.9 billion in total cash and $10 billion in total debt.
The company has had five upward earnings revisions for 2012 and seven upward earnings revisions for 2013. It met or exceeded earnings estimates in its last three quarters. LVS is expected to grow earnings annually at 28.01% for the next five years. This should take the current stock price of $60 to over $200 in five years, for a total gain of 233%.
LVS is expected to achieve this growth with its strategic locations throughout the world. Locations such as Macau, Las Vegas, Singapore, and Pennsylvania are showing strong growth. The grand opening of Sands Cotai Central in Macau on April 11 will drive more revenue and earnings growth for the company in the near future. The company is also considering expanding into the following countries: Japan, Korea, Taiwan, and Vietnam. This shows that the company is sincere about looking to grow strategically for the future.
LVS pays a modest dividend of 1.7%. However, the company does not have a DRIP (dividend reinvestment plan). With the company's above average expected earnings growth, the stock appreciation should keep investors happy for at least the next five years.
Just keep in mind that Las Vegas Sands' stock is a high beta stock, which can experience high volatility. So, investors may need a strong stomach to hold onto the stock. For example in 2011, the stock had frequent swings of more than $10 in the stock price in a matter of weeks. However, these swings get ironed out over the long-term. Therefore, I think that if investors have a long-term view with Las Vegas Sands, they will be rewarded greatly and win like the house.
Disclosure: I have no positions in any stocks mentioned, and no plans to initiate any positions within the next 72 hours.