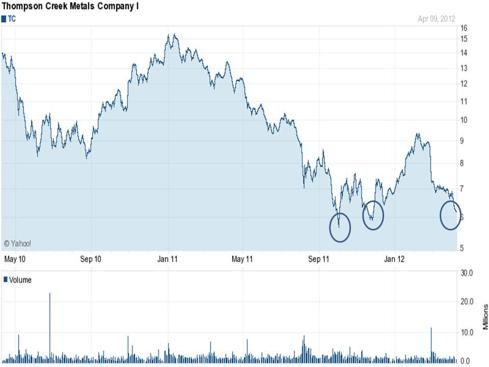 Click to enlarge
(Click to enlarge)
It appears the six month old rally is starting to falter and 2012 might be a repeat of 2011 where market rose early in the year before taking a significant beat down. In my own portfolio I have raised substantial cash over the past two months from selling winners and having my covered call positions "called" from me. I also increased some of my small short positions in the last six weeks. Finally, I have made a list of stocks I want to buy on any pullback. One mining stock that has already taken a significant hit is on that list.
Thompson Creek Metals (TC)
6 reasons Thompson Creek will reward aggressive long term investors at $6 a share:
After falling nearly 35% from its highs earlier this year, the stock is about 50% below the median price target of $9 a share the five analysts that cover this stock have on TC.
Numerous insiders bought new shares in late February at higher prices. There has been net insider buying in the stock over the past six months.
The company is selling at 60% of book value and under 7 times forward earnings.
Its Mount Milligan mine is expected to come on line in 2013. This mine is expected to produce 81mm pounds of copper and just under 200,000 ounces of gold a year when it is fully operational.
The stock has been hit by cost overruns to bring Mt. Milligan on line in Mid-2013. It got Royal Gold (RGLD) to up its ownership of the gold stream from this mine to 40% from 25% for $270mm cash. Given Thompson's low market capitalization (Approximately $1.1B), large cash flow from its other assets (Est. $200mm/year), and attractive holdings; it would not surprise me if company was either acquired in whole or brings in another strategic partner to bring this mine on line.
The stock looks like it is putting in a long term bottom at these levels (See two year chart)
Disclosure: I have no positions in any stocks mentioned, but may initiate a long position in TC over the next 72 hours.