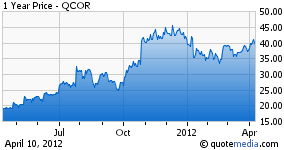 Questcor Pharmaceuticals (QCOR) seems to have a promising future ahead of it. Why do I say promising? When a biopharmaceutical company starts grabbing more of the spotlight and appearing in the headlines with its products, it can mean one of two things - it either has something unique to offer which caught the attention of the media or it has invested alot of money into marketing.
When Questcor first caught my eye, I started digging a bit and found a lot of interesting facts. Please note that I'm no medical expert but I do know my way around the field. When a company dares to go into making products for some specific, difficult-to-treat medical conditions my first conclusion is pretty simple; it's either black or white. The product either works, meaning this company instantly receives the priority status on my list or it doesn't, which for me means red light. If you're not lazy - and I seriously suggest you shouldn't be if you wish to have any success in investing - than start digging. Latest headlines on credible websites are the best sources for you to get the initial idea if a company is worth your attention.
Let's see some facts.
Questcor's main product is H.P. Acthar Gel, a drug used to treat some rare and difficult-to-treat conditions such as multiple sclerosis in adults, nephrotic syndrome, infantile spasms in children and infants under two years of age. Not only is H.P. Acthar Gel marketed as a drug for treating rare and difficult conditions, it is actually approved by the FDA for the treatment of nineteen indications so far. H.P. Acthar® Gel. I put accent on "approved" since this means there is a big market for this kind of drug.
According to the National Multiple Sclerosis Society H.P. Acthar® Gel is suitable for individuals who can't tolerate the side effects of high dose corticosteroids, are not responding to the treatment with corticosteroids, have poor venous access or do not prefer receiving intravenous treatments, or find self-injection to be a more convenient option. This means that this drug actually covers all sub-groups of patients who don't want or simply cannot use other similar drugs. H.P. Acthar® Gel label also indicates that this drug also treats some other indications such as respiratory diseases, ophthalmic diseases, rheumatic disorders to name a few.
Questcor also has another valid product on the market - Doral®, which targets patients with indications of insomnia. Questcor also has plans to explore and develop markets for other on-label indications and will pursue FDA approval of additional indications, which while belonging to a higher unmet medical need, are not found on the H.P. Acthar® Gel label at the moment. This, in my opinion, is the biggest leverage of Questcor's primary product.
In addition, it is working hard on marketing strategies to grow its business. Its primary target is medical specialists who are treating patients with difficult-to-treat medical conditions. My thoughts - there's no harm in marketing something that sells to make it sell even more. Take McDonald's or Coca-Cola for example. They advertise constantly.
Questcor actively contributes to the medical community by giving financial support for productive medical research at many academic institutions and by offering great patient assistance programs.
The company also has the intention to expand its MS and NS sales teams during this year. In October 2011, Questcor was also ranked number one small public company In America by Forbes magazine.
The company ended 2011 with a market capitalization of $300 million. The stock has not only been one of the best and most consistent performers during the last five years, but it also went up by more than 2,600% during the past five year period.
While battling to reach the top, Questcor does have to meet some viable competitors. Let's have a look how these companies are standing.
Sanofi (SNY) is one of the biggest competitors on the biotech/pharmaceutical battlefield. Sanofi shoots high as it doesn't focus only on a specific field of treatment but rather tends to cover a larger spectrum of treatments for various diseases, as well as vaccines and prevention of diseases. Sanofi's current market cap is over $100 billion and the future seems just as bright.
Novartis (NVS), another even larger biotech giant, holds its position as attractive for quite some time now. This rather high payout stock seems to be the safest long term investment for many value and income investors. With an already diversified pharmaceuticals portfolio of over 60 key marketed products and many successful divisions such as Sandoz - responsible for generic manufacturing- after finalizing its Alcon acquisition, Novartis instantly became the global leader in eye care as well.
Alexion (ALXN), with its only product Soliris, bases its strategy on treating ultra-rare diseases. This company established itself quite quickly on the market where it had no competitor for its niche. Soliris holds a world record for the most expensive medicine. This certainly helps Alexion's incredible earnings growth rate.
Vertex (VRTX) belongs to the group of largest biotech companies by revenue. This unconventional pharmaceutical company specializes in research and development of treatments for life-threatening diseases such as Hepatitis C and Cystic Fibrosis. Vertex focuses its business strategy on acquisition opportunities and in-licensing deals.
To conclude, the biopharmaceutical sector gives high hopes for 2012, and Questcor is definitely one of the most promising players on the battlefield. A 7% drop occurred in January this year was apparently caused by an e-mail and twitter warning message sent to members/followers of TheStreetSweeper.org, an investor blog that was preparing to publish a clearly negative investigative report on Questcor and its drug H.P. Acthar Gel. The stock went from its recent high of $45.59 seen in December, to a closing low of $35.27 in mid January. In response to StreetSweappers claim, Questcor issued a statement and Questcor has responded to questions from the investor blog.
This is one example of how claims made by certain forms of media can affect a stock in both a positive and negative way. In this example it was clearly negative. However, this wasn't the first attempt to sabotage Questcor, and after issuing its statement as a response, the company seems to be getting back on track.
Malversations, similar to the one I just mentioned, shouldn't pose a threat to serious investors, and most of all shouldn't be taken for granted. Researching the facts will give you the real picture.
What my research showed me is that Questcor has high margins. The company has a steady cash flow, no debt, and seems to be turning into a multi-billion dollar company. Questcor's main product Acthar Gel is approved by the FDA for nineteen applications, many of which are in quite large markets. Acthar Gel is positively rated by nephrologists. I see a low chance for failure, but a high chance for success.
Disclosure: I have no positions in any stocks mentioned, and no plans to initiate any positions within the next 72 hours.