This article will highlight Paychex Inc., (PAYX), a payroll and human resource firm. PAYX is a wide moat low risk firm that should merit inclusion in any dividend growth portfolio. I will highlight three key points that I believe support my investment thesis.
I assigned PAYX the moniker of a wide moat company due to its lack of competitors and the difficulty a new competitor would have in establishing itself. Its main competitor is Automatic Data Processing (ADP) a long-time Warren Buffett holding. ADP and PAYX area virtual duopoly with ADP having a stranglehold on large corporations while Paychex concentrates on small to midsized firms.
The first key point I would like to highlight is the consistency of the company's business. Paychex has consistently increased revenue every year with the exception of 2009, which coincided with peak unemployment. As unemployment trends have abated, Paychex revenue has increased as well. It is reasonable to conclude that PAYX offers an investor direct exposure to a firming job market while collecting an above-market-rate dividend while waiting.
The second key point is the above mentioned dividend. Paychex currently distributes 32 cents per share in dividends. Based on a current equity price of $31.55 the yield equates to a 4.05% yield. Dividends paid to shareholders were $448.8 million, or 87% of net income for fiscal year-end 2011. While the payout ratio is high it doesn't concern me due to the company's low capital needs and highly predictable business model. When asked on the most recent conference call about the 800 million that is currently on the Paychex balance sheet along with future plans for it, Efrain Rivera CFO, responded. "So we are attempting to balance one, leaving ourselves with enough ready cash to move quickly because that's an advantage we perceive in the market, with returning -- not leaving too much cash on the balance sheet because the asset returns, obviously, are not great. We have -- I would say, we have a very robust dialogue with the board on that issue. They are the ultimate arbiters as to how cash will be deployed. But as you -- as we've said, as we get closer to $1 billion and we don't have a ready use for the cash, then we have to entertain a number of ways to return cash back to shareholders. And I think our history has indicated we'll do that." (Source earnings call transcript).
The company's low capital needs segues into my third point, which is its debt levels. Paychex has no long-term debt outstanding. With an absence of debt on the balance sheet PAYX can comfortably sustain the current dividend rate and has ample room for future increases once business rebounds.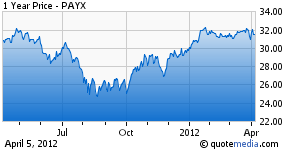 Source Seeking Alpha.com
In summary I find PAYX to offer a compelling value proposition. While not an in vogue pick such as Apple (AAPL) or Google (GOOG), PAYX should add a nice income component to any investor's portfolio. The above-average yield combined with absence of debt and a very consistent revenue model should make Paychex an excellent choice for low-risk dividend-growth investors. As the economy heals and hiring returns to normal levels capital gains will be had as well.
Disclosure: I am long PAYX. I am also long GOOG straddles and reverse iron condor.