Investors adding capital to the equity markets during these volatile times would be wise to consider more defensive sectors like waste services. In the following analysis we compare the titan of the industry, Waste Management (WM), to seven of its peers.
The tables below illustrate how Waste Management stacks up against its peers in several key categories.
Click to enlarge all images.

Click to enlarge

Click to enlarge
Valuation
Priced at 17.2 times current earnings and 13.9 times forward 2013 earnings with a price-to-book ratio of 2.7, Waste Management has among the lowest P/E ratios in the industry and a price/book that lands it somewhere in the middle of the pack. Its current P/E, price/book, and price/sales ratios all fall near its five-year average, implying fair value at current levels.
Cash Position
With $258 million in cash on hand, Waste Management has the equivalent in cash of $0.56 per share, or 1.6% of the current share price. Waste Management also holds over $9 billion in long-term debt. In comparison, Republic Services (RSG) has a similar profile: $66.3 million in cash on its balance sheet and $6.9 billion in debt. Of the group profiled, Clean Harbors (CLH) has the most attractive cash position, holding $260 million, or 7% of its market cap, in cash compared to a relatively benign $524 million in long-term debt. Also of note is Veolia Environnement (VE), the only other company in the group with a sizable cash position with over $6 billion, or over 82% of its market cap -- but that goes against $16.7 billion in long-term debt.
Waste Management has a healthy free cash flow of over $1.1 billion.
Growth
Waste Management's earnings have declined by an average of 2.34% annually over the last three years. In the fourth quarter of 2011, its earnings declined 5.3% year over year while revenue grew 6.9%. Projected year-over-year earnings growth for 2012 is 5.2%, and for 2013 it is 11.1%. Republic Services, by comparison, has projected earnings growth of 2.5% for 2012 and 12.0% for 2013, but has grown its earnings by 61.55% annually over the last three years. However, Republic Services' earnings were devastated in 2008, which helps explain the outsized three-year growth percentage.
Dividend Analysis

Click to enlarge
Source: Data taken from Morningstar.com.
With a forward dividend yield of 4.04%, Waste Management's sizable dividend is among the highest in the industry. With a payout ratio of 66.7%, the dividend is relatively healthy. The company's track record of consistently growing its dividend, averaging 9% growth over the previous five years, gives us confidence that the yield will be sustained -- although we do see slower growth moving forward.
Market Cap And Competitive Position
Waste Management is the industry leader and boasts the largest market cap in its sector, at $16.20 billion. While it is by no means a hard-and-fast rule, when comparing companies in the same industry it is common to view companies with smaller market caps as having higher growth potential. At the same time, market leaders such as Waste Management gain certain advantages that smaller companies might lack, especially in the waste servcies industry where procuring government contracts is a significant component of gaining market share.
One such advantage for Waste Management is the global nature of its operation. It has been able to access emerging markets, where waste services is a rapidly growing industry. The caveat to this is exemplified by Veolia's recent financial struggles, which we profiled in this article, in which rapid global expansion left the company with an unmanageable debt load when macro conditions began to deteriorate. The company now finds itself consolidating its core businesses and selling down international assets in an effort to improve its overly leveraged balance sheet.
Pricing Concerns
We see two main catalysts for Waste Management's pricing pressures. The first relates to the impact of growing competition as more companies emerge in the space. The second catalyst is the potential for a decline in the financial health of the public sector. Debt woes in the U.S., for example, would drive drown prices for the waste services industry, which is heavily reliant on public sector contracts.
Performance Analysis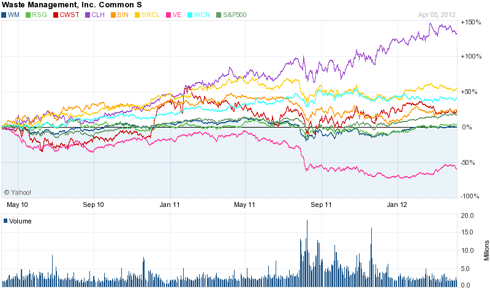 Click to enlarge
Source: Yahoo Finance.
Source: Data taken from Morningstar.com.
Note that the chart illustrates price only and does not account for dividends. The table, however, uses total return.
Waste Management has performed consistently over the previous five years, showing solid downside protection in 2008 by gaining 4.74% despite a treacherous year for the broader market and several of the companies profiled here. Over a three-, five-, and ten-year period, however, it is worth noting that Waste Management's most comparable peer, Republic Services, has outperformed.
Over the last 10 years, Clean Harbors has been the big performance winner, annualizing 27.48%. Smaller waste services company Casella (CWST) has been quite volatile, showing stretches of extremes of both outperformance and underperformance. Progressive Waste Solutions (BIN) has only a limited track record but has shown shades of a similar volatility as Casella. Meanwhile, Waste Connections (WCN) has shown extraordinary performance consistency the last five years, while Stericycle (SRCL) has had periods of outperformance with limited downside.
As always, historical returns

do not indicate future returns, but it is compelling to view performance of these companies in light of their fundamental data.
Best In Breed?
We view Waste Management as a reliable dividend investment that is fairly priced at current levels. As such, we do not see significant immediate upside beyond its dividend yield. For a play on the growth of the industry, we prefer slightly smaller competitor Republic Services. We also find Clean Harbors a compelling growth play.
With a beta of 0.63, Waste Management is attractive insofar as it offers some protection from the fluctuations of the general market. It also offers the prospect of growth in emerging economies. But while we view the industry as one with a bright future, a growing number of competitors are emerging, and capital may be better deployed elsewhere in the sector.
Disclosure: I am long RSG.