By Brendan Gilmartin
Overview
JPMorgan Chase (JPM) is scheduled to report 1Q 2012 earnings before the bell on Friday, April 13. The results are typically released at 7:00 a.m. EST with a conference call slated to follow at 8:30 a.m. JPMorgan Chase is the first of the major U.S. financial institutions to report quarterly results. Therefore, the numbers could have a significant impact in the trading of other names in the financial sector (XLF), as well as U.S. index futures and other broad market securities. The results will be followed with numbers from Citigroup (C) on Monday.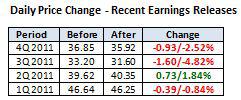 Outliers and Strategy
JPMorgan Chase is expected to earn $1.16 per share (range is $0.95 to $1.30) on revenue of $24.55 billion (Source: Yahoo Finance).
At a recent $43.73, JPMorgan Chase is trading at less than 10x trailing earnings, well below the five-year average (16.7x), and a steep discount to the S&P 500. The shares are also trading at a slight discount to book value of $46.59 (as of 12/31/2011).
JPMorgan Chase is now yielding about 2.71%, following a recent dividend hike and buyback announcement.
Last quarter, an in-line earnings figure ($0.90) and weaker than expected revenues (1.59% miss) pulled both the S&P and Dow E-mini futures contracts sharply lower.
Recent News
04/03: JPMorgan Chase CEO Jamie Dimon released his annual letter to shareholders. Among the takeaways, the bank is gaining market share in nearly all of its businesses, seeing record earnings growth, buying back shares more aggressively, and gaining increased clarity on the evolving regulatory backdrop.
03/30: Deutsche Bank raised its price target on $45 to $50, according to Benzinga.com, based in part on improving capital markets.
03/29: According to a report on Barron's, Citigroup analyst Keith Horowitz is guiding for EPS 15% above the consensus on JPMorgan Chase, thanks to a pick-up this past quarter in fixed income and commodity trading (FICC).
03/13: JPMorgan Chase raised its quarterly dividend to $0.30 per share, an increase of $0.05, and authorized a new $15 billion equity repurchase program after successful completion of recent Fed "stress tests."
Technical Review
JPMorgan Chase shares are up more than 33% YTD. More recently, however, the shares have exhibited signs of weakness, breaking below the 20-Day SMA near $44.75, while the Relative Strength Index (RSI) has slipped from 70 to a recent 52.68. The shares also failed at a long-term resistance area at $46 (~book value) - a level going back to April 2011, February 2011 and April 2010. Should JPMorgan deliver a solid earnings report, $46 will be a key resistance level. Should results disappoint, look for support at the 50-Day SMA near $41, followed by $40 and $38. (Chart courtesy of StockCharts.com)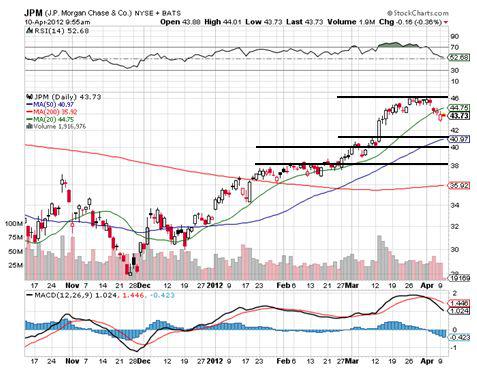 Summary
JPMorgan Chase shares recently touched the highest level in close to a year on evidence of increased lending activity, more transparency on the regulatory front, a pick-up in capital markets activity, and improved market share. The company also raised its dividend payout and (2.73%) and increased its share buyback plan - signals that the 1Q earnings should come in toward the high end of estimates. With the consensus at $1.15, look for earnings toward the high end of the guidance range ($1.20 - $1.30) to justify further gains, while anything less would be considered a disappointment in light of the current backdrop.
Disclaimer: By using this report, you acknowledge that Selerity, Inc. is in no way liable for losses or gains arising out of commentary, analysis, and or data in this report. Your investment decisions and recommendations are made entirely at your discretion. Selerity does not own securities in companies that they write about, is not an investment adviser, and the content contained herein is not an endorsement to buy or sell any securities. No content published as part of this report constitutes a recommendation that any particular investment, security, portfolio of securities, transaction or investment strategy is suitable for any specific person.
Disclosure: I have no positions in any stocks mentioned, and no plans to initiate any positions within the next 72 hours.