This is part of a series of reports on Virtus Investment Partners (VRTS). The parts will cover: Recommendation and Overview, Valuation Analysis, and Key Points, Risks and Outlook.
Recommendation
We are reiterating an Accumulate recommendation on Virtus Investment Partners, Inc. common stock with a Fair Value share price estimate of $97.97, approximately 19% above current levels. We expect to see the company generate earnings per share of $2.78 a share in 2012 and to increase revenue by at least 25% annually over the following three years, which will generate strong EPS growth. We recommend VRTS to aggressive investors who are interested in a fast-growing small-cap company that has been public for less than 5 years, as well as investors interested in a financial services firm that was a mismanaged and spun-off division of a poorly performing financial conglomerate, does not utilize the leverage of financial institutions like banks and insurers, has low capital expense requirements and a liquid balance sheet.
Company Overview
Virtus Investment Partners, Inc. is a holding company and former 3rd-party asset management subsidiary of The Phoenix Companies, Inc (PNX). VRTS operates a multi-boutique investment management business comprising 6 affiliated advisors and 7 unaffiliated advisors. The affiliated advisors include the following firms:
Duff & Phelps Investment Management Company was founded in 1932 and is located in Chicago. It has been a wholly owned subsidiary of Virtus and its predecessors since 1995 and offers an investment product mix comprising Global Utilities, Global Real Estate, Global Infrastructure and Nuclear Decommissioning Trust and Taxable Institutional portfolios.
Euclid Advisors LLC is a New York-based investment management subsidiary of Virtus focusing on the management of large-cap equities. Euclid uses a multi-strategy process to capitalize on market opportunities. Econometric analysis provides the structure for security selection that is also influenced by macro forces, quantitative factors and bottom-up fundamental research.
Kayne Anderson Rudnick Investment Management LLC is a registered investment adviser based in Los Angeles. The KAR investment philosophy is that strong risk-adjusted returns can be achieved through investment in high-quality companies purchased at reasonable prices. KAR's investment strategy is to build a portfolio of companies that have strong, consistent growth with low business and financial risk. KAR holds these companies over the long term, convinced that the investment returns of the portfolio will mirror the financial results of these companies. The research process develops independent conviction about the sustainability of a company's competitive advantage, the management's commitment to shareholders, and its expected return. Detailed fundamental research assesses the company's qualitative industry and business positions, its financial strength, and its valuation propositions.
The firm was founded in 1984 by two successful entrepreneurs, Richard Kayne and John Anderson, for whom the University of California, Los Angeles, named its business management school, The Anderson School at UCLA, to manage the funds of its principals and clients through non-traditional investment partnerships. The traditional investment management business conducted by KAR began in 1989 when Allan Rudnick joined the firm.
Newfleet Asset Management, LLC has its headquarters in Hartford and provides comprehensive fixed income portfolio management in two distinct strategies, multi-sector and core plus. Newfleet Core Plus Fixed Income Strategies employ a value oriented approach, focused on fundamental financial research with the aim of enhancing returns and managing risk. A broad spectrum of fixed income instruments are combined with the objective of producing competitive investment returns.
Newfleet Multi-Sector Fixed Income Strategies leverage the knowledge and skill of a team of investment professionals with expertise in every sector of the bond market, including evolving, specialized, and out-of-favor sectors. The team employs active sector rotation and disciplined risk management to portfolio construction, avoiding interest rate bets and remaining duration neutral to each strategy's stated benchmark.
Zweig Advisers LLC is located in New York and follows a tactical asset allocation investment style that seeks to participate in rising markets and limits losses during major decline. The firm was established by Dr. Martin Zweig, the author of "Winning on Wall Street" and a regular panelist on Louis Rukeyser's Wall Street.
Virtus Investment Advisers, Inc is located in Hartford and is the adviser to all Virtus Mutual Funds.
Virtus also has subadvisory relationships with Harris Investment Management and HIM Monegy, subsidiaries of Bank of Montreal (BMO), Pyrford International, Sasco Capital, Vontebel Asset Management, F-Squared Investments and Aberdeen Asset Management.
Management: The current President and CEO, George R. Aylward, has been Virtus Investment Partners and its predecessors since 1996. He led the spin-off of Virtus Investment Partners from The Phoenix Companies, Inc in 2008. Francis G Waltman is the Product Management Executive Vice President. He has been with Virtus and its predecessors since 1993; he leads the company's product development activities and provides leadership for Virtus' relationships with its affiliated investment managers and unaffiliated subadvisers. Jeff Cerutti rejoined Virtus in 2010 from UBS Global Asset Management and serves as Retail Distribution EVP. He also worked for Zweig Mutual Funds from 1995-2001, which was acquired in 1999 by Virtus.
Ownership: We are disappointed in the scant stock ownership of the company. Executives and directors only own 2.4% of the stock, which is low for a small-cap company. However, we are comforted that BMO owns 23% of the common stock, having recently converting 45K shares of convertible preferred Series B stock into 1.3M shares of common stock.
Assets Under Management ($ in billions)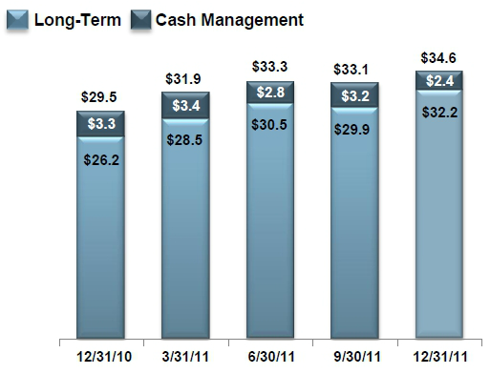 Source: Virtus Investor Presentation (pdf)

(Click chart to enlarge)
2002-07 Repositioning of the Business
Virtus streamlined the operating structure from being a collection of majority-owned and wholly owned affiliated firms into a single business of affiliated managers with common distribution and support operations.
Virtus took actions to restructure its product portfolio with a focus on improved investment performance, focusing on mutual fund products as the initial stage of product repositioning.
Virtus repositioned its distribution strategy to provide greater balance by distribution partner and with an increased focus on retail mutual fund distribution.
Virtus took actions to significantly reduce its operating expenses.
Recent Quarter Q4 2011
The company was able to generate a 38% growth in Q4 2011 revenue versus Q4 2010 revenue, which exceeded many of its competitors. VRTS' total recurring expenses grew at 32% year over year, driven by increased compensation, sales and distribution expenses and Newfleet acquisition expenses, offset partially by slow growth in other operating expenses, depreciation and amortization. Virtus achieved an adjusted operating margin of about 32% for the quarter and 28% for the year, up from 23% and 20% respectively. Cash and cash equivalents were $69.5M as of the end of the year and the company converted BMO's preferred stock to common stock on January 6, 2012. Client AUM balances grew by 4.5% ($1.4B), including $790M in long-term net client fund flows. $1.7B in market appreciation was partially offset by $1B in mutual fund distributions, net flows of cash management strategies, market appreciation (depreciation) on structured products, and net flows from non-sales related activities such as asset acquisitions/ (dispositions) and the impact of leverage on AUM. Net income primarily grew during the quarter due to $1.9B in market appreciation of client portfolios. Operating Income grew by $3.74M in Q4 (84% year over year) and $4.6M for the year (50% year over year).
In our next report on Virtus we discuss the valuation of the company.
Disclosure: I am long VRTS.
Additional disclosure: Saibus Research has not received compensation directly or indirectly for expressing the recommendation in this report. Under no circumstances must this report be considered an offer to buy, sell, subscribe for or trade securities or other instruments.