With USDCAD up over 60 pips and the S&P 500 down 15 points at midday, short the Canadian loonie and long the U.S. Dollar, or in forex parlance, "long USDCAD", is providing a nice hedge for U.S. blue chips.
This same trade may be taking on more importance for traders and investors from a long-term perspective as well because we may be seeing not only a shift of the 1-year primary pattern to bullish from bearish, but also a structural shift brought on by favorable U.S. demographics. Regardless of the long-term implications, this market is breaking out above resistance on its Daily chart - see Figure 1.
While the underlying structure of most markets is the global business cycle, it's demographics which determine the spending and investing habits of the people that create the business cycle. And the U.S. has a decided advantage compared to Canada when it comes to demographics. While much has been written about investors toward the top of the U.S. population pyramid - see Figure 2 - it's actually those consumers nearer the bottom and middle of the pyramid that have a more pronounced effect on consumption and discretionary spending, and thus stock prices and tax receipts. When compared to the Canadian population pyramid in Figure 3, U.S. companies have a clear advantage as a much larger percentage of the U.S. population is younger and just entering their peak spending years, compared to Canada.
Click to enlarge: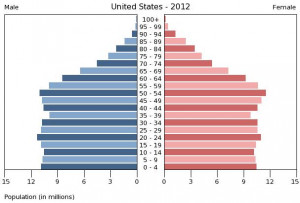 Figure 2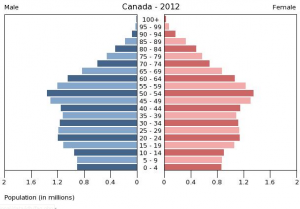 Figure 3
Regardless of the long-term fundamentals, USDCAD is exhibiting a bullish pattern on the daily chart, which will likely influence short-term traders. Iin financial futures markets, short-term traders make up as much as 95% of the daily volume. Because of the influence of short-term traders today, it makes it all the more important to not be early to the table, and have some knowledge of using price action - technical analysis -- to time trades. While USDCAD is looking good on the daily chart in Figure 1, it would still need to close above its February high at $100.49 to bring in higher time frame players on the long side.
Disclosure: I have no positions in any stocks mentioned, and no plans to initiate any positions within the next 72 hours.
Disclaimer: Trading involves risk of loss and is not suitable for all investors.