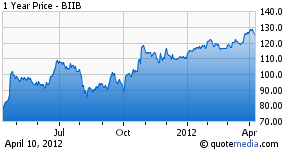 There used to be a time when investors liked to buy biopharma stocks going into product launches. Nowadays, though, expectations seem to run hot on approval and the risk of disappointing launches outweighs the lower probability of surprising successes.
So how, then, should investors look at Biogen Idec (BIIB)? On one hand, this company could see several major launches over the next 12- 18 months that would add multiple potential blockbusters. On the other hand, the reality of the market today seems to be "buy the data, sell the launch."
Will Biogen Learn From Novartis' Mistakes?
Certainly the most celebrated upcoming drug from Biogen Idec is BG-12 for multiple sclerosis. Not only has this drug shown exceptional reductions in relapses (50% or more in some studies), but the safety profile is attractive as well.
But it may not be all that simple. Multiple sclerosis is a tricky disease and docs often cycle patients through a variety of medications until finding (and sticking with) one that works. So while BG-12 has shown compelling data, investors shouldn't expect a blistering uptake and shouldn't be surprised if docs continue prescribing older drugs like Teva's (TEVA) copaxone.
If Biogen is smart, and learns from the experience Novartis (NVS) had with Gilyena, the company will show some restraint on pricing and look at this as a multi-year climb to the top instead of an overnight sensation.
Competitors Shaping Up Well For Biogen
Although a lot of companies have targeted MS, BG-12 is looking strong as it wends its way toward approval (the NDA was submitted in February of 2012). Teva's laquinimod is looking more like a niche player, as is Sanofi's (SNY) Aubagio. Sanofi's other drug, Lemtrada, looks more interesting from an efficacy perspective (showing similar reductions in relapses), but carries some real safety concerns.
These drugs may well find their niches (there will be patients who don't respond to BG-12), but they don't look like BG-12-slayers at this point.
Biogen also benefits from the fact that two of its potential competitors - daclizumab and ocrelizumab - are partnered programs with Abbott (ABT) and Roche (OTCQX:RHHBY), respectively, and Biogen controls the development of the first. There's also very early-stage XP23829 at XenoPort (XNPT), but that drug is years away from the market.
But Biogen's MS efforts aren't just about unproven drugs. Tysabri and Avonex are not going away, and new forms of Avonex (a pen form and a PEGylated version) should extend the useful life of the franchise.
Not Just About MS
BG-12 rightly gets a lot of attention, but Biogen Idec has a deeper late-stage pipeline than casual observers may realize.
In addition to PEGylated Avonex and BG-12, Biogen is looking to market long-acting recombinant proteins for hemophilia A and hemophilia B. This is a $6 billion (or more) market and these long-acting agents should stack up well against products from Novo Nordisk (NVO) and Baxter (BAX).
Biogen also has GA101 in late-stage studies in chronic lymphocytic leukemia (CLL) and non-hodgkin's lymphoma (NHL), a drug that is a byproduct of the company's development partnership with Roche.
Last and by no means least is dexpramipexole. This drug, currently in phase 3, has shown promising efficacy in treating ALS (Lou Gehrig's disease). ALS is a serious disease with virtually no treatment options. Healthcare providers have long looked for effective therapies, but this has been one of the wastelands of biopharma. Should Biogen succeed here (and I would give it about a 30% chance), it could easily be a $1 billion drug with minimal competition in sight.
What Can Go Wrong?
Trading at about 6x trailing sales, and having nearly doubled in the past 14 months, it is clear that Wall Street is on to this story. BG-12 is now clearly expected to be a major success in the multiple sclerosis market and products like the hemophilia proteins are also baked into the numbers.
What that means, then, is that the question shifts from what can go right to what can go wrong. Erosion in the Avonex franchise and/or another safety panic about Tysabri are certainly potential risk factors. I also wonder if the high valuation today already includes dexpramipexole. Certainly this could be a major contributor to Biogen's long-term value if it works, but it's just not prudent to bet on drugs targeting conditions like Alzheimers, ALS and sepsis.
Fortunately, Biogen Idec is no neophyte. This company has been selling drugs for quite a long time and already has a strong established presence in the MS market - arguing in my mind that it won't fall prey to the same mistakes as Novartis, which may have been due to inexperience in the market. Moreover, with rising worries about the safety of Gilyena, maybe there is actually just a little bit of room to impress.
The Bottom Line
Unfortunately, Biogen Idec is just too well-known and closely-followed to be much of a bargain today. The M&A angle is also already in play. Biogen's entanglements with companies like Roche could be problematic and the valuation puts it out of reach of many companies. With the strength of Johnson & Johnson's (JNJ) drug business today, they probably wouldn't be interested, leaving a few names like Pfizer (PFE), Merck (MRK) and Roche as potential bidders. Given the company's very solid franchise in MS, it wouldn't shock me if Roche thought about this - particularly if the Illumina (ILMN) bid fails.
I believe Biogen can produce double-digit free cash flow growth for the next decade, putting it ahead of other popular names like Celgene (CELG) in its growth potential. Unfortunately, that translates to a fair value in the $130s - not a huge premium to today's price.
Much as I like this company, with its strong MS franchise and impressive pipeline, I just don't see enough potential in the shares to own it today. While I hate the idea of selling quality names, investors who've ridden it for a year or more may want to think about protecting some of those gains as the company transitions into these major upcoming launches.
Disclosure: I am long OTCQX:RHHBY.