Citigroup recently downgraded shares of Walt Disney (DIS) and News Corp. (NWSA) from "Buy" to "Neutral,", citing a fall-off in cable ratings (which may be temporary). We'll take a look at these two enterprises and Time Warner (TWX) to see if we can capitalize on the potentially temporary fall-off in ratings.
Walt Disney Co.
The sales at Disney increased almost 4 percent annually over the past five years while earnings increased 9.5 percent. Earnings this year are reported as increasing at 23.8 percent and next year at 15.3 percent. Earnings the next five years are expected to increase 13 percent annually. The sales number is disappointing and can be partially attributed to the "Great Recession."
Gross, operating and profit margins are 19.6, 20.1 and 13.3 respectively. Return-on-equity is 13.3 percent. Investors should be satisfied with these numbers. Institutions own 66.7 percent of shares as insiders own 11.3 percent.
Disney doesn't use much leverage. The firm uses enough to lower the tax bill it faces. The liquidity ratios are just above 1.
Price to earnings is just below 16 and the forward P/E is 12.4.
Disney is trading at the rising 50-day simple moving average in the markup stage and will go through the distribution stage in the months to follow.
News Corp.
The owner of the Wall Street Journal increased sales the past five years at an annual pace of 5.7 percent as earnings increased at 5.5 percent. In five years, investors would like to see growth in the double digits or near double digits. Earnings this year grew 17.7 percent and next year are expected to increase 21.7 percent. The next five years earnings are forecasted to increase 16.9 percent.
The margins at News Corp. are solid. Gross, operating and profit are 37.8, 13.9 and 10.2 respectively. Return-on-equity is almost 12 percent and institutions own almost 93 percent of shares.
Debt is roughly 56 percent of equity and current assets are more than twice current liabilities. The price/earnings ratio is 15.1 and forward price/earnings is 11.3.
Shares are trading below the rising 50-day moving average as shares of the firm may be showing early signs of distribution.
Time Warner Inc.
Sales and earnings decreased the past five years at Time Warner. Earnings this year increased 20.5 percent while forecast earnings for next year are expected to grow 14.1 percent. Earnings the next five years could increase 12.7 percent.
Margins are below the previous two firms mentioned. Profit margin is about 10 percent and return-on-equity is 9.1 percent. Institutions own almost 90 percent of shares.
Debt is 65 percent of equity and current assets exceed current liabilities by 50 percent. The premium investors are paying for earnings is 13 and the forward premium is 9.9.
TWX is trading below the flattening 50-day moving average and showing signs of distribution.
Dow Theory
According to the rules of Dow Theory, we are in a bull market. Notwithstanding, the Transportation Average has failed to reaffirm the bull market. Since the low of the previous bear market we have seen two intermediate reactions. In a typical bull market, there are two intermediate reactions and the third intermediate reaction is the start of a bear market.
Macro Picture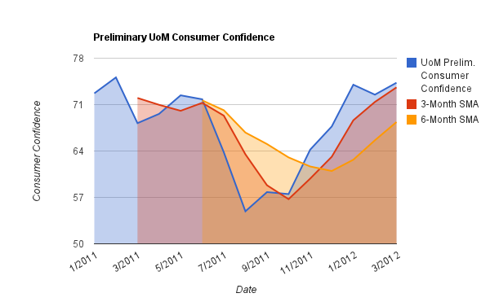 Click to enlarge
Consumer Confidence is rising is above the 3 and 6-month simple moving averages.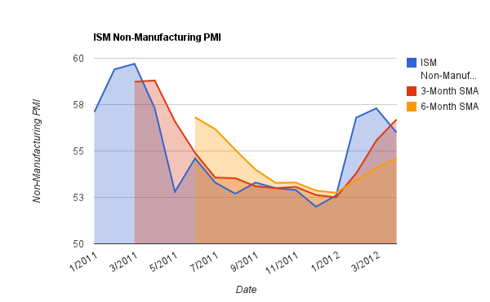 Click to enlarge
ISM Non-manufacturing PMI is below the rising 3-month simple moving average. The decline below the 3-month simple moving average could be a warning of a slowdown to come in the pace of growth in non-manufacturing.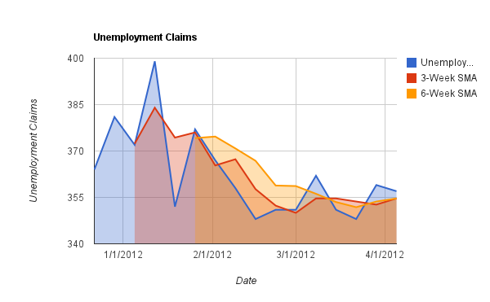 Click to enlarge
Unemployment claims have been in a range the past few weeks. Notwithstanding, claims are above the flattening 3- and 6-week simple moving averages; that could mean that claims could rise in the weeks to come.
The macro indicators have shown improvement in recent months as asset prices have increased. Investing when the macro economic background is potentially nearing a peak increases risk.
Disney & News Corp.
Disney and News Corp are attractive investments at lower valuations based on growth, margins and valuation; should valuations decrease on a macro event we would look to buy. In other words, we would wait to add these names until the macro economic picture deteriorates somewhat and valuations become less risky.
Disclosure: I have no positions in any stocks mentioned, and no plans to initiate any positions within the next 72 hours.